Infinity FX 37 S
November 2009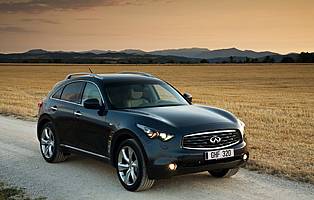 Distinctive styling sets FX range apart from its rivals
Ratings
Overall rating
Value for money
Costs
Space and practicality
Controls and display
Comfort
Car security
Car safety
Likes
Refreshingly different and appealing exterior looks
Impressive levels of build quality
Very well equipped for its price
Petrol engine options work well - the 3.7 V6 especially so
Gripes
Bold exterior won't appeal to everyone
Petrol-only range could prove a strain on your finances
Luxurious cabin doesn't fit well with family transport duties
Some interior colour combinations less desirable than others
Keen to capitalise on the success of its luxury Infinity brand in North America, Nissan has rolled out its range to a wider audience. Although obviously styled with the American market in mind, the Infinity range promises an affordable premium experience with a subtle sporting twist. And the firm's BMW X5-rivalling FX series is no different.
There's no point hiding the fact that Infinity's FX range of SUVs are big. Designed to compete head-to-head against the likes of BMW's hugely popular X5 plus cars from Mercedes, Audi, Toyota and the like, the FX is hardly breaking new ground but it does offer a refreshingly different choice.
It might be a big car but the FX hides its size well thanks to its sleek and curvaceous styling. It's also been designed to better reward the driver than some rivals, which is why the FX boasts a squat, low-slung stance - an unusual trait for a full-size SUV. The result is a car that has the road presence of a conventional luxury 4x4, but one that drives with the sophistication of a sporting saloon.
The FX's performance is helped by the inclusion of a V8 petrol engine (there are no diesels for this model) for the flagship FX50. Although impressive it can prove a little overwhelming even when driven gently. A more rounded performer is the FX37 with its 3.7-litre V6 motor. Don't be deceived by the modest numbers, this variant is more than capable of embarrassing a few established rivals.
This is also the case when comparisons turn to the FX's cabin. Build quality is easily up there with established rivals, although familiar Nissan switchgear does occasionally give the game away. That aside, the FX's cabin is functional enough to accommodate a family, although the luxury ambience is more conducive to serving the needs of a grown up family.
Our verdict on the Infinity FX 37 S
Analysts have been predicting the demise of the premium SUV for a long time, but cars like Infinity's FX prove there is still plenty of mileage in the formula. A genuine alternative to cars from the likes of Audi, BMW and Mercedes, the FX boasts styling and an on-road performance that will likely appeal to younger buyers. And it's the FX's surprisingly accomplished sporty handling that sets it apart from some rivals - cleverly pitching it more towards the sports saloon sector.
Costs

It's fair to say that the FX, regardless of engine, is a purchase you make with your heart not your head. As such you should be comfortable with its above average fuel consumption and tax rating. This won't be a cheap car to run.
Space and practicality

Although the FX isn't a genuine family car, there are plenty of storage areas in the cabin for the usual mix of possessions. Head, leg and elbow room up front should be more than enough for adult occupants, while those in the back are unlikely to feel cramped - more legroom for adult passengers would be welcome, though. At the rear, the car's boot opens to reveal plenty of space even without the rear seats folded down.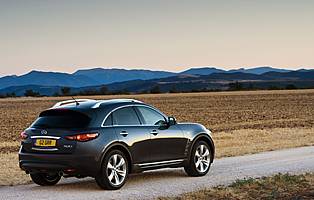 SUV layout but more comfortable on road than off it
Controls and display

By successfully blending new and familiar (Nissan) design themes, the FX's various displays and controls are easy to read and intuitive respectively. The central colour display is perfectly positioned for reading when on the move, while the various minor controls all work as you'd expect.
Comfort

Demonstrating a luxury ambience to rival the established competition, road, tyre and wind noise is pleasingly lacking from the FX's cabin. And by virtue of its size, there's plenty of room for five adults. The plush seats add a welcome extra dimension to the already comfortable cabin.
Car security

With keyless entry and ignition a possibility, there's little need to be fumbling for your keys when parked in an unlit or undesirable area. The usual immobiliser package is present to complete the factory-fit package, although for such a desirable and distinctive vehicle it might be worth considering a tracking device for added peace of mind.
Car safety

The FX might boast all-wheel drive but it's a car very much biased towards Tarmac. As such the usual array of electronic aids are more likely to save you in the event of putting a wheel wrong. As you would expect, no corner is cut, and Infinity have thrown all it can at the FX in the way of stability and traction controls plus the predictable array of airbags.
Driver appeal

Here's where the FX surprises, as it's more agile than its size suggests. Infinity claims its V8 FX50 is its most popular variant worldwide, but the V6 FX37 is no slouch. It's also more manageable on a day-to-day basis. With a personality more akin to that of a premium sports saloon than SUV, the FX exhibits none of the pitch and roll associated with traditional 4x4s. It's also an easy car to drive around town, what with the lofty driving position, light and accurate steering and plush ride.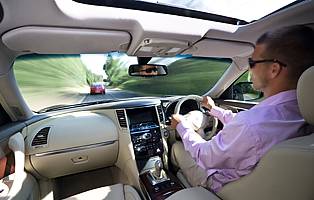 Plenty of room and lots of standard equipment
Family car appeal

Realistically the FX is not a sensible family car. It might be spacious but the cabin is full of expensive-looking leather - hardly the best environment for transporting small, messy children. Think of it more as a car for a grown up family and you'll better understand its role in life.
First car appeal

On paper the FX is hardly the ideal car for the novice driver; it's big, powerful and hardly an inexpensive proposition. In reality it's an easy car to drive - so long as you respect its performance potential. That said, its size will prove an obstacle for many first timers.
Quality and image

Image-wise it's hard to judge the Infinity brand as it's so new. There are parallels with Lexus and its first foray into Europe over two decades ago, and it's clear that Infinity's parent, Nissan, will need to be patient when it comes to any significant return on its investment. That said, Infinity bosses hope the brand's exclusivity, sporty bias and high levels of fit and finish will secure it buyers seeking a change from the usual premium suspects.
Accessibility

The FX37 might be a full-size SUV in the same mould as BMW's X5, but getting in and out of the cabin is surprisingly straightforward. The car's comparatively low roofline helps a lot, while the door all open wide for easy access. At the rear the tailgate is undemanding despite its considerable size.
Stereo and ICE (In car entertainment)
As Infinity's flagship offering, the FX range comes with a high quality audio unit as standard. The various controls, both on the fascia and steering wheel, are easy to understand, while the centrally located display makes viewing it and the road safe and easy in that order. Sat-nav functions plus phone and music player connections are also straightforward.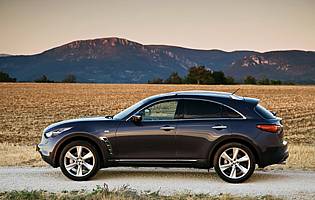 Better than class average performance and handling
Colours and trim
Although the FX is a big car, darker exterior colours do much to flatter its size. Its generous curves also play a part, while the amount of exterior chrome trim is modest by large, American influenced SUV standards. Inside it's a similar situation to all Infinity cars; black is more pleasing than brown as an overall theme, and the absence of flash trim is welcome.
Parking
Despite the FX's size, parking the big Infinity is surprisingly straightforward. The car's lofty driving position is an obvious help, as is the reversing camera and conventional parking sensors. A feature allowing you to stitch the views of cameras located around the car is especially useful when manoeuvring in tight spaces.
Spare wheel
Space saver tyre included.
Range information
Petrol engine options - 3.7-litre (316bhp); 5.0-litre (385bhp). Transmission options: seven-speed automatic gearbox. Trim levels: GT (FX 37 only), S.
Alternative cars
BMW X6 German rival is an impressive performance SUV but looks divide opinion
Mercedes-Benz ML-Class Practical and attractive but will disappoint keen drivers
Audi Q7 Big Audi isn't subtle but does most things well
Mazda CX-7 More affordable 'sporty' SUV lacks the premium brands' image but offers lower running costs
Over 1,200 more car reviews online
All the reports since 1990 are available on this site, just search by make and model below.
Other products & services
Related information
November 2009