Nissan Qashqai+2 2.0dCi Tekna 4WD
September 2008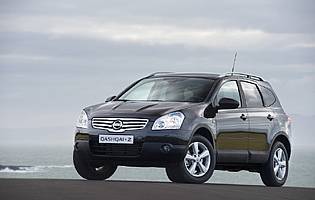 A longer wheelbase means the Qashqai+2 is larger
Ratings
Overall rating
Value for money
Costs
Space and practicality
Controls and display
Comfort
Car security
Car safety
Likes
Spacious and extremely family-friendly
Car-like driving experience
Strong diesel engine
Cleverly designed and easily accessed boot space
Gripes
Larger size means the Qashqai+2 is not as easy on the eye
Auto gearbox is a little slow to kick down
Additional seats only suitable for children
Slightly choppy ride
Following the barnstorming initial success of the crossover Qashqai model, Nissan has seen fit to extend the range with an additional model that stretches seating capacity from five to seven. Larger and more spacious, it aims to attract customers from even more segments with its cross-category charms.
The Qashqai was designed as a model that could compete with competitors across segments - regular hatchback drivers would be lured by its SUV styling and SUV drivers would be impressed by its car like handling. The new seven-seater version, Qashqai+2, also straddles genres - this time the SUV and MPV sectors - but while attempting to retain car-like driving qualities.
Simply adding a second row of seats into the boot wasn't an option for Nissan. Instead it has revised the body and chassis to offer more room. Longer and taller than the original model, the rear hatch has also been revised to increasedaccess to the rear. The additional row of seats, intended only for the young or very small, are never-the-less fully functional, independent units with their own three-point seatbelts.
When not in use, they fold seamlessly into the boot floor to provide an extra large bootspace. The permanent middle row can also be folded or slid backwards and forwards to offer maximum versatility. More practical features have been grafted into the boot, including a divider for securing groceries and under-floor storage for the parcel shelf when not in use.
Qashqai fans will be familiar with the engine range which will initially include petrol and diesel variants in two-litre form. Both engine options are available with a choice of manual or automatic gearbox. Manual models are also available with a choice of two or four-wheel drive. The active system uses a coupling to discreetly engage four-wheel drive when required, but maintains maximum fuel economy by retaining two-wheel drive in normal conditions. Automatic models are available in four-wheel drive form only.
Our verdict on the Nissan Qashqai+2 2.0dCi Tekna 4WD
Following the excellent reception for the Qashqai model, Nissan would have to have worked extremely hard to make a mess of the Qashqai+2. The few revisions made to the model are well considered and highly effective, and although the Qashqai+2's increased proportions mean it has lost a little of the compact design that heightened its appeal, it's still a fine example of a crossover doing what it does best.
Costs

Running costs for the Qashqai+2 should be very reasonable. Fuel economy, particularly form the diesel engine, is competitive and the strong specification offers good value for money.
Space and practicality

The Qashqai+2's extremely large cabin means it is an inherently practical vehicle and the fold away mechanism of the rear seats means that it offers a genuinely impressive level of useable space. The interior also features a good level of internal storage and cubby holes while additional features in the boot - a divider to prevent shopping from moving around in the back and an under-floor compartment for the roller-style parcel shelf - suggest a great deal of thought went into the practicality of the vehicle. Of course, four-wheel drive comes with its own practical benefits, too.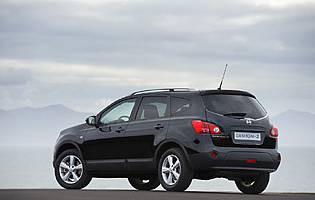 The rear hatch has been made larger
Controls and display

The Qashqai+2 cabin layout is identical to that of the Qashqai meaning it's straightforward and easy to use. The instruments are attractive, while the centre console is high up and easy to read. Functional but not flashy, the control layout is sensible with large and conveniently located buttons.
Comfort

The Tekna trim level is more comfortable than most, with leather and additional equipment including automatic wipers and lights. Fully adjustable seats in the front and partially adjustable rears mean that the needs of all seven occupants are met. Adults will not be able to use the final row without discomfort. Bluetooth is standard as are electric windows and an advanced air-con system operates with reduced noise and greater efficiency.
Car security

All models have remote central deadlocking and an automatic locking function once on the move, while an engine immobiliser is also standard. Acenta models and above have an alarm, while the top-spec Tekna has an intelligent key for keyless entry.
Car safety

Six airbags are standard across the range as are ABS, braking assistance and ESP. Naturally, four-wheel drive provides an extra element of safety when specified. Three point seat belts are fitted on all seven seats and the centre row features ISOFIX points for child seats. The glass roof is made from laminated glass that won't shatter in the event of a roll over.
Driver appeal

Like the Qashqai, the Qashqai+2 handles more like a car than it has any right to. The chassis shows few signs of deterioration despite being lengthened. In fact the chassis stiffness means the ride is closer to being too firm than too soft, with a degree of choppiness you might not expect from such a vehicle. Steering borders on light, not unpleasant in a larger vehicle, but offers reasonable feedback. The automatic gearbox is excellent on the whole, although it can be slow to kick down and respond to manual inputs when driving enthusiastically. However, it's easy to get carried away in demanding too much from the Qashqai+2 because of its car-like qualities. For a seven-seater people carrier, the model far exceeds driving expectations.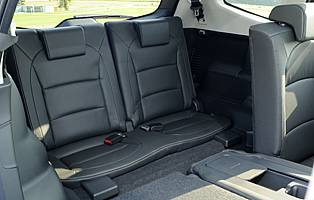 An extra row seats improves versatility
Family car appeal

A family vehicle above all else, the Qashqai+2's practicality, spaciousness, versatility and robustness makes it the perfect choice for those with children. Safety is also well cared for - a prime concern for parents.
First car appeal

An unlikely choice for a first car, unless the driver is new to the road complete with a full compliment of children, the Qashqai+2's considerable size may also be a little much for the novice driver to comfortably handle.
Quality and image

The success of the Qashqai five-door means that the Qashqai+2 enters the market with something of an advantage, and the model will undoubtedly benefit from its little brothers reputation as a brilliant family vehicle. The Nissan badge isn't necessarily viewed as one to strive after, but with strong quality and reasonable pricing it could easily be argued that the brand is under-rated. As a people carrier the model is unlikely to turn heads after the initial curiosity has worn off, but its part-SUV crossover body means it has more presence than many.
Accessibility

The lengthened wheelbase allows for five very large doors - the rear hatch has been made larger and the sill lowered for easier access - meaning the Qashqai is one of the best vehicles around for ease of entry. Above average ride-height is a real bonus as are the sliding middle row of seats that make accessing the part-time rears very simple.
Stereo and ICE (In car entertainment)
A four-speaker single slot CD player with auxiliary input is standard fare, however the Tekna grade gets a six-speaker system that's more capable of reaching all seven seats and a six-disc changer. Sat-nav can be specified and includes a reversing camera.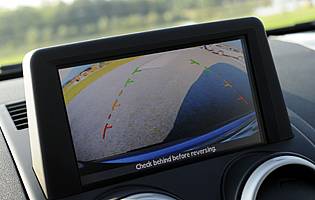 A colour screen with reversing camera is an optional extra
Colours and trim
Available in the same exterior shades as the five-seat Qashqai, the Qashqai+2 looks particularly pleasant in solid colours. Interior trim in the top-level Tekna is plush but not precious, adding part leather and additional exterior and interior details to give the model additional appeal. These include mood lighting, body coloured door handles and smart 17-inch alloy wheels - useful in terms of styling on a car of this size.
Parking
Opt for the sat-nav system with built in parking camera and the vehicle becomes extremely easy to park. It's hardly a troublesome vehicle to park without it though, despite its increased size, although the additional length means larger spaces are required. The turning circle is very reasonable and the larger rear hatch and window means rear visibility is above decent.
Spare wheel
Space saver fitted as standard.
Range information
Petrol engine options - 2.0-litre (102bhp). Diesel engine options - 2.0-litre (148bhp). Transmission options: six-speed manual gearbox, six-speed automatic gearbox with manual override (petrol - CVT, manuals available in 2WD or 4WD). Trim levels: Visia, Acenta, Tekna.
Alternative cars
Mazda 5 Clever seating arrangement and seats seven with ease
Renault Espace The original MPV is super-easy to drive
Toyota Rav4 Sturdy family vehicle with four-wheel drive benefits
Chrysler Grand Voyager Spacious and well equipped
Over 1,200 more car reviews online
All the reports since 1990 are available on this site, just search by make and model below.
Other products & services
Related information
September 2008