Fiat Grande Punto Abarth
August 2008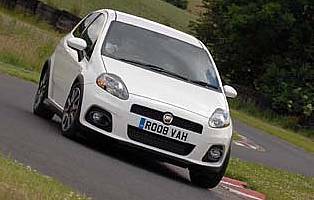 The Fiat Grande Punto Abarth has typical hot-hatch styling
Ratings
Overall rating
Value for money
Costs
Space and practicality
Controls and display
Comfort
Car security
Car safety
Likes
Bodykit suits the Grande Punto shape well
Instant response from by-wire throttle and sharp steering
Comfortable and supportive bucket seats
Stylish trim inside cabin
Gripes
Ride can be harsh on rougher roads
Lack of storage inside
Access to rear seats is not great
High boot lip hinders practicality
Fiat has rekindled its famous Abarth motorsport division and among the first of the Italian manufacturer's models to be on the receiving end of a high performance makeover is the Grande Punto compact hatchback. With a modified version of the successful T-Jet engine and a revised chassis it sets out to bring some classic Abarth racing spirit to the hot hatch market.
The Abarth brand may not mean a great deal to the kind of younger drivers that the Grande Punto is designed to appeal to, but Fiat hopes that its new Abarth models will do something about that. Fiat's motorsport division has been lying dormant for some time but is back with a bang in the Grande Punto. Designed to compete in the hot hatch market the compact hatch has seen exterior and interior revisions as well as important changes to the chassis and under the bonnet.
Fiat's 1.4-litre T-Jet unit offers the performance of a larger engine while retaining impressive economy through the use of turbocharging. For the Abarth version, its output has been increased from the 120 to 155bhp. A sport button on the dashboard increases performance again, providing additional torque.
The Grande Punto Abarth has also been on the receiving end of suspension modifications. The ride height has been lowered and the anti roll bar thickened to offer flatter and more stable cornering. For drivers really keen to exploit the car's potential and the Abarth division's tuning experience, further upgrades are available; the Assetto tuning kit upgrades brakes and suspension and the Essesse kit adds a larger turbocharger and intercoolers to produce 180bhp. These modifications can only be performed by approved Fiat dealers, with the parts arriving in numbered wooden crates in true historic Abarth fashion.
Fiat Grande Punto Abarth owners also benefit from interior upgrades in-keeping with the model's range-topping status. Sports seats and improved trim along with additional equipment as standard are thrown in. Key to the model's appeal is its very reasonable asking price, meaning the Punto Abarth provides a lot of performance for the money.
Our verdict on the Fiat Grande Punto Abarth
More than capable of holding its own in the competitive hot hatch market the Grande Punto Abarth is certainly a worthy wearer of the famous scorpion badge. Sharp handling and a wonderfully responsive but impressively fuel efficient engine combine to produce a car that's genuinely good fun to drive quickly. A firm ride is a small price to pay for such a rewarding driving experience.
Costs

Considering the high performance and decent specification of the model the Fiat's asking price for the Grande Punto Abarth is extremely reasonable. Insurance groupings are also a pleasant surprise and the efficient T-Jet engine will also keep running costs down.
Space and practicality

The Grande Punto's cabin doesn't feel cramped despite the bulky sports seats that seem to occupy more space than the normal versions. The rear is less generous to occupants than the front and the boot, although of a decent size, has a small door and high lip that might make loading heavy items less easy than it might have been. There's also a lack of storage inside, save for the glovebox.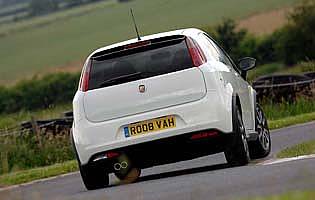 Revised suspension has improved handling
Controls and display

The Grande Punto Abarth's speed sensitive steering works very well and the pedals and gear change are also very naturally weighted, with sensitive brakes. Controls adhere to the usual norms and there's little unusual about the dials or displays. A trip computer is incorporated into the main binnacle that provides useful additional information.
Comfort

The Grande Punto Abarth's reasonably plush interior is easy to get comfortable in, but the stiffened suspension translates into a harsher ride on rougher roads. Air-con is standard and the driver's lot is made slightly easier with cruise control and a very efficient speed sensitive power steering system. A height adjustable driver's seat and fully adjustable steering also allow the driver to find a comfortable position.
Car security

The immobilised Grande Punto Abarth should prove a hard nut to crack for thieves. Dark window tints make it difficult to look into the back of the car from outside. More secure storage inside would have been welcome.
Car safety

ESP is a constant presence in the Grande Punto Abarth, a conscious decision by Fiat that ought to help improve safety and lower insurance premiums. Side and window airbags are standard.
Driver appeal

A spirited little car to drive, the Grande Punto Abarth makes its small turbocharged engine go a long way. Pick-up from the unit is instantaneous and acceleration feels brisk. Cornering is predictable and grippy and the chassis feels taught and highly responsive. The ride is firm for everyday use, but it's ideally set up for having fun. Torque and steering weight can be increased by pushing the sport button on the dashboard and the brakes are extremely sharp. The steering is responsive and adds to a very rewarding hot hatch experience.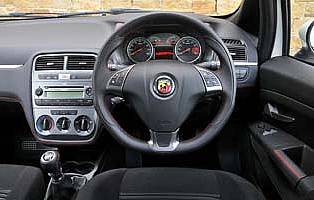 Leather dash is an optional extra
Family car appeal

The performance and restricted practicality of the Grande Punto Abarth means it is not best suited to family life. Getting children and child seats in and out of the rear might prove a problem. The Grande Punto five-door might prove a more sensible choice.
First car appeal

Like most compact hot hatches, the younger market is where the Grande Punto Abarth's appeal is expected to lie. Funky looks and reasonable running costs add to the youth appeal as does the value for money asking price. The three-door form is also best suited to those without children.
Quality and image

The traditional Italian flair for design means the Abarth builds on the already appealing looks of the Grande Punto to produce a car with a lot of street cred. The Abarth badges might not mean a lot to the casual observer, but those in the know will certainly appreciate the link to motorsport history. Build quality is better than the Fiat stereotype; the Grande Punto seems able to deal with the harsh ride without falling to pieces. Materials inside are mostly of good quality although some of the switch gear feels a little past its best.
Accessibility

The three door layout doesn't lend itself to ease of access and, although getting into the front proves no problem, access to the rear seats is a little more troublesome. Long doors might be restricted in there opening in a tight parking space and the boot door is small.
Stereo and ICE (In car entertainment)
The addition of Fiat's 'Blue and Me' Bluetooth system adds a little verve to what's otherwise a fairly standard sound system. A single slot MP3 compatible CD player and tuner offer decent sound quality and the centrally located system requires a bare minimum of thought to use. Wheel mounted audio controls are an additional bonus.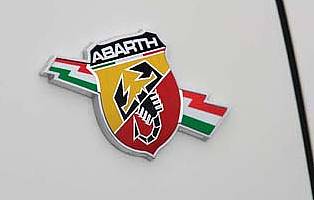 The Abarth badge has made an overdue comeback
Colours and trim
Solid colours suit the Abarth best; the beefed up compact hatch looks particularly good in white which contrasts with black detailing and tinted windows well. Abarth scorpion badges inside and out leave no doubt as to the hot hatch credentials. Sports seats with optional half-leather are stylish as are the chunky leather bound steering wheel, gear knob and handbrake with red stitching. Aluminium trim and a dark headlining add to the menacing feel.
Parking
A high shoulder line restricts what would otherwise be good visibility out of the rear of the Grande Punto. The flat rear end makes it simple to judge where the car stops and its compact size means it slots into parking spaces easily. The turning circle is average, but the mirrors are very good.
Spare wheel
Emergency tyre inflation kit fitted as standard.
Range information
Petrol engine options - 1.4-litre (77bhp); 1.4-litre (85bhp); 1.4-litre (95bhp); 1.4-litre (120bhp); 1.4-litre (155bhp); 1.4-litre (180bhp). Diesel engine options - 1.3-litre (75bhp); 1.3-litre (90bhp); 1.9-litre (130bhp). Transmission options: five-speed manual gearbox, six-speed manual gearbox, five-speed Dualogic sequential manual with a switchable fully auto mode. Trim levels: Active, Dynamic, GP, Eleganza, Sporting, Abarth, Abarth Assetto, Abarth Esseesse.
Alternative cars
Ford Fiesta ST Less impressive visually but powerful 2.0-litre engine
Vauxhall Corsa VXR Huge turbocharged performance from aggressively styled hatchback
Peugeot 207 GTi Attractive and nimble but feels less roomy
Mini Cooper S Still popular but rivals beginning to catch up
Over 1,200 more car reviews online
All the reports since 1990 are available on this site, just search by make and model below.
Other products & services
Related information
August 2008