Cadillac BLS Wagon Elegance 1.9 D (180ps)
March 2008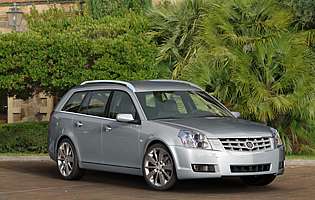 Striking BLS Wagon boasts considerable kerb appeal
Ratings
Overall rating
Value for money
Costs
Space and practicality
Controls and display
Comfort
Car security
Car safety
Likes
Stylish alternative to the mainstream European opposition
Spacious and easy to access rear load bay
Solid performance from diesel engines
Good level of standard equipment
Gripes
Some of the cabin materials used fail to match the usual compact exec standard
Handbrake can prove a little awkward in use thanks to its unusual design
Sometimes difficult to see the audio unit's display in direct sunlight
Small dealer network could be a deal breaker for some
The Cadillac brand has experienced something of a difficult formative period in the UK. Establishing a new brand is never easy, but the American car maker - a subsidiary of General Motors and stable mate to Vauxhall - has not had it easy. A few false starts and the initial absence of a diesel engine haven't helped. The arrival of the BLS saloon and diesel power did much to boost the brand's credibility, and this Wagon (estate) variant is another step in the right direction.
The compact executive estate market is a competitive one. The German 'big three' have it pretty much sown up, although there are sufficient numbers of people wanting an alternative to ensure the likes of Honda's Accord and Saab's 9-3 can justify their place in the market. Keen to enter the mainstream, Cadillac has joined the massed ranks with its estate: the BLS Wagon.
After a few false starts, the small dealer presence plus a modest product line that was initially petrol has made the business of selling cars disproportionately tough. However, the arrival of the BLS compact executive models added some long needed credibility to the brand.
With the BLS Wagon, Cadillac has a car that boasts a welcome extra practical dimension. Yes it does share more than a little bit with Saab's 9-3, but it's meant that Cadillac has been able to bring the car to market far quicker - doing it from scratch wasn't really an option.
As it stands, the BLS Wagon is a stylish and useful tool. The car's looks are certainly distinctive, but in a good way. It will no doubt prove attractive to executives wanting something a little different. There's no need to compromise on ability though, as the BLS comes with some of the higher performance diesel and petrol engines from the General Motors parts inventory - essentially Vauxhall and Saab's high output four-pot diesels and turbo petrol motors in four and six-cylinder form.
Our verdict on the Cadillac BLS Wagon Elegance 1.9 D (180ps)
Dealer support might be modest by regular executive car standards, but if you're based within sensible distance from one, it would pay to check out the BLS and its Wagon counterpart. The estate variant is a genuinely competent car, and looks attractive to boot. Load space is good for a car of this size, while the driving experience is biased more towards refinement than outright performance. The various engine options are also worthy of praise, especially the high output diesel unit.
Costs

Like all compact executive cars in this sector the cost of BLS ownership can be reduced by opting for a diesel variant, with lower tax and fuel costs the main attraction - both especially important for company car drivers. Day-to-day running costs should also be manageable, although it might cost you a fair amount of time to visit a dealer if you're not lucky enough to be close to one of the handful of outlets dotted around the UK.
Space and practicality

As Cadillac's first ever estate, the BLS Wagon has a lot going for it. At the business end of the car, the tailgate requires little effort to lift or lower and the load lip is at a usefully low height to help with the loading and unloading of heavy items. And with the rear seats folded the BLS is more akin to that of a posh van. In the cabin, four adults can be accommodated in reasonable comfort - five at a push. Leg and head room up front is good and acceptable in the back. The car's door bins and glovebox are all a good size.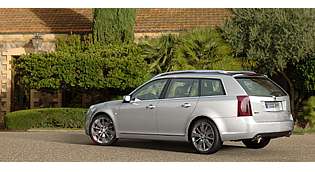 The BLS Wagon's business end is easy on the eye
Controls and display

To its credit Cadillac has done a fair bit of work to differentiate the BLS from its Saab origins. This is obvious with the fascia design and choice of switchgear. Most elements prove successful, such as the main controls and dials. The audio unit's display can be difficult to read in direct sunlight, though.
Comfort

While not the largest in its class, the BLS's cabin feels spacious enough for a quartet of adult occupants. Another plus point is the car's seats, which are supportive and comfortable, especially over long distances. Road and engine noise has been kept to a pleasing minimum, which is most noticeable at motorway speeds.
Car security

As you would expect with a car of this value, you get the usual anti-theft package plus the convenience of remote central locking. At the rear, the car's load cover looks sturdy enough to deter the casual thief, while there are enough areas in the cabin to store valuables out of sight.
Car safety

If you haven't worked it out already, the BLS shares much of its underpinnings with Saab's 9-3 range. As such, you can expect the compact Cadillac to perform to a very high standard. All the usual array of airbags and electronic safety aids are present, making the car comparable with products from the likes of Renault - itself highly regarded when it comes to building safe cars.
Driver appeal

The front-wheel drive BLS shares much with Saab's 9-3, and as a result the driving experiences are broadly similar. While not a car that will excite the keen driver, the BLS acquits itself well to the task of being driven briskly. Ride comfort is the priority here, and the compact Cadillac performs well on most surfaces - even poorly surfaced urban roads. Helping the car's cause is the engine line-up, which includes a selection of fleet-friendly diesel motors that pull strongly from low revs and are boast decent fuel consumption figures.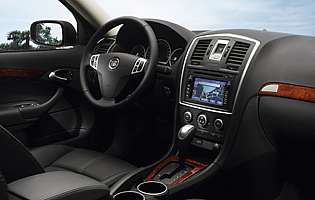 Cabin is attractive and well laid out but can't quite match the quality standards of other European rivals
Family car appeal

Compact people carriers will do a better job, but if the family comes after the BLS there's little need to worry. You won't get any fancy alternative seating arrangements or clever storage areas, but in estate guise the BLS will hold a lot of the paraphernalia of family life. A word of caution though, the car's leather upholstery looks nice but it might not fare too well when inconsiderate children are added to the mix.
First car appeal

It might be an usual choice but there's no reason why you can't drive a BLS if you're a novice. There are smaller, less powerful and cheaper cars to choose form, but if you need an estate car of this standing then at least the BLS is easy to drive.
Quality and image

The UK market remains a challenge for Cadillac, what with the company's previously unsuccessful efforts to make a name for itself. However, in the maker's defence, the BLS is a more convincing proposition than what's gone before. Progress has also been made on the quality front, with better materials and build quality evident in the BLS, although it still has some way to go to match the efforts of the European opposition.
Accessibility

The BLS is like most other cars in its class; access and egress is fine, while once inside the car the seating position is comfortable. At the rear, the doors don't open quite as wide, but only very tall adults are likely to experience some discomfort. Further back, the car's tailgate requires little effort to raise and lower and the load height is low enough to make shifting big or heavy items straightforward.
Stereo and ICE (In car entertainment)
The standard issue item is an effective unit, offering radio and single CD player. Located high up on the fascia, it's easy to reach and operate. The controls are on the whole intuitive, although the display can be difficult to read in direct sunlight. Sound quality is more than adequate for this calibre of car, and the presence of steering wheel mounted controls is a welcome addition.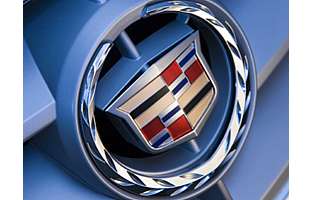 Cadillac brand has endured a tough time but the BLS range has helps boost its fortunes
Colours and trim
In a departure form the norm, the BLS looks good in both light and dark exterior colours. Helping matters is the car's distinctive frontal styling, while at the back the stylists have cleverly balanced restrained elegance with just the right amount of brightwork. In the cabin there's the usual combination of dark plastics and light trim accents to help boost the cabin ambience.
Parking
There's no need to panic because you're driving an estate car. The BLS wagon is a straightforward car to park, thanks in part to the good levels of visibility and light but direct steering.
Spare wheel
Space saver fitted as standard.
Range information
Petrol engine options - 2.0-litre Turbo (175bhp, 210bhp); 2.0-litre Flexpower (200bhp); 2.8 V6 Turbo (255bhp). Diesel engine options - 1.9-litre (150bhp, 180bhp). Transmission options: five and six-speed manual gearbox plus five and six-speed, automatic gearbox depending on model. Trim levels: Elegance.
Alternative cars
Saab 9-3 Sport Wagon Saab shares much with the BLS, but boasts better dealer support
Honda Accord Tourer Well built, refined and spacious load-lugger, although rear styling is a weak point
Volkswagen Passat Estate Solid, classy, popular and roomy executive estate with wide choice of engines and equipment
Volvo V50 A surprisingly small estate car but stylish and built to a very high standard
Over 1,200 more car reviews online
All the reports since 1990 are available on this site, just search by make and model below.
Other products & services
Related information
March 2008