BMW Z4 2.5si Sport
March 2006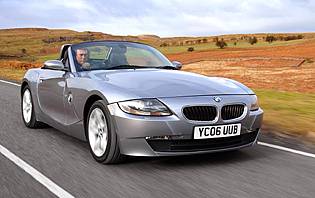 Z4's rakish looks have stood the test of time
Ratings
Overall rating
Value for money
Costs
Space and practicality
Controls and display
Comfort
Car security
Car safety
Likes
Powered roof retracts quickly and doesn't impact on the modest boot space
Uncluttered cabin is stylish yet functional
Engine line-up is impressive, especially mid-range 2.5si
Handling is accomplished and predictable, although fun can be had even at modest speeds
Gripes
Exterior styling remains a source of discussion - not all of it flattering
Cabin not the most spacious in this class
Boot space is modest and the floor is not flat
Standard cars get run flat tyres - great for maximising space but not good when left stranded
The radical exterior might be unchanged, but the 2006 model year BMW Z4 has gained a number of welcome improvements. Still a car that's often judged solely on its looks, underneath the unusual shapes and forms is a genuinely entertaining roadster. New engines, a Sports package, subtle tweaks to bumpers and lights and a devastatingly quick flagship Z4 M model only serve to underline this view.
It prompted gasps of surprise, delight and horror in equal measure when it was first revealed, and even today BMW's Z4 remains a head-turning sight despite its considerable sales success. As part of BMW's continual improvement policy, the 2006 model year car boasts a series of welcome improvements.
Being a company that's heavily focussed on performance, BMW has endowed the Z4 with new six-cylinder engines to compliment the existing 2.0-litre unit. Claimed to be the lightest around, they boast class rivalling amounts of performance yet are surprisingly frugal when used in moderation.
Next up is a Sports package, including new seats, steering wheel and suspension settings, to further exploit the Z4's newfound performance levels. Although the car is refined and balanced at moderate speeds, the Sport package allows the enthusiastic driver to better exploit the car's rear-drive chassis, responsive throttle and accurate steering.
The range is now topped by a new M Power variant. The Z4 M roadster has been a long time coming, but the wait has been worth it. Visually more aggressive-looking than the standard car, this flagship model is powered by the engine from BMW's iconic M3. The result is a rasping, thrusting and sometimes brutal experience - and it's all the better for it. Unlike the regular models, there is no auto gearbox option for the Z4 M, which highlights the fact that the more effort you put in the more you'll get out.
Our verdict on the BMW Z4 2.5si Sport
Praise should go to BMW for having the conviction to make a car like the Z4 in the first place. After all, its looks have divided opinion since its launch. Thankfully the car is not all mouth - there's plenty on offer in the trouser department. The six-cylinder cars - especially the 2.5si Sport - are fun to drive quickly yet are refined enough to use every day. The Z4 M's bigger bang is certainly addictive, although maximising its potential requires serious commitment.
Costs

On paper the Z4 offers reasonable value for money - there are both cheaper and more expensive cars in this class. Standard equipment levels on all BMW products have steadily improved over time, although the Z4's options list is long and tempting. Relative to their performance, the Z4's various engines are surprisingly frugal. Residual values are good for the sector, although this performance can be influenced by a car's specification. An inclusive servicing option for a fixed fee can be selected to keep down the cost of routine maintenance.
Space and practicality

For a car with a modest cabin, you're not short of useful cubby spaces. The glovebox is a reasonable size, there are two open shelf-like spaces behind the seats for oddments and the, albeit, shallow door pockets are good for maps and glasses cases. Cup holders pop out of the Z4's fascia. The car's boot provokes the only gripe: it will swallow a pair of medium travel bags but it's floor isn't flat, thus reducing its versatility.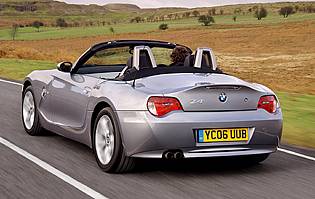 Short rear overhang hides a modest boot
Controls and display

BMW is famed for the clarity of its instruments, and the Z4 continues this trend. The car's main dials are easy to read, while the centre console switchgear (climate controls and audio unit) is thoughtfully laid out and intuitive. The optional sat-nav unit pops up from the centre of the top of the fascia, ensuring that your gaze can remain at the same level as your view out of the windscreen.
Comfort

Once installed in the Z4's cabin, the seats - standard or sport - do a good job of supporting you. The latter will prove invaluable on twisty roads. The driving position offers generous levels of adjustment, but there's no escaping the fact that the cabin is a snug one with two adults present. Roof up refinement is good, while roof down comfort is improved by the presence of a wind deflector. Overall, wind buffeting is minimal, thanks in part to the low seating position.
Car security

Remote central locking plus a comprehensive alarm and immobiliser package comes as standard, although any car with a fabric folding roof is always going to be easier to enter than anything with a metal roof. With that in mind, a reliable electronic tracking device would be money well spent, as would a visible deterrent (steering lock) on such a desirable car.
Car safety

The usual items of safety kit are present in the Z4: twin front and side airbags plus fixed roll hoops and traction and stability controls. The latter package has been improved on 2006 model year cars, although the point at which assistance cuts in is high enough to still make driving the car fun. Run flat tyres are fitted to all bar the Z4 M model, allowing you to get home at a reduced speed.
Driver appeal

The Z4's long bonnet, front engine and rear-wheel drive layout and stubby tail make for an enjoyable driving experience. The seating position offers plenty of adjustment and the steering assistance is linear and quick. Two models stand out: the 2.5si Sport and Z4 M. The former offers a good compromise of refinement and performance, with the latter an all-out 'scruff-of-the-neck' experience. Ride comfort around town is good, and this affords the Z4 a stable platform for when negotiating twisty B-roads at speed. If the car does start to slide, it's progressive and the various (switchable) stability electronics gently put you and the car right. The overall experience is huge fun, and although the Z4 M demands a lot of respect considering its 343 horsepower potential.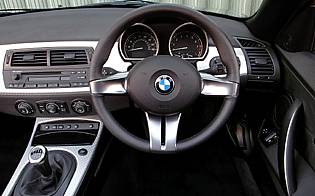 Cabin is snug, while controls are clear and intuitive
Family car appeal

It's not a criticism but a fact: the Z4 would make a hopeless family car. Two seats, a modest boot and an impractical roadster bodystyle all conspire against it. If you must have a BMW, there are plenty other options that will do the job better.
First car appeal

It might seem like a dream car for the novice driver, but the Z4 is probably not the best starter option. Parking requires a fair bit of skill and there's the small issue of its not inconsiderable performance credentials. And all this is before you consider the running costs - especially insurance.
Quality and image

BMW has never really had an image problem, its products have always been desirable and the firm has always been able to manage supply and demand to create a buoyant market. Quality has been largely consistent over the years, although early Z4 examples could have been better. This is no longer the case, and the car's minimalist interior looks smart and feels like a high quality product. The same is true of the outside - panel gaps are small, paint finishes are impressive and plastic trim parts look expensive.
Accessibility

Like so many roadsters, you have to sit down low in the Z4. Getting in and out is made easier with the roof down, although the roof's curved profile means that only really tall people will need to take care. The Z4's long doors help improve access and egress, but you'll need a lot of space if you want to open them fully. Boot access is made easy with a button to the right and below the steering wheel and on the key fob.
Stereo and ICE (In car entertainment)
The standard combined radio and single CD player set-up performs well, and is powerful enough even with the roof down. The unit itself is located high up on the Z4's fascia, and there's the option of steering wheel remote controls. A number of upgrades are offered, including the addition of a CD changer and sat-nav. The latter works well, with the central pop-up display proving clear and the route calculations fast and accurate.
Roof up the Z4 is refined and in profile still looks good
Colours and trim
Predictably, silver is a flattering exterior option. Red and other bright hues less so, which is worth remembering when considering future resale values. Inside, the Z4's minimalist cabin works best if it is trimmed in anything other than just plain black, as it helps break up the fascia panel. That said, black seats - be they fabric or leather - look and feel classy.
Parking
You sit low down in the Z4, which means care should be taken when parking it. The car's long bonnet - the end of which you can't see - will be particularly vulnerable until you've got accustomed to Z4's overall dimensions. As you would expect, reverse parking is easier with the hood down because your rear three-quarter vision is much improved.
Spare wheel
Run flat tyres fitted as standard on all bar the Z4 M variant.
Range information
Petrol engine options - 2.0i (150hp); 2.5i (177hp); 2.5si (218hp); 3.0si (265hp); Z4 M 3.2 (343hp). All cars bar 2.0i (five-speed) come with a six-speed manual gearbox. A 'Sport Automatic' gearbox is available for si engines, complete with gear-change paddles. The 2.5i can be had with a conventional auto. The Z4 M cannot be specified with an auto gearbox. Trim levels: 2.0i base spec, SE, Sport, Z4 M. Roadster.
Alternative cars
Nissan 350Z Convertible Harder-edged experience but good value for money
Mercedes-Benz SLK-Class Upmarket roadster with folding metal roof. Not the sharpest drive, though
Porsche Boxster Performance benchmark is an excellent all-rounder
Audi TT Roadster Stand-out styling can't match average handling and performance
Over 1,200 more car reviews online
All the reports since 1990 are available on this site, just search by make and model below.
Other products & services
Related information
March 2006