Ford Fiesta Zetec 1.4i 16v 5dr
March 2006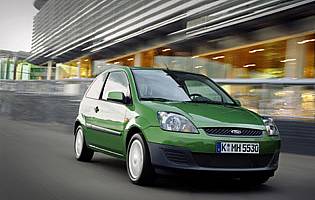 New headlamps are the most obvious external changes
Ratings
Overall rating
Value for money
Costs
Space and practicality
Controls and display
Comfort
Car security
Car safety
Likes
Modest facelift has spruced up the Fiesta's appearance
Supple ride backed up by confident handling
Driver is afforded good visibility from slightly raised seating position
Standard and optional equipment levels greatly improved
Gripes
Too much black plastic in the cabin
Specifying a car to a high standard can prove costly
Despite exterior improvements, overall look is still a little bland
Steering lacks feel and feedback
Never a car to rock the boat, the Fiesta's strengths lie in the ability to appeal to a wide audience and do all the things you expect a supermini to do. But with so many new rivals popping up all over the place, the Blue Oval felt moved to spice up its long serving model. Cue funky exterior paint options, minor styling tweaks and a number of equipment upgrades.
When originally launched, this generation Fiesta was hailed as the new supermini benchmark. Sadly critics saw it differently. The car might have been good to drive but the design - inside and out - was viewed as too conservative.
The mid-life improvements are modest at best, but the small changes to the head and tail lamps, bumpers and interior have sharpened the Fiesta's appearance. In truth, the Fiesta was never about gimmicks, and its current understated look reinforces that notion.
And yet, the Fiesta can be a fun car when you want it to be. Sprightly handling and peppy engines underline this fact; away from the urban sprawl the car takes twisty B-roads in its stride and, with the right engine, can pound motorways for hours with out fuss or complaint.
For all its sensible and conservative attributes, the Fiesta has moved with the times. Ford might not be the first car company that springs to mind when talk turns to innovation, but the 2005 Fiesta can be had with the likes of voice control for minor functions, MP3 compatible audio units, sat-nav and Bluetooth telephone handsfree functionality - all still rare on cars in this sector.
Our verdict on the Ford Fiesta Zetec 1.4i 16v 5dr
You might think that you know Ford's Fiesta, but there's more to the car than you think. Its fresh, clean face and value-added extras are only part of the picture. Underneath all this is a supermini that behaves like a grown-up family car. Refined, well built and available with a number of impressive engines, the Fiesta formula hasn't changed for a long time - which is a good thing.
Costs

On paper the Fiesta is a good value car, but look closely because some essential items are left off the lower cost variants. You'll need to pay extra for some things, and this is also true of the luxury items such as voice control if you're a person tempted by gadgets. That said, day-to-day running costs should be low - especially if you opt for a diesel and do a lot of miles. But with so many Fiestas on the roads, don't expect to be quoted a high figure when the time comes to sell on.
Space and practicality

The Fiesta is one of the few superminis that have stayed faithful to the philosophy of the compact car. However, in five-door form at least, there's still enough room for two adults up front and two in the rear. There are the usual oddment storage areas, and the Fiesta's boot is a decent size - something that can be increased by folding down the rear seats.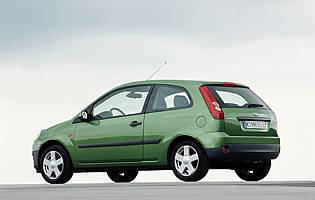 Little has changed at the rear, but the improvements are in the cabin and under the skin
Controls and display

The Fiesta is not a complicated car, and as a result its cabin is pleasingly uncluttered. Low-end models come with rotary ventilation controls, which are easier to operate than the push-button climate control alternative. The radio unit boasts chunky buttons and the column stalks are equally tactile. In a bid to boast the car's appeal, options include voice control for the audio unit and climate control functions.
Comfort

The Fiesta's supple ride means you are shielded from the worst of what a particular road can throw at you. The only drawback is a little pitch and roll when cornering hard - something you're unlikely to do very often. Road and wind noise is pleasingly low, while both petrol and diesel engines are quiet and refined.
Car security

The car's security provision varies depending on what model you chose. Opt for an entry-level Fiesta and you'll have to pay for the likes of an alarm - an immobiliser is standard fit. More expensive models are better equipped and include an alarm, although a visual deterrent such as a steering lock would be a good idea. Remote central locking is fitted to all cars, and the tailgate is released by either a button on the fascia or by the key.
Car safety

Twin front airbags are standard across the range, but you'll have to pay extra for side and curtain airbags. Thankfully anti-lock brakes are standard fit, along with five, three-point seat belts and the option to have a passenger airbags deactivation switch fitted by the supplying dealer.
Driver appeal

Overall the Fiesta is a safe and predictable car. Save for the ST, no one variant is particularly fast. This doesn't mean you can't have fun, though. The Fiesta is a willing performer, thanks mainly to its good brakes, decent visibility, refined engine range and supple ride. Although perfectly at home around town, the Fiesta also confidently tackles country roads and motorways.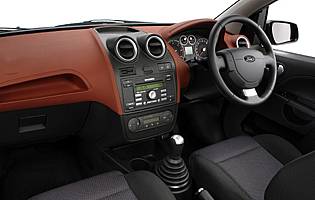 Ford's Fiesta boasts a big car feel with kit that wouldn't be out of place in something much more expensive
Family car appeal

Although a family would struggle with a three-door Fiesta, a five-door model could cope with a growing brood. Obviously, access to the rear seats is greatly improved, but things like boot space and cabin oddment storage will be the same. Better than a lumbering 4x4 to use on the school run, fuel, servicing and insurance costs will be much cheaper, too.
First car appeal

Despite all the different small cars on the market, the Fiesta has lost none of its first car appeal. Easy to drive and park, spacious and affordable, you can't go wrong with the little Ford. Running costs (petrol or diesel) won't break the bank, either.
Quality and image

The Fiesta brand has been around for a long time, and has car has remained faithful to the original concept by being compact, easy to drive, easy on the eye and affordable to buy and own. Pre-facelift, the current car suffered a little with average interior build quality, but that appears to have been rectified. In the face of numerous rivals and a market steadily shifting towards taller, more versatile cars, the Fiesta continues to attract a loyal following.
Accessibility

In five-door form the Fiesta is a practical little car. Front seat occupants benefit from easy access to the cabin, while rear seat passengers are not far behind. Cabin access and egress is good thanks to the slightly elevated seating positions, and the car's rear hatch requires little effort to raise and lower.
Stereo and ICE (In car entertainment)
Only the entry-level Studio model gets a radio/cassette unit, thankfully all other cars come with a radio and CD unit as standard. In the interests of security it will only fit a Fiesta and comes with a code. Pick the Ghia model and you also get steering column-mounted remote controls. The ST model gains a six-disc CD changer. Sat-nav (colour and monochrome), Bluetooth handsfree and voice control options plus the ability to connect an external audio source are all cost options.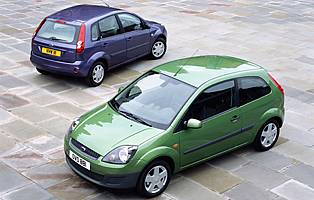 Ford hopes unusual and bright colours will lure younger buyers to the Fiesta
Colours and trim
Bright, jolly colours work best on the Fiesta. In fact, Ford is actively promoting their use in a bid to attract younger buyers. Inside it's the familiar Fiesta story - lots of dark plastic. There is an upside in the shape of tasteful patterns for the car's seats, which is all reminiscent of a retro-styled Fiat or Peugeot, and most welcome.
Parking
A small car by general standards, the Fiesta is not difficult to park. From the slightly raised driving position it's easy to judge the car's extremities. The light power steering helps matters further, as does the light clutch and positive gear change.
Spare wheel
Space saver fitted as standard.
Range information
Petrol engine options - 1.25-litre (75hp); 1.4-litre (80hp); 1.6-litre (100hp); 2.0-litre (150hp). Diesel engine options - 1.4-litre (68hp); 1.6-litre (90hp). Five-speed manual gearbox is standard issue. Conventional auto plus a clutchless manual gearbox are model dependent options. Trim levels: Studio, Style, Zetec, Zetec Climate, Ghia, Zetec S, ST.
Alternative cars
Renault Clio Bigger than before, more spacious and safer but no more fun to drive
Toyota Yaris Second generation Yaris is refined yet still boasts a fun-looking exterior
Fiat Panda Conventional supermini in principal, only taller. Good value and enjoyable to drive
Peugeot 207 Mature Pug is more refined and accommodating. No longer pretty like its predecessor
Over 1,200 more car reviews online
All the reports since 1990 are available on this site, just search by make and model below.
Other products & services
Related information
March 2006