Kia Rio GS 1.5 CRDi
July 2005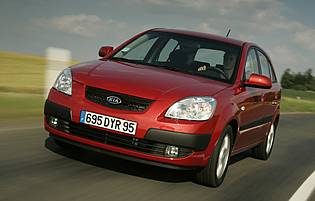 Design is strong and should age gracefully
Ratings
Overall rating
Value for money
Costs
Space and practicality
Controls and display
Comfort
Car security
Car safety
Likes
Able to compete in two different market sectors
Both engines worthy of consideration
Excellent interior space offered
Quiet, comfortable ride
Gripes
No reach adjustment on steering wheel
Some cabin plastics below current class benchmarks
Five-door body style only
Still just a touch anonymous
A car bearing the Rio name has been on Kia's books for many years, but only with the 2005 vintage does it become a vehicle worthy of serious consideration. Where previous Rios were ill-defined, this one is an accomplished five-door hatchback capable of competing against both small and medium-sized models such as the Fiesta, Corsa, Focus and Astra.
Abandoning bland styling at last, the Rio's designers have evidently taken time to study their competitors in some detail. As a result, the Rio bears a passing resemblance to Vauxhall's attractive Astra, particularly at the back. Front and side profiles are less distinctive but still decidedly European in their lines so that the Rio will not look out of place in any car park.
Inside, Kia's recent quality improvements are in evidence, if not quite as strikingly as they are in the Picanto and Sportage. Trim is neutral without being bland, though owners can opt for several different enhancement packs to provide a more interesting environment. Otherwise, there is still a preponderance of grey plastic. Only a few details such as a lack of reach adjustment on the steering wheel and a fiddly stereo mar what is otherwise a thoroughly competent effort.
A simple range and pricing structure means that buyers should not have to spend hours poring over the minutiae of brochures and options lists. Both of the two engines available are trustworthy units, with the 1.5-litre diesel surprisingly refined and likely to add appeal to cost conscious buyers thanks to its 60mpg capabilities.
Nor is frugality bought at the cost of performance. Though far from sporty, the Rio delivers a consistently smooth ride with commendably low levels of noise and vibration. The drive may not be as keen as that offered by an Astra or Focus, but the car copes admirably with all road conditions and always inspires confidence in the driver.
Our verdict on the Kia Rio GS 1.5 CRDi
Pragmatic buyers will gravitate towards the Rio and are quite right to do so. It is larger than almost all other hatchbacks selling at a similar price, yet remains a well thought out vehicle offering excellent value for money. The ever-increasing clout of the Kia badge will do no harm, either,
Costs

Kia's pricing strategy is aggressive but realistic - instead of offering the odd massive discount, the company prefers to keep the discount between sticker price and the purchase price fairly small. So don't be disappointed if the dealer refuses to budge too far on what is already a very reasonable price. Running costs will be low, even in the hatchback class, thanks to very competitive fuel economy figures and straightforward mechanical components.
Space and practicality

Despite trimming the fat from the previous-generation Rio, the latest car is still among the largest in its class. There are no radically new arrangements of space, but this sector of the market tends to be quite set in its ways anyway, leaving all the trick seats and airline trays to the MPV and SUV sectors. The cabin is efficiently laid out with no passengers likely to suffer stiff necks or cramped legs.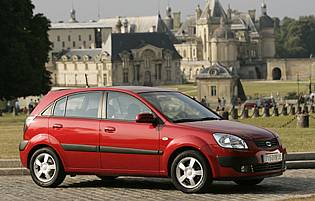 Conventional hatchback shape gives good practicality
Controls and display

The centre fascia houses equipment in two zones. The upper panel is arranged in horizontal layers, with the digital clock, large twin air-vents and the audio system, looking a little out of place in an otherwise neat dashboard. This panel can be colour-coordinated with the interior trim or finished in contrasting metal-grain, a more attractive treatment reminiscent of the Ford Focus's interior schema. The standard Rio's temperature control system has three large soft-touch rotary dials. Two upgrades are available, offering manual air conditioning or fully automatic climate control.
Comfort

Finding a comfortable driving position can be a challenge. There is no reach adjustment on the steering wheel and seat height adjustment is via twisting knobs - never the easiest arrangement to master. By way of compensation, the driver and front passenger have plenty of footwell space. Rear seat passengers will be pleasantly surprised by the roominess they discover. Seats are good, with only a little sponginess in the headrests disappointing.
Car security

Security features are minimal, stretching to central locking for the GS, remote locking for the LX and an immobiliser. Buyers might be well advised to invest in a selection of aftermarket security measures such as an alarm.
Car safety

The Rio's safety package is largely in line with those offered by its rivals - certainly it is no longer the case that safety is one of the areas in which Kia economises. Front airbags come as standard, as does ABS and two Isofix anchor points. LX models gain side and curtain airbags. Only the driver's seat can be ordered with an active head restraint to reduce whiplash injuries. An electronic stability program (ESP) is an option worth considering, too.
Driver appeal

We won't expect many sports accessories to be designed for the Rio because it simply isn't that sort of car - it's an 'A to B mobile' not something to get boy racers reaching for their spanner kits. Power steering can offer rather too much assistance, resulting in a need for constant small adjustments of the wheel at lower speeds. It is far from the worst offender in this regard though. The Rio is at its best cruising along A and B roads, displaying a good deal of refinement as it does so. Braking is excellent, too.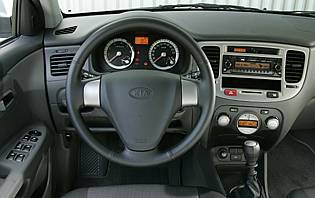 Cabin layout is straightforward
Family car appeal

Any family that is comfortable with an Astra or Focus as the main family vehicle will find that a Rio offers much the same package at reduced cost. Some elements such as the slightly flimsy boot floor are of poorer quality, but these are very few. The Rio is accomplished enough to make the large price difference when compared to these mainstream models very, very significant.
First car appeal

Though the smaller, cheaper and more characterful Picanto would be the obvious choice of car for most new drivers, the Rio could also fulfil such a role, perhaps for a newly-qualified driver with a young family. Insurance and running costs are very low, both key considerations when choosing a first car. Some attractive Kia dealer incentives are also designed to appeal directly to first timers.
Quality and image

Kia is undoubtedly a brand on the rise. The Picanto, Sorento and Sportage have made it major players in their respective market sectors and turned hundreds of new customers towards the brand in the process. Because the Rio is less of a niche vehicle than those three, it has a harder job. Less radical too, it should nevertheless add a small amount of extra credibility to the brand.
Accessibility

Only a five-door model is being produced, so what the Rio lacks in dynamism it gains in accessibility. There's nothing beyond that that really takes the eye - doors won't quite go to ninety degrees and the boot aperture has nothing surprising, but why complain because something is reasonable rather than exceptional. Keep reminding yourself that this is a B-segment car, not a C-segment car and it cannot fail to impress.
Stereo and ICE (In car entertainment)
Kia claims its CD radio is an integrated Kia unit specially designed for the Rio, but it looks ill at ease in the Rio's cabin as neither its colour nor its design matches the rest of the instrumentation. Its buttons are too small. Optional integrated turn by turn satellite navigation is available but is not the most accurate system available with an LCD display that looks like a handheld game from the mid 1980s.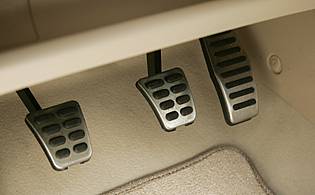 Wide foot wells provide plenty of room for pedals
Colours and trim
Customers can choose between a range of special 'Option Packs' to upgrade the standard specification. Sometimes such packs are of dubious value, but the Rio's - dubbed Metal Pack, Chrome Pack and Power Pack - merit investigation and undoubtedly add a touch of class to the vehicle.
Parking
The ample assistance given by the power steering, allied to the Rio's compact footprint and good visibility make parking straightforward. A rear parking assist system is on the options list but should only needed by particularly nervous reversers.
Spare wheel
Full sized steel spare wheel fitted as standard on all models.
Range information
Two engine options - 1.4-litre (97bhp) petrol; 1.5-litre (110bhp) diesel. 1.6-litre petrol engine and saloon body style not available in UK. Five-speed manual gearbox as standard with four-speed automatic an option with the petrol unit only. Trim level designators are basic GS and higher LX.
Alternative cars
Hyundai Accent New generation model shares engines, longer warranty
Proton Gen-2 Nice exterior with lots of interior space marred by poor drive
Vauxhall Astra Rio is an Astra-like car for the price of a Corsa
Mazda3 Underrated, numerous body styles and chassis shared with Focus
Over 1,200 more car reviews online
All the reports since 1990 are available on this site, just search by make and model below.
Other products & services
Related information
July 2005