Porsche Boxster 2.7
June 2004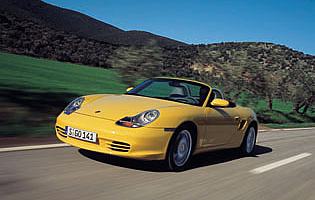 On a sunny day, driving a Porsche Boxster is pure pleasure
Ratings
Overall rating
Value for money
Costs
Space and practicality
Controls and display
Comfort
Car security
Car safety
Likes
Surprisingly capacious luggage capacity
Perfect balance and steering feel
Immaculate build quality
Oozes charisma and class
Gripes
Some instrumentation looks dated
Clutch operation is extremely sudden
Many items on options list ludicrously expensive
Standard audio package inadequate
Jealous critics may view it as the Porsche for people who can't really afford one, but there's no doubting the fact that the Boxster has allowed many 'poor' people the chance to sample a car from one of the best performance firms in the world. That it is constantly used as a benchmark when a new upstart enters the market tells you all you need to know about the Boxster's talents.
Now that it is an extremely profitable stalwart of the Porsche model range, it's easy to forget the storm that broke around the Stuttgart company when the Boxster was launched as the 'affordable' Porsche. Sour-faced traditionalists and sportscar purists accused the Boxster of being a watered-down abomination unworthy of the famous badge. How wrong they were.
Since then, the Boxster has established itself as one of the most desirable roadsters ever made while retaining its (relative) affordability. It can also claim to be more of a 'real' Porsche than many of the souped-up 911s and the bizarre Cayenne off-roader that have flitted in and out of the range during the intervening years.
In fact, you couldn't hope for a much more traditional car than the Boxster. Its formula is classically straightforward; a potent mid-engined roadster that relies on perfect balance, involving steering, firm suspension and powerful brakes to remind drivers just how enjoyable motoring can be.
Importantly, the renowned Porsche build quality isn't compromised in the Boxster. Every rivet, stitch and screw feels like it has been tightened to the maximum, creating an overall feeling of solidity, rigidity and quality that bodes well for long-term ownership prospects.
Our verdict on the Porsche Boxster 2.7
As a car that looks, feels and drives like a thoroughbred convertible, it's hard to better a Boxster. Owners will pay for the privilege of having one on their driveway but few will come to regret their purchase unless they have overstretched themselves financially - a not uncommon scenario.
Costs

Cheap for a Porsche, but expensive by the standards of other makes, the Boxster's affordability all depends upon your personal perspective. Similar money will buy an extremely nice Audi A6, a fully-specced Lexus IS200 or a pair of Mazda MX-5s, but a Porsche is a Porsche and many buyers buy with the heart as much as the head. In their defence, Boxsters are worth serious cash years into their lives, making them one of the soundest automotive investments - worth remembering when trying to justify a purchase. Fuel economy is reasonable but suffers with hard driving. A Boxster will be reliable but when remedial work is carried out, it will be expensive.
Space and practicality

With good-sized storage areas both front and rear, the Boxster is just about the most practical car in its class with ample room for a long weekend away. At five litres, the lockable glovebox is larger and more useful than expected, too, particularly as its right-angled edge makes it perfect for storing papers and documents. Many owners may never notice that the seats have pockets and clothes hooks on their backs as well as a useful little storage slot behind them.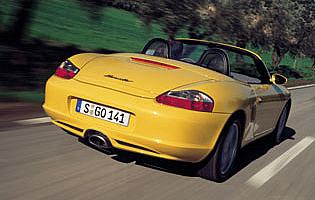 Rear lights give an impression of muscularity to the Boxster's tail
Controls and display

Unusually, the speedometer dial rises in increments of 25mph rather than the more usual 20mph intervals, which can make locating key speed limits tricky. Luckily, a digital speedo sits alongside it giving the precise current speed and this - along with the rev counter - is far more useful. The orange colour of digital instrumentation such as the stereo is unattractive and dated by the standards of modern Audis and BMWs.
Comfort

Providing a timely reminder that it is important to position oneself correctly in a car seat, the Boxster will punish anyone who refuses to adopt a proper posture. As well as being an affront to its sporting character, trying to set the seats into MPV mode will result in an extremely uncomfortable journey. Lean back, Le Mans style, with a carefully-placed steering wheel (which only adjusts for rake, not reach) and all will be fine.
Car security

A Boxster is a seriously tempting proposition to a professional car thief who will relish the prospect of selling it on to an unscrupulous dealer at home or abroad, so it pays to provide maximum security coverage. Porsche provides an electronic immobiliser, remote central locking and a Thatcham category 1 alarm with interior surveillance. Jealousy and the unfair popular image of Porsche drivers as selfish fatcats combine to make Boxsters targets for key-wielders, tyre slashers and the like, so owners should ideally possess a secure garage for overnight storage if they do not want to be rushing to the window every time there is a noise in the street.
Car safety

Performance cars tend to crash more often than non-performance cars and when they do, they tend to be travelling faster. This is a performance car, and a swift one to boot, so owners would be well advised to obtain some expert tuition before taking it onto the road. Safety features provided include rollover bars, driver and passenger airbags, side airbags and a reinforced windscreen frame.
Driver appeal

If you've always wondered why people blather on about sporty drop tops at such length, drive a Boxster and you'll quickly understand. Every aspect of driving this car is involving, from the immediacy of the steering to the mischievous cackle of the exhaust. Though more forgiving than a Honda S2000, if you fail to give the Boxster the attention it deserves, you could easily get into trouble. Mid-engined roadsters handle in a completely different manner to a conventional front-engined saloon, so taking some form of expert tuition is recommended. And keep an eye on the speedometer - you will invariably be travelling faster than you imagine.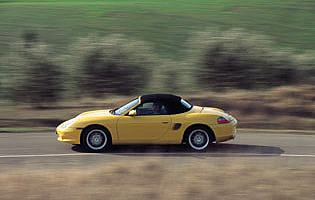 Roof is electrically powered and quick to operate
Family car appeal

It seats two people, so if your family consists of two people, it's the perfect family car. Seriously, storage space is better than many cars of this type, with a reasonably-sized boot and a good deal of extra room up front next to the spare wheel (the engine is located immediately behind the driver, remember) but realistically only singletons or couples need apply unless they have a more practical vehicle for daily duties.
First car appeal

Only the ridiculously spoiled and ridiculously stupid should consider a Boxster as a first car - which makes it surprising that they aren't more popular with footballers. Luckily, insurance premiums are likely to be of such astronomical proportions that any thoughts of embarking on such a course of folly will be swiftly extinguished.
Quality and image

Only the snootiest car bores could argue against the Boxster deserving classic status. No matter how capable its rivals are, they simply ain't Porsches. Unlike the Cayenne, the Boxster retains supreme build quality so that even if you can only afford one with no added extras, it will still look, feel and drive like a premium product.
Accessibility

Low slung and compact, if not cramped, the Boxster is certainly not suitable for all shapes and sizes. Legroom isn't a problem owing to the large range of lateral seat adjustment and short-limbed drivers will be happy to discover the extra storage space released by having the seats a few notches forward.
Stereo and ICE (In car entertainment)
The standard CD/radio system sounds tinny and very front-oriented as it only has two speakers. Turned up loud, treble becomes overpoweringly jangly. Many buyers will immediately opt for the reasonably priced upgrade to the six-speaker Porsche Sound Package with a six-channel amplifier that is far more satisfying. More expensive BOSE sound systems are also available for technophiles. A cheaper alternative is to simply turn the radio off and listen to the beautiful note of the engine and exhaust just behind you.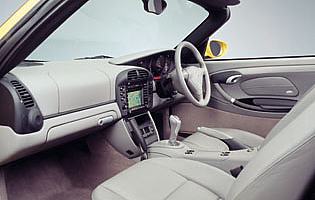 Upholstery and equipment can be specified to the customer's individual taste
Colours and trim
The Boxster looks good in practically any colour, which is always the mark of an inherently strong design. Metallic paint is an optional extra that needn't necessarily be required as vibrant non-metallic colours work particularly well. In contrast, metallic silver evokes the great Speedsters and Spyders of the past. Whichever model is selected, the options Porsche offers to personalise the car are virtually limitless - at a price. Porsche supplies a list of recommended interior and exterior colour combinations which should be consulted to prevent any crimes against good taste.
Parking
The clutch takes a good deal of getting used to. The pedal travels a long way, then engages suddenly, so stalling at low speeds is a distinct possibility unless some revs are left on the clock - hardly what one wants during a delicate manoeuvre. Visibility is good with the top down, less so with the hood in place as the rear window is small. Larger wheel sizes can impair low-speed manoeuvres, too.
Spare wheel
A space saver spare is located up front and comes as standard, but it takes up a fair proportion of the frontal storage well.
Range information
The broad division of the Boxster range is between the 2.7-litre (228bhp) model and the more powerful 3.2-litre (260bhp) Boxster S.. Optional Tiptronic automatic transmission is available.
Alternative cars
Audi TT Roadster Less exclusive than Boxster and also less involving
BMW Z4 Styling divides opinion strongly; good but no match for the Boxster
Honda S2000 Free-revving engine and exciting, edgy handling is not for the faint-hearted
Lotus Elise Suitable for roadster purists, impractical on a daily basis
Over 1,200 more car reviews online
All the reports since 1990 are available on this site, just search by make and model below.
Other products & services
Related information
June 2004