BMW 5 Series 535d M Sport
April 2011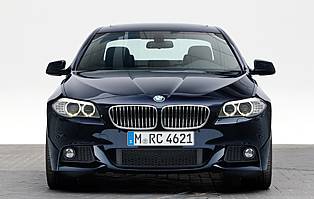 M Sport bodykit is most obvious from the front
Ratings
Overall rating
Value for money
Costs
Space and practicality
Controls and display
Comfort
Car security
Car safety
Likes
Improved level of standard equipment on all models over its predecessor
Wide range of options available to enhance the car's ride and handling
Sport package adds some much needed kerb appeal
High power diesel engines deliver impressive performance
Gripes
The 'active' handling options are needed to improve the large car's agility
Auto gearlever could be more intuitive
Exterior design not to everyone's taste
Boot could be more accommodating
Having moved away from the controversial design of its predecessor, this 5 Series from BMW offers a more conservative approach to design. It's also now got more in common with the firm's larger 7 Series when it comes to comfort, refinement and cabin aesthetics. To prove it hasn't gone soft, the M Sport variant boasts a subtly more aggressive appearance and displays a keener approach to spirited driving.
This 5 Series is a long way from the 'love it or loathe it' approach of the previous model. It's true that it split opinion, but it's also true that the more aggressively styled M Sport variants accounted for the majority of sales.
This pattern continues, and BMW's latest 5 Series M Sport variant presents a harder edge visually and a usefully more focused driving experience. The exterior changes might be modest, but taken as a whole the car's softer appearance has been replaced by an easy on the eye bodykit and slightly lower stance.
The M Sport clues are less obvious in the cabin; although this is an area where the buyer is presented with a wide choice of alternative trim colour and materials anyway. That said, the car's chunky steering wheel and supportive seats are a welcome addition.
Obviously the big attraction to the BMW brand is driving appeal, and the 5 Series remains an engaging experience despite the company's desire to broaden the model's appeal and tone down it's once over-firm ride. The option of adjusting the ride yourself still allows keen drivers the choice, though. And in flagship 535d guise the car delivers V8 petrol-like performance without a similar impact on your wallet.
Our verdict on the BMW 5 Series 535d M Sport
In M Sport guise, BMW's 5 Series offers keen drivers that bit more in terms of on-road enjoyment than a regular model. Style-wise the car boasts a sharper look, while its dynamic properties have been given a subtle but welcome fine tune. That these variants have, historically, proven to be the most popular is the best endorsement you need.
Costs

In recent years BMW has made considerable economy improvements to all its cars. The default four-cylinder diesel 5 Series is popular and competent for this reason. There are also savings at the top end of the performance spectrum, and the 5 Series still presents a solid buy despite the increasing competition.
Space and practicality

A little bigger than its predecessor, this 5 Series offers plenty of room for four adults. Head and legroom in the rear is good for a car in this class, while oddment storage space is plentiful both fore and aft. The car's boot is also a good size, although the deep load space is not particularly wide.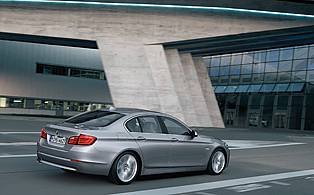 Saloon presents a clean cut image from the rear
Controls and display

With BMW's i-Drive technology having steadily improved over time, it's now become surprisingly intuitive, and controls many of the car's functions: ventilation, audio, sat-nav, telephone. The car's auto gearlever requires a little practice to be fully comfortable with, but this is the only ergonomic quirk in an otherwise well thought out cabin.
Comfort

Engine and road noise is at impressively low levels. It's only the occasional incident of wind noise that interrupts the otherwise soothing cabin ambience. There is no issue over the amount of space in the cabin, and the driving position offers plenty of adjustment thanks in part to the wide range of seat adjustments.
Car security

This sixth generation car is likely to be no less popular than its predecessor. As such, a quality alarm and immobiliser package is available plus a keyless entry and start feature, while it would be unwise to dismiss a supplementary tracking device if you value your pride and joy.
Car safety

From a full compliment of airbags to a sophisticated electronic traction and a stability package, nothing has been left to chance. There's no doubting the car's safety credentials, which is especially reassuring in a car with this much performance potential.
Driver appeal

Delivering a sporty driving experience for the enthusiastic executive has been a major BMW selling point. The regular SE cars have been softened a bit but the M Sport models reclaim the performance mantle. Lower and stiffer, cornering ability is improved but not at the expense of ride comfort. The flagship 535d delivers V8 petrol levels of acceleration but without the fuel bills. The eight-speed auto gearbox is also an impressive piece of kit.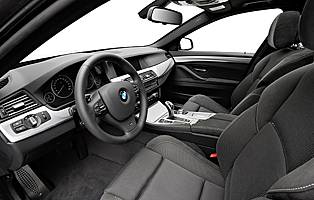 Premium ambience with subtle M Sport features
Family car appeal

This really isn't a car for a family. Its plush cabin is unlikely to survive intact in the face of boisterous toddlers. Also, the car's boot isn't as flexible as a people carrier's load space.
First car appeal

There's no question that it's an easy car to drive and, with the variable rate steering, it requires little effort to park. Anyone on a budget might prefer the 3 Series, which is obviously smaller and less expensive to buy and run.
Quality and image

The previous model, although a strong seller, divided opinion with its looks. This variant displays and more restrained appearance, and one that's likely to generate wider interest from conservative buyers. BMW's Efficient Dynamics sub-brand has done wonders for boosting sales of frugal models, while the M Sport offering remains an especially popular variant.
Accessibility

Bigger than previously in all the key areas, access through the car's front doors is good. Surprisingly, the rear door aperture is generous for something in this class. Accessing the boot of this saloon variant is also straightforward.
Stereo and ICE (In car entertainment)
The basic offering in the 5 Series range isn't so basic. Including Bluetooth mobile phone compatibility - is something all executives on the move should appreciate. The optional satellite navigation works well on the big screen, and there's the likes of digital radio and MP3 music player connectivity to choose from.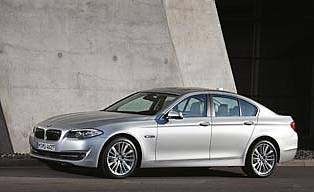 Visually striking and popular for a good reason
Colours and trim
Lighter hues sometimes work best, as darker colours mask the car's many exterior details. This model is more conservatively styled than previously, and it's obvious when a darker colour is chosen. The opposite is true inside, with darker fabrics and trim materials setting the right tone.
Parking
Once you're familiar with its size parking rarely proves to be a challenge. The included parking sensors help, while the optional active steering function greatly reduces the effort required. The optional reverse parking camera is an added bonus.
Spare wheel
Run flat tyres fitted as standard.
Range information
Petrol engine options - 523i (204bhp); 528i (258bhp); 535i (306bhp); 550i (407bhp). Diesel engine options - 520d (184bhp); 525d (204bhp); 530d (245bhp); 535d (299bhp). Transmission options: six-speed manual gearbox, plus optional eight-speed auto gearbox (standard for 550i). Trim levels: SE, M Sport.
Alternative cars
Mercedes-Benz E-Class Bold styling balanced against a rounded driving experience
Audi A6 A6's cabin is spacious but car lacks sparkle when up against the 5 Series
Lexus GS Alternative, hybrid-only, choice is well equipped but can't match brand image of German rivals or on road pace
Jaguar XF Stylish alternative offers good balance refinement and driver involvement
Over 1,200 more car reviews online
All the reports since 1990 are available on this site, just search by make and model below.
Other products & services
Related information
April 2011