BMW 3 Series Touring 320d EfficientDynamics
November 2013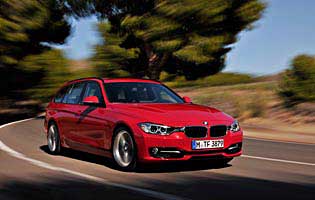 Bold exterior look is likely to divide opinion
Ratings
Overall rating
Value for money
Costs
Space and practicality
Controls and display
Comfort
Car security
Car safety
Likes
Practical boot adds significant luggage capacity gains over the saloon
Great fully adjustable driving position
Predictable and enjoyable handling dynamics
Efficient Dynamics model offers considerable real world economy savings
Gripes
Modest real world performance doesn't seem as strong as BMW's on paper claims
Gruff engine noise reduces driver enjoyment
Modest standard specification
Styling may not appeal to all tastes
Recent year have seen BMW make considerable gains in the areas of low fuel consumption and CO2 emissions levels. Thanks to the use of clever technology such as stop-start engine systems, enhanced aerodynamics, low rolling resistance tyres and changes to engines and gearboxes, a handful of its models boast performances that rival the best superminis on the market.
One such car promising ultra-low running costs is BMW's 3 Series, specifically in the eco-centric EfficientDynamic trim. Outwardly this car looks no different from the rest of the range, but the subtle application of clever engineering tricks have done wonders for its environmental footprint.
Promising low, triple digit CO2 figures and supemini levels of fuel economy, this special version of the popular 320d diesel variant should prove especially popular with business users, thanks to the combination of low running costs and promise of equally low tax outlay.
Despite its unassuming appearance, this 320d packs a few aero tricks to ensure it cuts a low drag dash. Then there's the eco-focused gearing and engine mapping that is biased more towards squeezing the maximum from the fuel tank, plus a number of driver selectable modes to further enhance the car's economy performance, such as reducing the air conditioning's power.
If this all sounds a little too much like driving the equivalent of a hair shirt you'd be wrong. BMW's aim is to minimise compromise where possible, ensuring this 3 Series drives much like any other. Granted, you're not buying the EfficientDynamics model for its outright performance, but driving it doesn't feel like a chore. Plus, you still have access to all the usual comfort and convenience cost options.
Our verdict on the BMW 3 Series Touring 320d EfficientDynamics
For many, the combination of a fuel and tax efficient 3 Series should prove a considerable attraction - especially financially savvy business users. That the driving experience is largely the same as a regular 3 Series should banish thoughts of having to make any sacrifices. Plus, in Touring guise, factor in the practical estate body and it's hard not to view this 3 Series in anything but a positive light.
Costs

The main reason for choosing the 320d EfficientDynamics model is to save money at the pumps and minimise the amount of tax you pay thanks to its low CO2 rating. The latter is especially important for business users, and with the car offering a reasonable turn of speed such a decision shouldn't feel like too much of a compromise when behind the wheel.
Space and practicality

The Touring model is the one to choose if space and practicality are at the top of the priorities list. The load area has grown from the last generation 3 Series and is more than large enough for holiday cases for a family of five, DIY supplies or a large dog. It provides enough space for the vast majority of buyers. Cabin space is something of a mixed bag though. The door pockets are too small and tight, and while front occupants fare well those in the back could do with more legroom.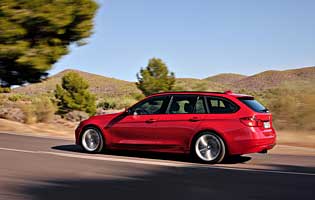 Roofline should ensure reasonable headroom for adults in the back
Controls and display

Central to the car's dashboard is a large widescreen display protruding upwards from the top of the centre console. The screen itself is high-resolution and clear, using a simple colour scheme to display key car systems information and menu options. Access is largely gained through the much improved i-Drive controller. The main instrument cluster is clear, large enough and bright in all lighting conditions.
Comfort

Apart from some wind noise around the door mirrors, normal driving noises are impressively suppressed, although this does change if you choose to work the slightly gruff four-pot diesel hard. At least the high profile eco-spec tyres make light work of pot holes and other surface imperfections. There is plenty of legroom for rear passengers and no occupant is likely to feel cramped during any length of journey.
Car security

It's the basic package here, which should prove sufficient for most owners. As well as an alarm and immobiliser, plus remote central locking, the fuel filler cap and the boot are also part of the locking circuit. And at the rear the Touring boasts a sturdy load cover to deter prying eyes.
Car safety

The car's safety kit list is topped by a comprehensive complement of airbags, stability control and a variety of seemingly small but welcome aids. There are many systems dedicated to keeping the car out of danger, or mitigating damage if the worst happens. Thankfully none prove too intrusive and there's always the ability to turn them off if, say, you find assistance is unwanted in snow.
Driver appeal

Unlike more powerful and driver-focused variants, the EfficientDynamics version of the 3 Series is focused heavily on maximum fuel economy. Thanks to conservative gearing and the calibration of the various electronic driving modes, it can be hard work to drive the car enthusiastically. In reality, this 320d is happiest in a high gear and driven on a gentle throttle setting. That aside, there's much to cheer about the weighty steering and impressive ride quality on the eco-centric high profile tyres.
Plush interior combination unlikely to be the first choice option for EfficientDynamics owners
Family car appeal

With more space in a more useful configuration, the 3 Series Touring is the natural choice for families who aren't in love with people carriers or sports utility vehicles. The car's upmarket cabin might be better suited to a grown up family, especially if you value the integrity of the upholstery and trim materials.
First car appeal

In principal the 3 Series isn't a bad choice, although there's the affordability issue. Easy to drive and, in low power guise, it's hardly an intimidating experience.
Quality and image

As with the other premium German marques, BMW enjoys a loyal and considerable follow. The emphasis is not exclusively on 'the ultimate driving machine' as economy, emissions and the popularity of SUVs have come to the fore. That said, BMW's products still prove to be the most entertaining in their sector.
Accessibility

The estate-type boot on the Touring brings with it a flat load bay that makes loading heavy items considerably easier. It's also possible to fit much larger objects or pets in without having to use the rear seats. As a bonus, the rear doors are somewhat shorter than the fronts, which means they can open wider in the same space but that the aperture is smaller - great in supermarket car parks.
Stereo and ICE (In car entertainment)
As is the case with modern BMWs, there's a multitude of options are available for playing music, including a 3.5mm input, a USB port and Bluetooth wireless connection. There is also a single CD slot. System functionality is good, with a simple combination of buttons and dials, and a large colour screen to keep track of media inputs.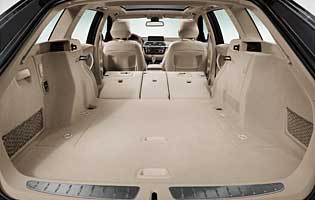 320d Touring promises to be both frugal and practical
Colours and trim
The colour range covers all the key bases, and although blacks and silvers are likely to be most popular, stronger colours look great on this model. The 3 Series Touring needs a bold choice to help to lift it aesthetically. Its interior trim holds no major departures from previous BMWs, being cleanly styled and unfussy.
Parking
With both front and rear parking sensors fitted, the Touring is easy to park. The car is larger than its predecessor however, which makes finding an appropriate space harder than it used to be, although the highly assisted steering helps matters considerably.
Spare wheel
Run-flat tyres fitted as standard.
Range information
Petrol engine options - 1.6-litre (136bhp); 2.0-litre (163bhp, 184bhp, 245bhp); 3.0-litre (306bhp). Diesel engine options - 2.0-litre (116bhp, 143bhp, 184bhp, 218bhp); 3.0-litre (258bhp). Transmission options: six-speed manual gearbox, plus eight-speed auto gearbox. Trim levels: ES, SE, EfficientDynamics, Sport, M Sport, Modern, Luxury.
Alternative cars
Mercedes C-Class Estate A more premium cabin ambience but can't match the BMW for economy
Audi A4 Avant Relatively expensive once optioned up to a reasonable standard
Jaguar XF Sportbrake Sleek and spacious estate can't compete when it comes to CO2 or economy
Vauxhall Insigia Practical Insigina is good to drive and comes surprisingly close in economy stakes
Over 1,200 more car reviews online
All the reports since 1990 are available on this site, just search by make and model below.
Other products & services
Related information
November 2013