BMW 1-Series M135i
November 2012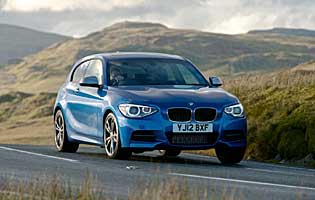 Although improved underneath, the M135i looks like any other M Sport 1 Series
Ratings
Overall rating
Value for money
Costs
Space and practicality
Controls and display
Comfort
Car security
Car safety
Likes
Versatile and powerful turbocharged engine
Magnificent performance across the rev range
Practical rear seats and boot
Understated looks draw little unwanted attention
Gripes
Limited visibility out of the rear
Big wheels and tyres cause road noise
Engine and exhaust note could be more distinctive
Ride borders on hard
The M135i is a standalone model within the 1 Series range, combining a three- or five-door rear-wheel-drive layout with a new three-litre turbocharged engine and upgraded chassis components to form a halfway house between the 135i Coupe and the 1M, albeit as a hatchback. Its level of performance versus its modest price makes it a focal point in BMW's range for keen drivers.
On the surface it is easy to question the business case for the M135i, sitting at the top of the 1 Series hatchback range but slightly apart in both naming convention and construction. But BMW has seen a market for a relatively affordable performance hatchback with space for five, plus luggage, that is also a cut above the rest of the range in terms of driving dynamics.
BMW has history when it comes to building potent, compact petrol-powered cars and the range is still populated with them. The 135i Coupe has attracted praise from journalists and owners alike and remains as convincing a package as ever. There was certainly room in the BMW line-up for a faster hatchback model however, and the M135i slotted into the gap neatly.
Priced only a short leap above many potential hot hatch rivals, the M135i is designed to tempt buyers away from less premium offerings and give owners of older fast 3 Series models a more compact choice than the current 3 Series. While the 135i Coupe is aimed at sports car buyers, the M135i is aimed at performance enthusiasts who use a car every day for family duties as well as enjoyment.
That means that the M135i is equipped with all the practicality of its less performance-biased stablemates, including a large, relatively easy-access boot. Whether the task is crossing continents with passengers and luggage on board or making the most of countryside roads with nobody else in sight, this is BMW's version of the perfect compact sports hatchback.
Our verdict on the BMW 1-Series M135i
The M135i has the performance and handling to be more than a match for many two-seater coupes or two-plus-two sports cars, but with useable rear seats and a decent boot it also boasts impressive practicality. For owners willing to spend a little more on fuel or who cover lower-than-average mileages, this is a very capable car that will excel at all the key tasks asked of it.
Costs

Because of its impressive performance the M135i is likely to be more expensive to insure than any other 1 Series apart from the 1M. Although it has a bigger thirst for petrol than some hot hatches with smaller engines, fuel economy is actually impressive considering the capacity and output. Owners will need to be prepared for a larger than normal bill when the run-flat tyres need replacing, though.
Space and practicality

Although the Coupe technically has a bigger boot in terms of volume, the hatchback's wide-opening tailgate allows larger objects like household appliances or furniture to fit with the rear seats folded down. There's plenty of room for sports bags and the weekly shop. The rear seats are more useable than the token gestures often offered in a two-plus-two sports coupe, but fully-grown adults will still find legroom restricted. Kids will fit snugly into the rear though.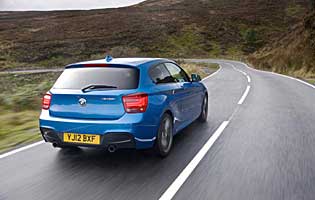 The understated styling continues at the rear
Controls and display

The M135i's controls seem to have been deliberately weighted to match the car's performance. The steering can feel a little heavy, but the weight and feedback quickly becomes a bonus at speed and when having some fun. The pedals and gear change are all smooth and lightweight in a good way. Dials and instruments are well laid out and easy to read while the column stalks and switches are where you'd expect to find them. The iDrive system can be a little fiddly at first but becomes second nature.
Comfort

The M135i is a driver-focused car from the front seats forward, so it's no surprise to find a large range of adjustment for the driver's seat and steering column. The pedals are slightly offset but not uncomfortably so, and in cruising wind and engine noise are kept to a minimum. The sports suspension and wide tyres do lead to a firm ride, although never jarring, and road noise is obvious at speed.
Car security

The car gets a standard but highly complex alarm and immobiliser package that makes it almost impossible to steal the car without the proper key. Naturally it has remote central locking, and the stop/start button still requires the push-in key to be present in the slot. There's ample covered storage inside and items in the boot will be out of sight, while privacy glass around the rear half of the car makes items left on the back seats harder to see.
Car safety

Massive discs and callipers mean the M135i is well sorted when it comes to stopping from any speed, and the tremendous mechanical stopping power is augmented by an array of electronic aids. Brake Force Display warns drivers behind that an emergency stop is in progress and run-flat tyres are complimented by BMW's Tyre Puncture Warning System. Both front and rear occupants are protected by several airbags.
Driver appeal

The M135i's new single twin-scroll turbocharged three-litre engine is extremely potent, making the car a match in a straight line for some impressive opposition. The rear-wheel drive platform has been modified in key areas including steering speed and feel, and copes particularly well with the abundant power. The firm but controlled ride offered by the revised M-Sport suspension package means the 135i has sprightly but planted and responsive handling.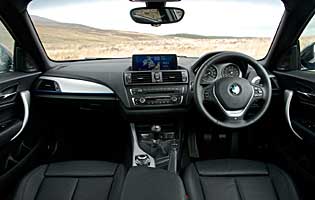 Leather upholstery is standard inside a plush cabin
Family car appeal

One of the M135i's main purposes is to provide a fast, capable compact family car and that is one of the chief factors that separates it from the Coupe. Its rear seats are amply sized for children and the hatchback boot is more practical than a saloon-type. There are child seat mounts as standard and the front passenger side airbag can be switched off to allow a rearward-facing child seat to be installed at the front.
First car appeal

While the hatchback body style and brand prestige the M135i offers might be high on a new driver's shopping list, it's too powerful, too expensive to buy and too costly to run to be an effective first car. Younger drivers with no no-claims bonus will struggle to insure it at all, and with budgets tight the road tax and fuel bills might be off-putting.
Quality and image

The 1 Series has never disappointed in terms of materials quality, being up to BMW's usual high standards, but arguably the Coupe is a more desirable design. The M135i is the most desirable of the hatchback line-up thanks to its M Sport styling and impressive dynamics, but its understated exterior leaves it lacking the visual impact of its fully-fledged M Division cousins.
Accessibility

As a three-door the two long doors mean that it can take a considerable step forwards to climb in, especially for those who sit quite close to the wheel. It also leaves the seat belt a long stretch away past the seat back, but it can be ordered as a five-door as well, which makes life easier for rear seat passengers. Despite its wide stance, the M135i has a fairly normal ride height so stooping on entry is not necessary.
Stereo and ICE (In car entertainment)
The M135i has a high quality sound system, but despite being the range topper it only comes with a single slot CD player as standard. It can be specified with sat-nav and CD/DVD changer. The latest-generation iDrive system has been updated with the latest style of interface to make accessing the most commonly used functions easier. The quantity and depth of the available settings is sometimes overwhelming but the system is intuitive.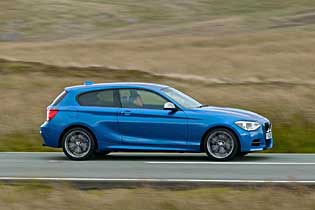 Three and five-door versions of the M135i are available
Colours and trim
Customers can choose from a reduced number of exterior colours on the M135i. It looks at its best in more extravagant colours and BMW has made two available, covering a pale blue and a deep and lusty orange. Otherwise the palette covers white, grey and black. The M135i wears the M Sport body kit fitted to all M Sport models, giving it a sporty look on the outside while good quality leather seats and contact points provide a sportier feel.
Parking
The 135i is priced competitively and as such in standard guise does without technology like parking sensors, which can be problematic because rear visibility is poor. The rear-wheel-drive layout gives the 1 Series coupe a tight turning circle because there are no restrictive drive shafts attached to the front wheels. The relatively flat shape of the tailgate makes it easier than it might be to judge where the rear bumper is.
Spare wheel
Fitted with run-flat tyres as standard.
Range information
Petrol engine options - 1.6-litre (101bhp, 134bhp); 2.0-litre (215bhp); 3.0-litre (316bhp). Diesel engine options - 1.6-litre (94bhp); 2.0-litre (114bhp, 141bhp, 215bhp). Transmission options: six-speed manual gearbox, eight-speed automatic with Steptronic semi-automatic mode (120d, 125d and 125i only). Trim levels: ES, Urban, SE, M Sport.
Alternative cars
Nissan 370Z Raw two-seater coupe is more fun, but less practical
Porsche Cayman Coupe offers premium badge and similar performance but for more money
Volkswagen Golf R version is a practical and potent hatch, but four-wheel-drive
BMW 3 Series Coupe 335i is bigger, but considerably more costly
Over 1,200 more car reviews online
All the reports since 1990 are available on this site, just search by make and model below.
Other products & services
Related information
November 2012