Volkswagen Polo 1.4 TSI GTI
April 2011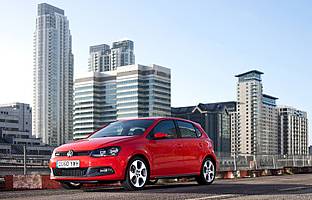 Sporty looking Polo strikes a stylish pose
Ratings
Overall rating
Value for money
Costs
Space and practicality
Controls and display
Comfort
Car security
Car safety
Likes
Responsive and efficient 1.4-litre engine
Good space in the cabin and boot for a car of its small size
Solid but nimble-feeling chassis - should please keen drivers
Sure footed and safe - standard features include stability control and an electronic differential lock
Gripes
Only available with a semi-auto DSG gearbox
Could be considered quite pricey for a car of its size
Cabin build quality could be better and feel more expensive
The gearbox's sports mode does little to enhance the driving experience
Faster, cleaner and sharper than its predecessor, this generation of Polo GTI promises to be great to drive and manages to successfully mix fun with frugality and functionality. More grown up and mature in its styling than most rivals, Volkswagen's aim has been to broaden the car's appeal beyond that of the traditional hot hatch buyer.
Changes to this performance Polo over the previous model include a supercharged and turbocharged 1.4 TSI petrol engine and the relocation of the battery from the engine bay to the boot to improve weight distribution. Away from the mechanical changes, this Polo follows the general trend for growing in all the important dimensions.
The Polo GTI boasts a sporty stance and comes with a pair of chrome-tipped exhausts and 17-inch alloy wheels. From the outside it's easy to see that the Polo has inherited a lot of its styling from its bigger brother the Golf GTI, with its honeycomb grill, checked seats and red brake calipers.
Volkswagen's baby hot hatch also shares the same dynamics and practicality as its older sibling. New springs and dampers sharpen responses and give the GTI a 15mm lower ride height than the conventional Polo. Greater grip is assured in all conditions thanks to its sophisticated traction control system.
Mechanically there are significant changes too with a better braking system and suspension revisions. What really deserves praise is the car's turbocharged and supercharged 177bhp 1.4 TSI engine. This little four cylinder engine feels like a much bigger unit than it is. In a nod to the greater focus on green issues, this Polo GTI is 25 per cent more fuel efficient than the model it replaces.
Our verdict on the Volkswagen Polo 1.4 TSI GTI
Volkswagen's Polo GTI is built to please enthusiastic drivers who want to downsize without sacrificing performance. It could have been more daring with its looks to set it aside from its Golf GTI sibling, but improvements under the skin have made this performance Polo feel like a proper GTI, while its chuckable character makes it a lot of fun to drive.
Costs

For a supermini the Polo GTI's initial purchase could be considered quite high but residual values for the car are among the best in its segment. Fuel economy and emissions have been improved in the GTI, which now has a 1.4-litre engine plus a 'twin charge system' to boost power when needed.
Space and practicality

Space in both the front and rear is reasonably good for a car of this size. The driver's seat, front passenger's seat and rear bench have all been redesigned and offer more comfort, practicality and space. Knee room in the rear has grown with an increase of 8mm. The boot is also a decent size and has a low loading lip for extra practicality.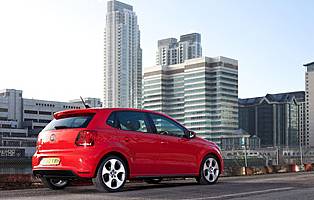 Small proportions make the Polo GTI easy to park
Controls and display

Every surface and switch is easy to find and comfortable to touch and VW's impressive touch-screen sat-nav is an option. The centre console controls are laid out logically and a multifunction wheel can also be specified, which includes supplementary audio controls.
Comfort

This latest Polo GTI is fitted with retuned springs and dampers which makes for a firmer ride than regular models. You can forgive it for that though because the chassis feels responsive and even though it is on the firm side the ride is never unbearable. The seats are supportive and there is minimal road and wind noise.
Car security

The standard fitment of an engine immobiliser and central locking give even the base model Polo a respectable level of security, and an auto locking anti-hijack system when on the move. All audio units are custom fit and will not fit in any other vehicle.
Car safety

The Polo has been designed and manufactured to be among the safest in its class and this generation is a good effort. The car comes as standard with ABS, Hydraulic Brake Assist (HBA) and ESP. It also has a clever electronic differential lock system (XDS) which is also used in the Golf to reduce wheelspin and torque-steer.
Driver appeal

The Polo GTI feels light and agile and it has a chuckable character, which makes it fun to drive. It is a lot more exciting than the previous Polo GTI and has a responsive TSI engine which is supercharged and turbocharged. VW has made sure that this Polo is the cleanest, fastest and most focussed GTI yet. It is much more of a GTI than the previous model and should appeal to those enthusiastic drivers who can no longer afford a gas-guzzler and need to downsize.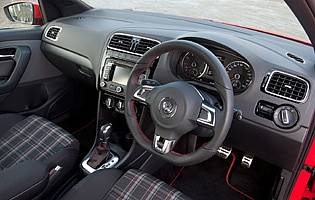 Instruments redesigned for a more modern look
Family car appeal

This car in five-door form has enough space for a small family and it is reasonable practical with a spacious boot complete with a low-loading lip. However, this particular variant is geared more towards performance than functionality and has a firm ride so a standard Polo would perhaps be more comfortable.
First car appeal

The Polo GTI is potent car and has a reasonably high price tag so is unlikely to appeal to first car buyers. However, it is small and easy to drive so a standard car would be better suited if the Polo was the favoured choice.
Quality and image

The Polo feels like a baby Golf and that is no bad thing. It shares a lot of refinement and sophisticated equipment with its bigger brother. The Polo's instruments have been redesigned and Volkswagen's traditional blue dials have given way to white backlighting as seen on the Golf.
Accessibility

The Polo can be had in three or five door form and the solid, chunky door handles help make getting in and out of the car reasonably easy. Inside, head and legroom are all improved and the Polo is easy to get in and out of despite its small shape. Tall rear seat passengers may have more of a problem with less legroom though.
Stereo and ICE (In car entertainment)
The standard provision in the Polo is a radio/MP3 compatible CD player with four speakers. Optional equipment includes a navigation system with touchscreen, multimedia interface, MP3 functionality and an aux-in socket on its front panel. DAB digital radio and climate control are also available as cost options.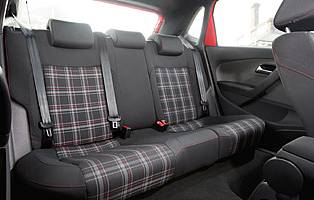 Checked seats hark back to GTI models from the past
Colours and trim
Exterior colour options range from bright, youthful shades like candy white to more conservative tones like grey, silver and black. The GTI's checked seats set it apart from standard Polos, which are predictably more conservative in style.
Parking
Small and competent, the Polo is easy to park and manoeuvre. Getting in and out of tight spots is never complicated in this little car. A decent driving position is easy to find and there's great all-round visibility.
Spare wheel
Fully size steel spare wheel as standard.
Range information
Petrol engine options - 1.2-litre (59bhp); 1.2-litre (69bhp); 1.4-litre (84bhp); 1.4-litre (177bhp). Diesel engine options - 1.2-litre (74bhp); 1.6-litre (89bhp). Transmission options: five-speed manual, six-speed manual, seven-speed DSG gearbox. Trim levels: S, SE, SEL, BlueMotion, Moda, GTI.
Alternative cars
Skoda Fabia VRS variant fun to drive and the cheapest of the rivals
Seat Ibiza Cupra Not as driver-focussed as the Polo, flamboyant styling better suited to the younger driver
Citroen DS3 A little bit more exclusive with its fresh, funky design and good level of refinement
Renault Clio The Clio 200 Cup variant is more involving, accurate and agile but not great on comfort or refinement
Over 1,200 more car reviews online
All the reports since 1990 are available on this site, just search by make and model below.
Other products & services
Related information
April 2011