Vauxhall Agila 1.0 16v Club
March 2008
Youthful looks and compact dimensions combine to make the Agila an attractive proposition
Ratings
Overall rating
Value for money
Costs
Space and practicality
Controls and display
Comfort
Car security
Car safety
Likes
Soft, friendly styling
Compact footprint makes city driving easy
Lively yet refined engine range
Spacious cabin - especially for rear seat passengers
Gripes
Cabin materials could be better quality - identical to Suzuki's Splash
Little need for 1.2 petrol unit - others emit less CO2 and perform just as well
ESP is a cost option across the range
Separate, fascia-mounted rev-counter a bit gimmicky
From the boxes on wheels from only a few years ago, the city car sector has matured into a range offering decent levels of refinement and performance. Nowhere is this more obvious than with Vauxhall's Agila. Once nothing more than a box on wheels itself, this Agila is more rounded and modern in appearance.
It wouldn't be fair to credit Vauxhall with all the good work regarding the Agila. If it and Suzuki's Splash look similar, it's because they are essentially one and the same car. This is not an usual arrangement, as the same was true of the previous generation Agila.
While the previous car was upright and boxy, this car is still upright but more curvaceous. As a result the Agila now looks more mature and sophisticated. That's certainly the image Vauxhall would like you to buy into, so in this case the work done hasn't been in vain.
The car's interior can't quite match the sophisticated and glossy-looking exterior for the simple fact that it's Suzuki's handiwork. Although not a direct criticism, the previous generation's budget-conscious origins are still present. In fact, the layout and materials used are pretty good - everything is logically placed and easy to use - but if you're used to a Corsa or Astra you'll notice the difference.
Minor gripe aside, the Agila is a capable car. Ride comfort is good, refinement very good and the three engines more than adequate. The 1.0-litre petrol and 1.3-litre diesel are rated at the magic 120g/km for CO2 emissions, and the former boasts enough power for all but the longest of motorway journeys - the 1.3 diesel is your friend for regular out of town excursions.
Our verdict on the Vauxhall Agila 1.0 16v Club
The combination of cheerful, youthful styling plus a spacious interior and competent engines affords this generation of Agila a level of desirability that was lacking in the old car. Yes the Suzuki influence is instantly visible inside, but it would be wrong to be too harsh. Both cars are strong performers, and the final decision might boil down to which dealer is the nearest. If it's got a griffin sign above the door, you won't regret buying the Agila.
Costs

With a low asking price, economical engines and the associated low tax bands, the total cost of ownership should be within each reach of most people. There aren't that many options to choose from, which should also help keep the purchase price down. Overall the Agila is a frugal machine, even in 1.0-litre guise - the perfect engine for town driving anyway.
Space and practicality

For a relatively small car the Agila is surprisingly spacious. The cabin will easily accommodate four adults, with rear legroom especially generous. Headroom is also good fore and aft. At the back the car's tailgate opens wide to reveal a good size boot for a car in this class. Deep with a small load lip, the available space is flat and wide. AS you would expect, the rear seats fold forward -with minimal effort - to increase the load space area.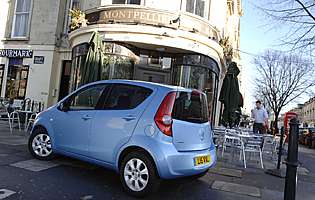 Short overhang and large rear screen make parking easy
Controls and display

With a simple car like the Agila you're faced with simple instrumentation. The main dial in front of the driver is clear and easy to read, with the model dependent, supplementary dash-mounted rev counter a novel addition. Everything - gearshift, brakes, column stalks - work well, and the custom fit audio unit is easy to operate. Its display could be bigger and the backlighting changed from red to a more readable green, though.
Comfort

For a small car the Agila rides well. Its long wheelbase and supple suspension helps to smooth out road surface imperfections. The car's seats are pleasingly supportive, which further helps shield you from urban undulations. At sensible speeds it's rare for engine and road noise to become intrusive.
Car security

Hardly a thief magnet, it's fair to say that the Agila is unlikely to pose a serious risk. Of course, leaving items on view in the cabin is a different matter, and here the spacious glovebox is your friend. It's the same at the rear, with the car's parcel shelf a sturdy item and easily capable of shielding your belongings from prying eyes. Of course, for the ultimate peace of mind you could invest in a visible deterrent such as a steering lock.
Car safety

With airbags and anti-lock brakes the standard-fit highlight on the Agilia, it would be cruel to expect more at this price point. True to form that is all you get - ESP is a cost option - along with the expected Isofix child seat mounting points.
Driver appeal

While not designed to be a thrilling car to drive, the Agila is surprisingly willing and competent. The high driving position and high-mounted gearlever make town driving easy and enjoyable, while the engines are willing and refined. For urban duties the 1.0-litre petrol is more than adequate, with the diesel suitable for longer, high speed runs. Supple suspension and accurate steering complete the package.
Bright seat fabrics add a welcome lift to the functional and spacious cabin
Family car appeal

Firmly planted in the city car sector, you could never describe the Agila as a family car. This is not a criticism but cold, hard reality. As a second car, however, the Agila would be a sound addition to the family. The boot might just accommodate a pushchair, but more importantly access to the rear seats is good - important when securing a child seat from the outside. Oddment space is acceptable for something that isn't an MPV and the various trim and upholstery combinations look able to withstand some abuse.
First car appeal

There's no reason why an Agila couldn't be a first car. Affordable, spacious, easy to drive and boasting light and intuitive controls, this car is a breeze to park and should cost little to run. Thanks to the raised driving position visibility is very good, and the straight up and down tailgate helps to make reverse parking drama-free.
Quality and image

Vauxhall's city cars have done well in recent years. Although not always its own work - this isn't the first collaboration with Suzuki - the changes made by Vauxhall this time have done much to stamp the firm's own personality on the Agila. Alas, such efforts haven't extended to the car's interior, which is essentially a clone of Suzuki's Splash fascia - better quality materials would have been appreciated to compliment those in the Corsa.
Accessibility

The slightly raised front seating position makes cabin access and egress easy, and the doors open wide for good measure. Despite the reduced door size at the rear, access is surprisingly straightforward and exiting the car is no less difficult. At the rear the car's tailgate requires little effort to open, although a firm action is recommended when closing it to ensure that it is properly shut.
Stereo and ICE (In car entertainment)
A custom fit audio unit is located high up in the Agila's fascia. The various controls are intuitive at first glance and the sound quality is good for something at this price point. The red backlighting does make the display hard to read, though.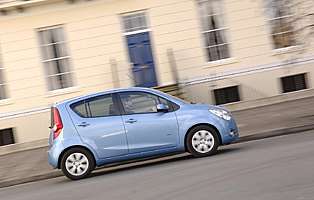 On the move the Agila is stable, refined and fun to drive
Colours and trim
Bright colours inside and out suit the fun-loving little Agila best. The jolly exterior hues do much to highlight the car's engaging character, while the seats upholstered in 'Agila' trim are a refreshing change from more sensible offerings from rivals.
Parking
No surprises here - the compact Agila is a breeze to park. Its short overhangs and light steering all make slotting into small city parking spaces straightforward. The slightly raised driving position improves forward visibility also.
Spare wheel
Space saver fitted as standard.
Range information
Petrol engine options - 1.0-litre (65bhp); 1.2-litre (86bhp). Diesel engine options - 1.3-litre (75bhp). Transmission options: five-speed manual gearbox is standard fit, four-speed automatic gearbox optional for 1.2 petrol. Trim levels: Expression, Club, Design.
Alternative cars
Fiat Panda Spacious, well mannered and good looking; better suited to city driving than brisk drives
Suzuki Splash Clone of the Agila, does everything the little Vauxhall does
Honda Jazz High quality small car boasting excellent levels of space
Renault Twingo Second generation Twingo is positioned as high value city car
Over 1,200 more car reviews online
All the reports since 1990 are available on this site, just search by make and model below.
Other products & services
Related information
March 2008