Porsche Panamera Diesel
February 2014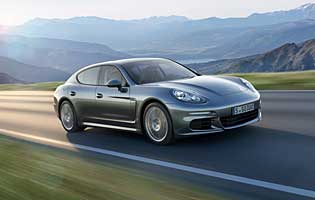 Detail changes help make this the best-looking Panamera to date
Ratings
Overall rating
Value for money
Costs
Space and practicality
Controls and display
Comfort
Car security
Car safety
Likes
Extremely high materials quality
Spacious and smart cabin
Ride and handling balance is superb
Impressive fuel economy for a car this large
Gripes
Styling still raises eyebrows
May not be fast enough for some Porsche buyers
Size can make it difficult to drive in tight spaces
Although relatively cheap to run, not cheap to buy
The Panamera is Porsche's capable and comfortable GT car that can cross continents and carry passengers with ease as well as still deliver driving thrills. The range has been overhauled with some styling changes and the introduction of a new version of the hybrid model, but it is the Diesel that will remain one of the most popular choices.
The basic template for the Panamera remains as before, wrapping some traditional Porsche design themes such as the distinctive headlights and heavily-curved front wings and incorporating them into a big GT coupe shape. Very subtle changes to the exterior have kept it looking very fresh and with the right wheel and colour option it is a handsome and elegant car.
On the inside the Panamera is a strict four-seater, with individual seats for each occupant adding to the luxury GT feel. As well as giving each passenger good leg and elbow room the Panamera has a usefully large boot that can carry luggage for four people too.
Under the bonnet the Panamera has a 3.0-litre V6 diesel unit already seen in the previous model and shared with the bigger Cayenne SUV. Designed to offer the kind of performance that buyers expect from a Porsche as well as respectable fuel economy when driven with restraint, it comes with the seven-speed PDK dual-clutch gearbox as standard, reflecting the fact that buyers at this level aren't interested in a manual option.
As one would expect from Porsche there are a multitude of options available for the Panamera that can enhance its specification as well as seriously inflate its price. The carbon ceramic brake option vastly increases braking performance while the Porsche Traction Management System adds torque vectoring to its suite of electronic aids.
Our verdict on the Porsche Panamera Diesel
While the Panamera is unquestionably aimed at a niche market it delivers everything that potential buyers could possibly want. The looks may be a matter of opinion but it unquestionably has presence, the Diesel offers an impressive performance and economy mix and the driving experience is first rate. It's almost as pleasurable to ride in as it is to drive, which is the mark of an excellent GT car.
Costs

Get past the initial purchase price and the Panamera Diesel should be relatively cheap to fuel as long as you can show some restraint. Other running costs will be higher though, particularly servicing and insurance. But at this level there are no cheap options.
Space and practicality

The cabin offers plenty of space to store oddments, mobile phones and so on. Rear headroom in the strict four-seater is surprisingly good thanks to a high roof line that doesn't significantly slope until behind the rear passenger's heads.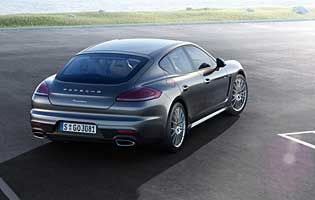 The hatchback-like rear helps to boost practicality
Controls and display

As in all Panameras, a button-filled centre console dominates the cabin. It looks more complicated than it is, despite illustrating Porsche's mantra that there should be a button for every major function. The main display screen and the instruments are an object lesson in clarity.
Comfort

With the optional adjustable damping fitted, the Panamera can be tailored to your exact needs. In the comfort setting the ride manages to be controlled but also comfortable, whereas the two stiffer settings are best left for sporting driving on smooth roads.
Car security

Porsche has equipped this model with a comprehensive array of security systems. Apart from the extremely secure engine immobiliser and alarm there is a sophisticated tracking system equivalent to Thatcham category 5. If the car is stolen, an act that almost always has to involve theft of the key first, the police can track it immediately before it's either sold on or destroyed.
Car safety

The Panamera has a host of electronic aids designed to keep you safe when travelling at almost any speed. Airbags are scattered throughout the cabin, there is relatively little glass area and the chassis has built-in crumple zones to absorb some of an impact's energy. Active safety systems including advanced stability, traction and skid controls are standard, with plenty more optional.
Driver appeal

Although it's easy to look down on the Diesel model as being a compromise, in everyday driving it is rarely found wanting. The combination of PDK gearbox and diesel power means quick acceleration is always available and yet it can be driven with restraint to deliver a smooth and controlled ride. The handling is remarkably balanced and composed for such a big car, and its responses are superior to all its rivals in this respect.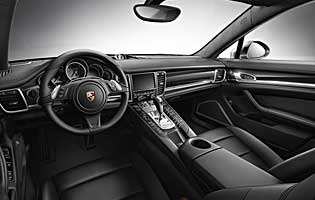 The high quality cabin remains impressive
Family car appeal

If four seats are enough, the Panamera could make a very fast, safe and prestigious family car. Added to the fact that its finely appointed interior is not a good match for potentially messy toddlers, and the car starts to look like an unwise choice to fulfil family bus duties.
First car appeal

While something this expensive, powerful and large might have a lot of showroom appeal to an aspiring driver, their sights might have to be set a little lower. Not only is the Panamera expensive to buy and insure, but it's also far faster than a new driver should be able to deal with safely.
Quality and image

Porsche's brand image is very strong and is generally closely associated with engineering precision and sporting prowess. Whether you are a fan of the brand or not it is hard to deny it has an image that rivals envy. Quality is also a shining aspect of the Panamera, with excellent build quality and impressive materials throughout.
Accessibility

The Panamera is low, but not so low that it becomes unduly difficult to get in and out of it. Long doors give a wide aperture once open, but can be problematic in bay parking spaces. The slightly raised roof line is maintained far enough back along the car to facilitate entry and exit from the spacious rear passenger area. The boot lip is high, though, making lifting heavy baggage into it a chore.
Stereo and ICE (In car entertainment)
Inevitable there is a wide choice of options in terms of in-car entertainment, although the standard set up has most of the features you would expect. Higher-specification versions add a broader range of inputs, but the key fact is that although there is a touchscreen and a control knob to make selections it can be quite fiddly to use on the move.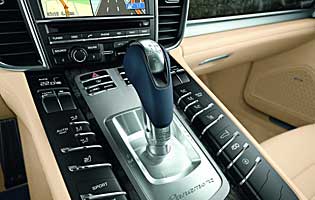 The PDK gearbox is easy to use and very slick
Colours and trim
There is a wide range of standard colours available on this model, most with expensive-sounding names like Yachting Blue, Mahogany Metallic and the striking Amethyst metallic. White is a bad choice and cheapens the car's look. Leather upholstery is standard, with single-colour and two-tone interior finish combinations available. The quality of the surface materials is, even at a glance, absolutely top-notch.
Parking
As standard front and rear parking sensors are fitted. The relatively poor visibility to all four corners means that although the steering becomes pleasantly light at low speed, parking must be attempted with care. A reversing camera can be added to the specification for a hefty cost, but doesn't make the car appreciably easier to park. The most vulnerable aspects are the wheels, which if ordered in the larger sizes are vulnerable to kerbs.
Spare wheel
Puncture repair kit fitted as standard.
Range information
Petrol engine options - 3.6-litre V6 (306bhp); 3.0-litre V6 turbo (414bhp); 3.0-litre hybrid (410bhp); 4.8-litre V8 (434bhp); 4.8-litre V8 turbo (513bhp, 562bhp). Diesel engine options - 3.0-litre (296bhp). Transmission options: seven-speed PDK dual-clutch automatic or eight-speed Tiptronic S automatic. Trim levels: Panamera, S, 4, 4S, Diesel, S E-Hybrid, GTS, Turbo, Turbo S.
Alternative cars
Maserati Quattroporte Diesel More a sporting luxury saloon but capable and attractive
Aston Martin Rapide S Beautiful four-seat GT but with no diesel or hybrid option
Audi A7 The impressive BiTDi version is cheaper and faster, but more comfort-biased
Jaguar XF A great drive with an impressive diesel engine
Over 1,200 more car reviews online
All the reports since 1990 are available on this site, just search by make and model below.
Other products & services
Related information
February 2014