Toyota Auris 1.6 Valvematic Icon
November 2012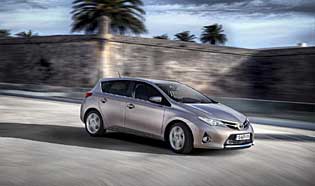 A dramatic front end is the centrepiece of the car's new look
Ratings
Overall rating
Value for money
Costs
Space and practicality
Controls and display
Comfort
Car security
Car safety
Likes
Refined yet engaging driving manners on a wide variety of roads
Efficient engines offer higher fuel economy than expected
Comfortable seats are a good bet for long-distance cruising
Impressive materials and build quality
Gripes
Love-it or hate-it looks will divide opinion
Hard plastics still cover certain key contact points
Engine range seems old-fashioned at first glance
No mid-size diesel offered at launch
The first Auris, the model that replaced the popular Corolla, failed to match expectations and lost ground in the C-segment marketplace to key rivals. A completely revamped version is hoped to regain some of that territory with heavily refined and more efficient engines, better interior materials and a more engaging driving experience.
The fiercely competitive C-segment is a tough environment for any car, and to succeed the Auris has to redress several key problems with the model it replaces, including efficiency relative to the competition, driving dynamics and interior quality. A huge spread of changes and improvements aims to tick every box, with an emphasis on bringing the right product to the right market.
While the first Auris was designed primarily for sale in Europe, a differently-equipped version was this time released into the Japanese and Australian markets before its arrival in Europe. After extensive market research softer suspension has been fitted to European models to cope with our rough roads, especially in the UK. Many manufacturers avoid this sort of thing to cut costs so it's a welcome investment from Toyota.
Significant changes to the styling include a much lower roof height for better aerodynamics, and in conjunction with a host of other similarly-minded changes the Auris creates incredibly low drag for the class. As the driving speed rises, the benefits of the slippery shape increase with it, ultimately having a significant impact on motorway cruising fuel economy.
A fairly limited choice of engines is offered to begin with, with the promise of more to come within this model's lifetime. Despite the smaller breadth of options compared to that found in some rival cars the available engines have been refined to an extremely high degree, and in particular the petrol and hybrid drivetrains offer a very convincing combination of talents covering fuel economy, refinement and enjoyment.
Our verdict on the Toyota Auris 1.6 Valvematic Icon
In some ways less has proved to be more with the new Auris. A slimmer, sleeker shape fits better with the desires of the typical C-segment buyer and provides technical advantages too. However, the real news is that the chassis and suspension changes have transformed the driving experience, making the Auris a much more rounded and interesting proposition. It now has the tools to compete with the class leaders.
Costs

Almost every aspect of the Auris' running costs has been improved, with higher fuel economy, massive reductions in emissions and higher predicted residual values. Business users will be pleased by the impressively low CO2 output on certain models, which result in low benefit-in-kind payments, while both the lone diesel model and the hybrid are outstanding for their road tax banding. Purchase prices are extremely reasonable against the competition, too.
Space and practicality

Inside the cabin are several useful storage spaces for oddments and larger items, making it a practical car to spend a lot of time in. The boot is not the largest in the class, but it's not far off and the convenient shape and layout, with a dual-layer floor, means that it's among the most practical. The front door pockets could be larger and shaped more usefully, but on the whole the Auris is sensibly designed for day-to-day use.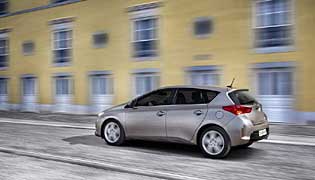 Aerodynamic styling helps improve efficiency
Controls and display

More attention has been paid to the consistency of fonts across the displays than previous models, which is one of the little things that make a tangible difference. They are a good balance of stylish and clear, with an occasional splash of colour on the displays to liven things up. The Toyota Touch central screen is a particular success most of the time, but ideally should be turned towards the driver slightly. As it is, low sun shining through the side windows can effectively blank the screen out.
Comfort

Although being less tall than its predecessor, this model is slightly longer and has plenty of interior space for passengers. Only very tall people will begin to feel cramped in the rear seats. The softer, Europe-biased suspension works well to cushion occupants from bumps, while the car also rolls laterally less than before thanks to a lower centre of gravity. The seats themselves are a happy medium in terms of firmness, being immediately comfortable and equally so after a long journey.
Car security

Every Auris has an alarm and an immobiliser fitted as standard. The door locks can be engaged while in motion for extra security, and remote central locking is standard as well. The headlights will also stay illuminated for a pre-set time after turning the ignition off, potentially lighting up a driveway or porch for extra security.
Car safety

The Auris conforms to the very latest safety demands and innovates further, combining both active and passive safety measures like ABS, EBD, brake assist, stability control and traction control with new innovations like a pedestrian-friendly pop-up bonnet to help prevent injuries. Occupants are also protected by seat belt reminders, many airbags, front seats designed to prevent whiplash and Isofix child seat fittings as well as child-proof door locks in the rear.
Driver appeal

Seemingly small changes in the chassis on paper have added up to a major difference in the way the Auris drives. It's much stiffer and more stable through corners, with better body control at all times. A little initial neutrality in the steering gives way to a keen bite into corners, especially in conjunction with the lighter, non-hybrid petrol engine-equipped cars. The car cruises and hops around busy towns equally happily, with a broad skillset covering all the bases a typical driver will desire.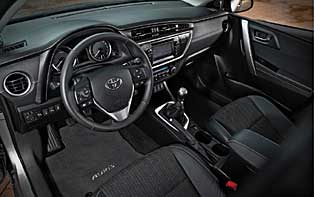 The interior quality is much improved from the last model
Family car appeal

Despite its lower roof height, the new Auris is still designed with families in mind. An easy access and spacious cabin, plenty of storage and a large boot combine with Toyota's sturdy, steady and reliable reputation to offer lots of family appeal. Isofix child seat mounts are fitted as standard, and in the main the interior materials will withstand knocks for years to come. A handy real-world feature is the large rear door apertures, which make it easier to fit child seats and place kids securely into them.
First car appeal

Although it's not as cheap as a typical first car, the Auris has many factors working in its favour from the point of view of someone who has just passed their test. Its size is easy to manage but very practical, its good visibility and reversing camera are useful helping hands for parking and it's generally very easy to drive. Insurance and road tax are relatively affordable and the car itself will last for many years, allowing owners to hang on to it for as long as they wish, potentially justifying its extra cost.
Quality and image

This is the area where Toyota arguably has to work the hardest to make up ground, because while there has never been any doubt as to the mechanical longevity of their cars, especially when equipped with petrol engines, their desirability has always lagged behind that of rivals. Distinctive styling helps mark the new car out and high interior materials quality will help continue the good first impressions, giving the new Auris a much better chance of competing at the front.
Accessibility

Available in five-door body style only, the Auris has well-judged door sizes that place just as much importance on the accessibility of the rear seats as the front - something not all C-segment cars do. It means that rear passengers should have no problem manoeuvring in and out. Equally, the boot is evenly shaped and convenient, with a dual-level floor that enables owners to effectively shrink the size of the boot lip, making it easier to get luggage in and out.
Stereo and ICE (In car entertainment)
Icon specification is the lowest point in the range at which the Toyota Touch touch-screen interface is fitted as standard, and it provides an admirably stylish and clear way of navigating through car system menus and music choices. A single-CD stereo with six speakers is also standard, complete with Bluetooth and USB connections. Buyers can upgrade the interface to the Touch and Go navigation system to bring full navigation functionality to the car.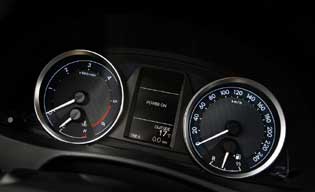 All instruments and displays are clear, stylish and modern
Colours and trim
A typical spectrum of colours awaits potential buyers, with options covering black, greys, white, silver, lighter and darker blues and a red, with a couple of less traditional options like a bronze. It's a good selection, but arguably the car looks best in black. The interior trim is a huge step forward from the previous model, with a more orthodox layout and a very obvious improvement in materials quality, although parts of the interior do still look uninspiring.
Parking
Visibility is a strong point in the Auris, with better rearwards lines of sight than many of its key rivals. That doesn't necessarily make it excellent in that department, though, and care must be taken in all reversing manoeuvres. Thankfully there is a rear-view camera installed, which makes the business of reverse parking much easier. The narrow body makes it easy to slot into bay spaces while still being able to open the doors wide enough to get out.
Spare wheel
A space saver is fitted as standard across the range.
Range information
Petrol engine options - 1.33-litre (98bhp); 1.6-litre Valvematic (130bhp); 1.8-litre hybrid (134bhp). Diesel engine options - 1.4-litre (89bhp). Transmission options: six-speed manual gearbox, continually variable auto. Trim levels: Active, Icon, Sport, Excel.
Alternative cars
Volkswagen Golf High-quality materials define the class leader, but at a price
Ford Focus A stylish and accomplished choice with good ride quality
Vauxhall Astra An underrated option with many positive points
Kia cee'd Highly developed hatch is well equipped and solid
Over 1,200 more car reviews online
All the reports since 1990 are available on this site, just search by make and model below.
Other products & services
Related information
November 2012