Audi A4 RS4 Avant
August 2012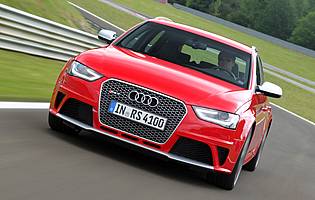 Purposeful looks hint at the performance on offer
Ratings
Overall rating
Value for money
Costs
Space and practicality
Controls and display
Comfort
Car security
Car safety
Likes
Purposeful looks hint at performance available
Engine delivers power and excitement in equal measure
Handling is both secure and entertaining
High quality cabin is also reasonably spacious and practical
Gripes
Large alloy wheels are prone to kerbing
Engine needs to be worked for maximum performance
Lack of a saloon version may put off some buyers
Not a cheap car to buy or run
Audi's RS models are halo cars for the brand and amongst a bulging back catalogue it is the compact-sized saloon and estates based on the A4 and previously the Audi 80 that have been some of the best in its history. Now the latest generation has arrived with the RS4 Avant to crown the A4 range.
As a high performance vehicle previous Audi RS4s have brought the security of Quattro four-wheel drive and the practicality of a saloon or estate to make them more usable on an everyday basis than some of its coupe rivals. The Quattro layout also gives it a link with the larger RS6 all the way up to the R8 supercar, and this combination of attributes has been a big part of the appeal.
In contrast to the outgoing RS4 which came in saloon, Avant estate and convertible forms, the latest model reverts to the previous arrangement of only being available in Avant form. Although this potentially limits sales for those who are looking for alternative bodystyles, the Avant layout means it is usable as a family vehicle and can carry a combination of passengers and luggage whilst still delivering impressive performance.
The RS4 is clearly distinguished from regular A4 Avant models and even the S4 version by virtue of dramatic and menacing exterior enhancements. Most obvious are the large alloy wheels, 19-inch as standard with 20-inch versions also available, a large and bold front grille with a lattice finish and a tasteful bodykit. It also has bulging wheelarches to accommodate a wider track, something of a key signifier from RS models of the past.
Mechanically the RS4 follows a largely similar layout to the previous model, with a 4.2-litre V8 naturally aspirated engine at the front driving all four wheels. However the powerplant has been further developed, giving extra power and torque yet with reduced fuel consumption, and instead of a six-speed manual the RS4 is now seven-speed S tronic dual clutch only.
Our verdict on the Audi A4 RS4 Avant
The latest RS4 had a hard act to follow but it is a remarkably complete car in so many areas. It is highly desirable, very fast in all conditions, comfortable, very well specified and practical too. It justifies its existence as an everyday car and yet it can deliver exceptional thrills in the right conditions.
Costs

Despite improvements in fuel consumption and emissions over the outgoing car the RS4 will always be quite expensive to run. Insurance costs will be at the highest level and unless driven sedately at all times it will use a considerably quantity of super unleaded with the passing miles.
Space and practicality

Although the RS4 is more of a lifestyle estate than an old-school wagon, boot space is still more than sufficient for most needs. With all the seats in place the boot space is already generous, and has the option of load dividers and a powered tailgate. The rear seats fold easily to almost treble the space available, although the load area is not completely flat.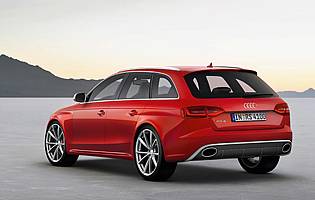 Wide wheelarches suit the Avant bodystyle
Controls and display

Like all Audis the RS4 sets very high standards with the control layout. Although there are numerous buttons the MMI system handles the vast majority of systems and through years of constant refinement the interface operates very effectively and intuitively. The instruments too are clear and crisp, with a comprehensive information display between them that can give a wealth of data.
Comfort

Even with all that performance and those large alloy wheels, the RS4 can be very refined when required. It can cruise comfortably, with the most noise coming from the large diameter tyres - overall refinement is very good indeed. The seats are superb, particularly the optional bucket seats although alternatives are available with both heating and cooling for a more luxurious set up.
Car security

Other than the an approved alarm system and immobiliser the RS4 does without any additional security systems, although a tracking device is available as an option and would be a worthwhile addition considering the car's value and desirability. The load cover keeps the boot's contents out of sight and an under-floor area provides an extra level of protection.
Car safety

Aside from the obvious safety boon of strong brakes (with the option of carbon fibre versions) high levels of grip and performance, the RS4 is stacked with safety equipment including ESP with three switchable modes, automatic lights and a driver awareness system which suggest rest breaks to avoid tiredness.
Driver appeal

For the first time the RS4 benefits from the Audi Drive Select system which allows the driver to choose between various settings for the engine, steering and gearbox, and this ability to change the set up gives the RS4 a broader range of abilities. In comfort setting and with the gearbox operating automatically it is refined, comfortable and hassle-free to drive. The engine responds willingly and an urban commute in stop-start traffic would be no hassle. Conversely it only takes a few buttons pushes to switch the RS4 into full-attack mode, with the whole rev range of the glorious V8 to be explored, the quick-fire gearbox in manual mode and the suspension at its stiffest setting.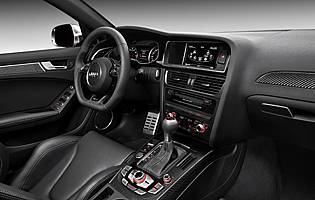 High quality cabin is brimming with equipment
Family car appeal

The RS4 has the space to be a very good family machine, with Isofix mounting points in the rear. There is sufficient boot space to cope with large families too, and while parents may not relish the quality materials being attacked by sticky fingers and crumbs they should at least be sufficiently hard-wearing to cope.
First car appeal

A car with this kind of performance and price tag is not only unsuitable but also far too expensive to buy and insure for the vast majority of new drivers.
Quality and image

The consistently high quality of Audi products has almost become a cliche, as the firm delivers with such regularity. High quality is expected on a car at this price point however, but the slick finish and soft-touch materials are worthy of the price tag. Standard Audi models are not held in such high regard dynamically as some rivals, but move up to the RS versions and the dynamic performance generates a lot of brand loyalty and respect.
Accessibility

The Avant bodystyle means two doors on each side, so access for all is generally straightforward - the only potential demerit being if the optional bucket-type seats are ordered, as the bigger side and back bolsters require a little more careful negotiation on the way in. At the rear the tailgate is electrically operated as an option and the opening itself doesn't suffer from any intrusion from the rear lights.
Stereo and ICE (In car entertainment)
The standard audio unit includes sat-nav (with Google maps and optional Wi-Fi capability) MP3 Bluetooth playback as well as a bespoke MP3 player connection, with features like DAB and an audio jukebox thrown in. All this is controlled via buttons on the steering wheel or the Audi MMI interface and despite the huge range of features it is easy to navigate.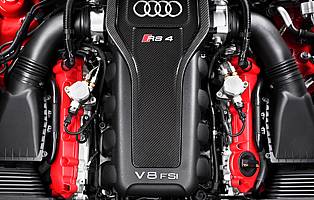 4.2-litre V8 engine is a masterpiece
Colours and trim
Unlike may other Audis the RS4 can look better in brighter shades to highlight the bodywork's muscle. On the other hand darker hues give it a more understated appearance and leave it looking close to a standard A4. On the inside the RS4 has the usual high quality cabin finished in fine leather, and a range of trim options includes carbon fibre, piano black and aluminium.
Parking
The RS4 is barely any larger than the standard A4 Avant and so is capable of slotting into an average parking space. The Audi rear parking system plus is fitted as standard with sensors all round which makes life considerably easier. The only issue is taking care not to kerb the vulnerable alloy wheels when parallel parking.
Spare wheel
A tyre repair kit is fitted as standard with the option of a spare wheel.
Range information
Petrol engine options - 1.8-litre (118bhp, 168bhp); 2.0-litre (208bhp). Diesel engine options - 2.0-litre (134bhp, 141bhp, 161bhp, 175bhp); 3.0-litre (201bhp, 242bhp); 4.2-litre (444bhp). Transmission options: six-speed manual, Multitronic automatic or S Tronic automatic gearbox depending on model. Trim levels: SE, SE Technik, S Line, Black Edition, RS4.
Alternative cars
BMW M3 saloon E90 model in saloon or coupe form is a good choice - no estate variant though
Lexus IS-F Saloon only and lacks badge kudos but fast and capable
Vauxhall VXR-8 Only available as a saloon, less of a quality product but fast and affordable
Mercedes-Benz C63 AMG Powerful and spacious in estate form, V8 engine is a real gem
Over 1,200 more car reviews online
All the reports since 1990 are available on this site, just search by make and model below.
Other products & services
Related information
August 2012