Citroen C2 1.6 HDi VTS
January 2008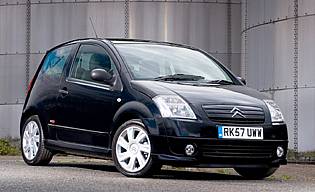 Attractive C2 shape looks best in VTS form
Ratings
Overall rating
Value for money
Costs
Space and practicality
Controls and display
Comfort
Car security
Car safety
Likes
Torquey and frugal diesel engine
Distinctive and attractive looks
High specification
Good value for money
Gripes
Some interior fittings feel flimsy
Tall body susceptible to crosswinds
No five-door option
Digital instruments not to all tastes
Citroen's C2 sits alongside a number of small cars in an incredibly competitive market. The French firm's Saxo replacement has retained many of the old car's attributes, and added many welcome new ones. The high output VTS HDi model brings impressive performance with diesel frugality.
There's no question that there's a family likeness between Citroen's C2 and slightly larger C3. However, they possess very different characters. The C3 is the more grown up of the two, while the C2 is the cheeky, about-town car.
Targeted at buyers seeking an enjoyable city car but who have to factor in space and financial issues, the C2 is an obvious choice as a cost-conscious first car or economical runabout for an active, multi-car family. The VTS might sit at the top of the C2 tree, but it still delivers impressive value for money.
Performance isn't sacrificed entirely in the case of the low power petrol and diesel models, but it's fair to say that if you want substantial thrills you'll have to go for the VTS which uses a 1.6-litre diesel unit used to pulling far larger cars. In this guise especially, the C2 is a fun car to pilot due to its compact nature and low weight.
The VTS qualifies as a junior hot hatch and buyers seeking such a car should find it very much to their taste. Its exterior is jazzed up with the addition of smart alloy wheels and a bodykit, whilst inside there are smart sports seats and extra equipment. The big mechanical change is the diesel engine, putting it on a par with petrol.
Our verdict on the Citroen C2 1.6 HDi VTS
Using a diesel engine to deliver hot hatch performance is the key to the VTS's appeal. The punchy 1.6-litre unit is fun to exploit, while the keen chassis continues the amusement through the bends. A strong specification and good practicality make for a good all-round package.
Costs

Entry-level models with their modest engines will prove to be the least costly to own and run. Low insurance coupled with low CO2 ratings and high fuel economy make them ideal for buyers on a budget. The combination of attention-grabbing showroom deals and a competitive market haven't done wonders for the car's residuals, though.
Space and practicality

The C2's four-seat layout makes the most use of the available space. It also makes the small boot almost irrelevant - one or both rear seats can fold to make even more room available. The split rear tailgate is a useful addition, while there are enough cabin storage areas to make the C2 a viable everyday car for anyone with a busy life and a lot of clutter.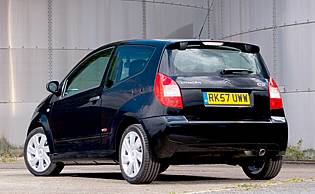 Small boot spoiler and rear skirt are unique to sporty models
Controls and display

Displaying a similarity to the controls used in Citroen's C3, the C2's fascia is easy to navigate. The main items are easy on the eye, although the rev counter is sometimes difficult to see with the steering wheel in a low position. The manual gearshift is light but not always precise, while the brakes are sharp - an old Citroen trait.
Comfort

The VTS is inevitably less comfortable than lesser models thanks to the stiffer ride, although the front seats offer greater support. Noise levels are acceptably low for a car of this size. There's less space in the rear, but this shouldn't deter children from riding in the back seats.
Car security

Predictably, it's the high value models that come with the all-encompassing anti-theft package. However, elsewhere you do get an immobiliser, and there's a useful automatic door locking function that activates at speeds over 5mph.
Car safety

Twin front and side airbags along with three-point seatbelts front and rear are the norm. The smaller the car the more vulnerable it is in an impact, but the C2 comes with a tough structure and ample crumple zones.
Driver appeal

The VTS model is the obvious option for keen drivers, with the other models more comfortable in delivering relaxed town driving experiences. With a wide torque band and a snappy gearchange, making rapid progress is effortless. Acceleration is good even from higher speeds. The chassis is also up to the task, with accurate steering, good grip and balance.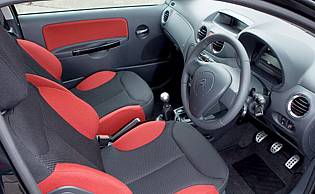 VTS brings better seats and a more attractive cabin
Family car appeal

As a second car the C2 scores highly, but it's too small to be a main family car in its own right. An ideal candidate for a newly-qualified but image-conscious teen or a nanny, but the C2 isn't big enough for even a growing family on its own.
First car appeal

An ideal choice, the C2 makes a great first car. Cheap to buy and run, easy to drive and park plus practical and versatile enough for a young couple to use as their only car.
Quality and image

The C2 certainly feels like a step up for Citroen in terms of small car quality, although it cannot claim to be the best in class. A few areas of the cabin feel a little under par, but the general standard is quite good. The C2's image benefits from a strong following for its predecessor, and the VTS has instant kudos as a hot hatch.
Accessibility

Access to the front seats requires sitting down rather than sliding in - and some elderly drivers might find this a problem. Likewise the figure-hugging seat bolsters could prove to be uncomfortable for some larger occupants. The rear seats are only suitable for small children, an issue compounded by the limited access to the rear.
Stereo and ICE (In car entertainment)
The standard fit combined radio and CD unit delivers a good performance. Options include a dash-mounted CD player. Steering column-mounted remote controls are a welcome addition.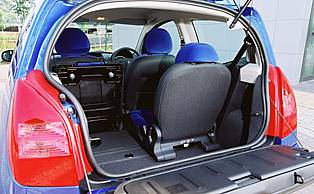 Split tailgate is a useful feature
Colours and trim
This very colour-sensitive car looks at its best in neutral tones. Black and silver are two top choices, while brighter hues tend to give it an unjustified novelty car appearance. Seat upholstery is more upbeat in the VTS and a welcome foil for the cabin's otherwise default dark ambience.
Parking
There are no problems here; the C2's compact proportions, high levels of steering assistance and a neat turning circle make parking easy. Rear parking sensors are model dependent and a cost option, but even nervous parkers should find it a simple car to stow.
Spare wheel
Space saver fitted beneath the boot floor.
Range information
Petrol engines - 1.1-litre (61bhp); 1.4-litre (75bhp and 90bhp); 1.6-litre (110bhp and 125bhp). Diesel engines - 1.4-litre (70bhp); 1.6-litre (110bhp). Transmission options: Five-speed manual or five-speed Sensodrive automated manual. Trim levels: L, Cool, Airplay+, SX, Stop and Start, Furio, VTR, VTS and Code.
Alternative cars
Ford Fiesta Zetec-S has a sharp chassis but is ageing inside and out
Fiat Panda 100HP is attractive, good value and great fun
Renault Clio Dynamique S is a grown up hot hatch but lacks a sporting edge
Volkswagen Polo 1.9TDI Sport boasts high quality but lags behind on fun
Over 1,200 more car reviews online
All the reports since 1990 are available on this site, just search by make and model below.
Other products & services
Related information
January 2008