Audi Q7 3.0 TDI SE
August 2006
Imposing Q7 is instantly recognisable as an Audi
Ratings
Overall rating
Value for money
Costs
Space and practicality
Controls and display
Comfort
Car security
Car safety
Likes
Cabin build quality is excellent
Lofty driving position is a welcome asset
The Q7's diesel engine is more than up to the task of powering such a big car
Third row of seats is a useful addition
Gripes
Make no mistake - this is a big car and can prove cumbersome around town
More could have been made of the cabin design. It's too much like other Audis
V8 petrol motor is an extravagant luxury - it's very thirsty
Large passengers might struggle getting into the third row of seats
More is definitely more with Audi's Q7. A big beast by anyone's standards, the German firm has skipped a sector and gone straight to the heart of the premium SUV market with its seven-seat luxury 4x4. It might be big but it's also clever; quattro four-wheel drive, three rows of seats and exceptional build quality.
The premium 4x4 is a well-established sight, but the seven-seat SUV is the next level in neighbourly one-upmanship. We're all comfortable with seven-seat people carriers, and three rows in a 4x4 is the Holy Grail for makers of luxury recreational vehicles.
By their very nature such cars are big, and Audi's Q7 is no different from the growing number of SUVs in this class. The best way of describing the Q7 is to think of it as a big A6 Avant. For the considerable sum Audi is asking, you get the best of both worlds: the German firm's trademark high levels of build quality and a cabin design that is second to none in terms of ergonomics and looks.
While these are attributes that can be found in all other Audi's, the Q7 adds a third row of seats, two powerful engines and road presence that's difficult to beat. And for all the car's stylish overtones, the Q7 will perform off road. It can't match the likes of the Range Rover, but it does feel supremely confident in slippery conditions.
It's true that most cars in this class rarely get used off road, but there's no question that it would make an excellent towing vehicle. For those with an active lifestyle, the Q7 could be the ideal vehicle. It combines the luxury of a premium saloon with the versatility of an estate car and people carrier.
Our verdict on the Audi Q7 3.0 TDI SE
Only time will tell if the Q7 can demonstrate the same level of desirability that Land Rover products can command. There's no question that the Q7 is capable of equalling many of the qualities of the Solihull-produced cars. It's not quite a complete go anywhere car, but for many the Q7 is close enough. What will matter is the car's spacious cabin, exceptional build quality and the badge on its tailgate.
Costs

The Q7 is anything but cheap, but it stacks up competitively against rival luxury SUVs. Opt for the diesel variant and you'll save a significant sum in terms of fuel expenditure, but in the short term this will be offset by the number of options you add to the car - and there are many. Insurance and general servicing costs will be comparable to that of a premium saloon.
Space and practicality

A big car, the Q7's cabin feels spacious. It'll happily accommodate seven people, although the rearmost row of seats is best suited to children. Legroom in the first two rows is better and more car-like. The Q7's overall width means elbowroom is not a problem, and there are enough storage areas dotted around the cabin to make it feel like a family-friendly conveyance. At the rear, the Q7's boot is sizeable - and more so with the third row folded flat.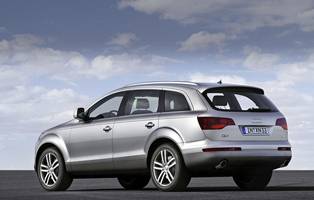 Despite its size, the Q7 manages to look attractive even from the rear
Controls and display

Like all other Audi's, the Q7's instruments and controls are both easy to read and intuitive respectively. The car's central fascia panel houses all the main items, and they're easy to reach by both the driver and front seat passenger. Supplementary controls on the steering wheel are a welcome addition, while the sat-nav option is easy to programme and calculates routes quickly.
Comfort

The Q7 boasts the typical Audi supportive seats. They're a little on the firm side, but they do mean that you're isolated from most road surface imperfections. The cabin does a good job of insulating occupants from road and engine noise, although the latter is obvious when you're pushing the diesel engine hard. Elsewhere, there's plenty of the room in the cabin's first two rows, while the third row is a little less accommodating for adults. Headroom all-round is good, though.
Car security

Fortunately for a car this large and desirable, it comes with a comprehensive antitheft package. Remote central locking is part of that system, but you might also want to invest in a tracking device for added peace of mind.
Car safety

There are, as you would expect, airbags throughout the Q7's cabin. Also onboard are numerous electronic traction and stability aids to keep the car pointing in the right direction. This is, of course, on top of the Q7's quattro four-wheel drive system, which offers plenty of grip in slippery conditions.
Driver appeal

For such a large vehicle, the Q7 is easy to drive and feels stable and assured when being driving briskly. The car's engines must take some of the praise - with the diesel motor proving to be an excellent all-rounder. Factor in the Q7's lofty driving position, smooth auto gearbox, surprisingly supple suspension plus good brakes and you've got a premium SUV that behaves more like a large estate car.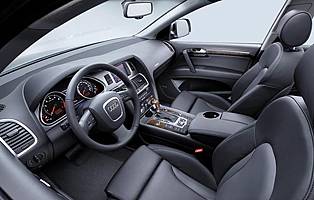 The familiar Audi interior design cues are here, and they all work well
Family car appeal

This is where the car scores highly. Even if you don't want three rows of seats, you've got an enormous boot space for carrying shopping or activity gear. The cabin is on the luxurious side, which means you'll have to keep an eye on small children so they don't damage the upholstery. The car's entertainment package options means you can watch DVDs or listen to music on long journeys.
First car appeal

Unlikely to appeal to the novice driver, the Q7 is not only on the large side but a pricey car to own. Driving it is relatively easy, but squeezing it down narrow city streets might be a challenge too far for some.
Quality and image

The Q7 is like the rest of the Audi range: well built and with a cabin furnished with lots of high quality materials. The Q7's interior feels much like that of an A6, which itself is something that rivals the best from the other German marques. Image-wise Audi can do no wrong, having successfully cultivated a brand personality that appeals to buyers seeking a classy, dynamic, high quality and sporting range of cars.
Accessibility

Aside from the modest step up required to access the Q7's cabin, the big Audi is no different from most other large premium SUVs. Exiting the car is the same story, although its air suspension can help by lowering it a little. Access to the Q7's boot is straightforward; the tailgate opens wide to reveal a large boot, although with the third row of seats folded down you might need to stretch to reach something in the boot's far corners. Getting to the third row is, realistically, for agile people as you've got to negotiate the second row on your way to the back of the car.
Stereo and ICE (In car entertainment)
Located at a sensible height on the fascia, the audio units boasts intuitive controls. The major ones are also duplicated on the steering wheel, and there's a handy secondary display between the main dials. Sound quality is good - as with all Audis - and there are plenty of upgrade options, including an impressive sat-nav system.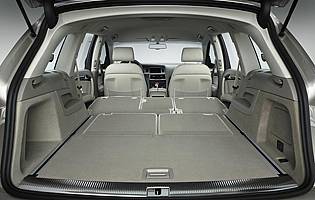 Folding the Q7's two rear rows of seats liberates an enormous amount of space
Colours and trim
Big, bold cars like the Q7 look better in dark colours - if only to help disguise their size. The Q7, like so many other Audis, looks good in silver and black. Chrome highlights add a bit of glamour. Inside, the dark theme continues, although a number of lighter trim and upholstery options are offered. Whatever the colour, the quality of the various cabin trims is impressive.
Parking
Although a big car, parking is made a little easier thanks to light power steering and generous-size exterior mirrors. The parking sensors also help, but there's always the need to be aware of the Q7's size - if only because it will be a tight squeeze in some car parks.
Spare wheel
Conventional spare fitted as standard.
Range information
Petrol engine - 4.2-litre (350bhp). Diesel engine - 3.0 TDI (233bhp). Standard fit is a six-speed auto gearbox. Trim levels: standard, SE and S line.
Alternative cars
Land Rover Discovery 3 Better off road but lags behind on road
Volvo XC90 Excellent family SUV, although not as cheap as it used to be
Mercedes-Benz GL-Class Another seven-seat monster. More of a cruiser when on road, but excellent off it
BMW X5 Noticeably biased towards on road performance. Lacks any special family-orientated features
Over 1,200 more car reviews online
All the reports since 1990 are available on this site, just search by make and model below.
Other products & services
Related information
August 2006