We won't just jump-start you and send you on your way; our patrols always carry out a battery test to find out why your battery failed in the first place.
We test batteries very carefully and only recommend replacement if it's really necessary.
Give us a call on 0800 88 77 66.
What do we do?
test your battery
check your car's charging system
check for a fault that could be draining your battery
get your battery charged or replace it, if required, so you can continue your journey
What's involved?
Before we start your engine, we'll use Conductance technology to measure the health of your battery. We can get the most accurate reading by testing when your battery is in a 'rested state'.
Because the tester's already pre-programmed with data, we can get an immediate printout of your battery's readings compared with what they should be.
The printout can tell us the condition of your battery. It may say:
'A bad cell': Car batteries contain several 2-volt batteries (known as cells). Unfortunately, if one is defective the battery will need to be replaced.
'Replace battery': Very straightforward; it's clear that the battery's just not up to it anymore.
'Charge and retest': It's possible that your battery failed the initial test through lack of voltage. We'll charge and retest, then check your charging system to see if anything's draining the battery, just to make sure there are no other faults.
'Good, recharge': This means that your battery's within spec; it just needs a recharge. We'll check your charging system to try to get to the bottom of what's drained it, and then give you a jump start. We'll recommend you get a full recharge as soon as possible using a battery charger/conditioner.
'Good battery': There's nothing wrong with your battery. It's within spec and in good condition. Obviously it's still dead, so we'll check your car's charging system and investigate what's caused the breakdown.
To try and avoid flat batteries in the future, here's our quick guide to keeping them running.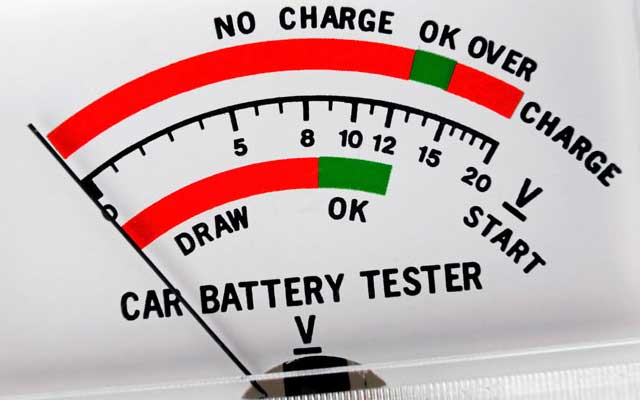 Why do batteries go flat?
There are all sorts of reasons, but the most common are:
a car being left unused for a while, or only used for short journeys
a light being left on
a faulty component
a problem with the car's charging system
a fault with the battery itself
Batteries can fail for other reasons too. Excessive vibration, over-charging, corrosion and extreme heat or extreme cold.
What makes them last longer?
The reason why batteries fail if they're not used, or they're only used for stop-start or short journeys, is that they don't get the chance to recharge properly.
The technical explanation is that this 'under charging' leads to 'sulphation' if the battery voltage is allowed to remain below 12.4 volts. Sulphation is the hardening of the lead plates within the battery and it reduces the battery's ability to accept or hold a charge.
If you do only use your car occasionally and for short journeys it's worth investing in an intelligent charger/battery conditioner. This can be left connected for long periods without risk of damage to the battery.
Alternatively, you could get a solar charger.