When you're driving, air flows through the car radiator to keep your engine's temperature 'normal'. But if you stop, in a summer traffic jam for example, your engine has to rely on a temperature controlled electric cooling fan to force air through the radiator. That way, the engine can get enough cool air to avoid overheating - which can damage its parts.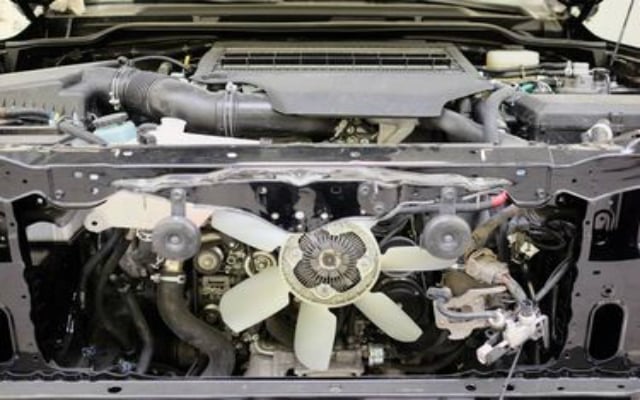 Most car dashboards don't show an exact temperature and instead have a gauge with cold, normal and hot. The temperature needle needs to be at or around the centre to be at normal operating temperature.
If a red or yellow temperature light turns on, you should stop as soon as it's safe to do so, turn the engine off and get your car checked. A yellow light is likely to mean that the coolant level is low while red means that your engine is overheating. We show you below how to check your car's cooling fan and what issues might affect it.
How to check your car's cooling fan
Set the car heater to cold
Run the car until the engine reaches normal temperature. Allow the engine to idle for around five minutes
Watch your temperature gauge – don't allow the car to overheat
The cooling fan should cut in automatically and the temperature gauge drop back to normal. You'll be able to hear it, and if you open the bonnet, you can see them whirring in most cars but keep your hands well away to avoid injury
If the fan doesn't cut in and the temperature keeps rising there's probably a fault and you should ask your local garage to give it the once over
What's wrong with my cooling fan?
Your mechanic will be looking for one of a number of different common cooling fan faults:
Broken fuse. With any electrical fault, the fuse should always be checked first. If you're unsure as to where the fuses are in your car, check the car manual and see which are for the cooling system. Once found, check to see if it's broken or not. If it is, you'll need to replace it right away
Faulty temperature switch/sensor. The temperature sensor is responsible for turning on the cooling fan when the car gets too hot. If it's not working, the fan won't turn on when it needs to meaning the engine is likely to overheat
Defective fan relay. The fan relay is what controls the power to the cooling fans so if there is an issue with it, the fan will be affected. It may cause the fan to not function at all or to be on all the time
A wiring issue. Check to see if all the wires to the fan are properly connected and in working order
Something wrong with the fan motor. If the motor's faulty then a new motor will have to be fitted. Check the engine coolant level. If your engine coolant level is too low, it means that the cooling fan will probably have to work harder to keep the engine at a normal temperature. It's easy to check, just look for the coolant expansion tank in the engine bay. There are usually two marks on it – a minimum and maximum level mark. The coolant level should always be between these two marks
How can I keep an eye on my car's health?
Keep an additional eye on your car's engine with Car Genie from the AA. It's a new, smart device that plugs into your car's on-board diagnostics port and sends information about your car's health to your phone, through the Car Genie app. It'll notify you if any issues with your car engine arise as well as let you know your car's location, detect if you've had a crash and trigger a call for assistance, offer tips on fuel efficiency, journey routes and much more.