Information for Blue Badge Holders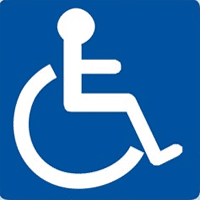 The AA Disability Helpline provides information on a range of disability-related subjects, such as motoring in the UK and overseas, route requests, car adaptations and wheelchair maintenance. This service is free to AA Members. Please call free on 0800 26 20 50.
Register your needs
The AA recognises that your particular requirements might influence how we provide roadside assistance to you. This is why we recommend that you register your details so we can tailor our services to your circumstances.
For instance, wheelchair users with Roadside with any other breakdown options might need the AA Onward Mobility Network of accessible vehicles that allows you to travel in comfort and safety should we need to Relay your vehicle home.
Ways to contact us
Please call free on 0800 26 20 50 to register your requirements.
We welcome calls from Typetalk, and we're able to accept textphone calls on 0800 328 2810.
Or you can contact us by email at customer.services@theaa.com.