Nissan X-Trail 2.2 dCi T-Spec
October 2004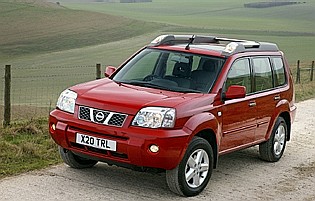 Modest 2004 facelift has kept X-Trail fresh
Ratings
Overall rating
Value for money
Costs
Space and practicality
Controls and display
Comfort
Car security
Car safety
Likes
Car-like driving experience and costs
Lots of storage and stowage options
Reputation for reliability
Smooth six-speed gearbox
Gripes
Somewhat lacking in individual character
Tendency to lean around corners
Some drivers may find visibility problematic
2.0 petrol underpowered and thirsty
Previously only associated with rough and ready off-roaders such as the Terrano and Patrol, the X-Trail saw Nissan not just entering the lifestyle SUV market, but taking it by storm.
Having bided its time before launching the X-TRAIL, Nissan was able to see exactly what customers liked and loathed about the competition before giving them plenty of the former attributes and few of the latter. As a result, the X-Trail does lack a bit of character. It's a bit like the difference between a flawed but coherent concept album from a supergroup and the Greatest Hits package the X-Trail represents. It's not what you'd call a 'proper' off roader, but it's difficult to knock its all-round competence.
All the essential requirements are included - a muscular appearance, plenty of space, chunky styling and some suitably beefy engines. Yet, Nissan keeps one eye on the X-Trail's main role, which is to operate on roads and in urban environments, not on grassy banks and mountainsides. In short, the X-Trail is the definitive 'soft roader' a vehicle with some off-road ability but unlikely ever to need it.
Given a minor facelifted in 2004, the X-Trail not surprisingly looks very modern. It has a more contemporary design than Land Rover's Freelander, though it still lacks much of that model's badge clout. Some interior upgrades add appeal, and in this respect, the X-Trail outshines pretty much all of the competition, offering a multitude of storage options with high levels of fit and finish.
On the road the X-Trail feels more car-like than it looks. Acceleration is rapid for such a heavy vehicle, but it fares less well through corners with a slight tendency to list. It will make its way along dirt tracks and steep gradients without too much bother. Where less traction is available it feels much less assured, though it has enough ground clearance to cope with most obstacles if the driver knows what he or she is doing.
Our verdict on the Nissan X-Trail 2.2 dCi T-Spec
Two main factors are responsible for the X-Trail's undoubted success: reliability and fashionability. Car-like running costs mean owners don't suffer too much at the pumps, while Nissan makes sure there are enough optional extras and techno-gadgets to appeal to a trendy young 'lifestyle' crowd. It's not hugely characterful, but is hugely capable.
Costs

Though not the cheapest car in its class, the X-Trail represents very good value for money, thanks mainly to the huge amount of kit Nissan includes with it. Demand has remained very high for the X-Trail ever since it was launched, and it holds onto its value well, provided it is cared for. The 2.0 petrol is the least coveted, but the 2,5 and 2.2 diesel are both very desirable. The diesel also benefits from longer service intervals than the petrol units. Nissans are renowned for their reliability but with all the electronic gadgetry aboard if anything goes wrong it could be costly to repair.
Space and practicality

Large, accessible storage areas abound throughout the cabin. Just make sure you remember where you put things, otherwise it might take you a while to find them again. The luggage area is big and finished in a handy wipe-clean surface. Repositioned cup holders allow cans to be cooled by directing the air conditioning onto them, though in practice it's not a hugely effective way of chilling your high energy drinks.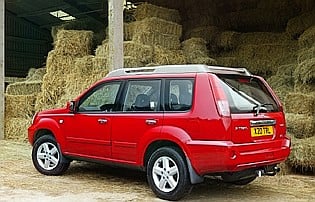 Not even a slippery farmyard can wrong-foot the X-Trail
Controls and display

Nissan tries hard to communicate a high-tech, sophisticated message, but the X-Trail's controls feel a little workaday. They're not ugly, but nor are they particularly attractive or innovative. Passengers are always impressed by the optional 'bird's eye view' satellite navigation though, which makes the world outside look like part of one giant 3D computer game.
Comfort

There's no shortage of space in any direction, and seats are all supportive if lacking a little lateral bolster. They are good and firm and do not feel likely to sag under prolonged use. Electric powered front seats are standard on SVE and T-Spec models, though even SE models have adjustable lumbar support.
Car security

Top marks to Nissan for providing one of the best security packages in its class. Every single X-Trail gets a Thatcham category 1 alarm with perimetric sensors, immobiliser, superlocking with an anti-hijack feature and a load cover. It needs them too, as the X-Trail is a very desirable target for car criminals.
Car safety

Electronic driver aids are more useful as safety features than tools for off-road explorers, and the X-Trail comes with plenty of assistance in the form of ESP, ABS and intelligent four-wheel drive. Twin front airbags are standard on all grades, as are head and side thorax airbags. Active headrests and Isofix child seat mountings are included, too. On a purely subjective level, the X-Trail feels solid and planted on the road.
Driver appeal

On paper the X-Trail's performance figures may look pretty average but behind the wheel the vehicle feels quite quick. After all, it's a large, heavy vehicle, so its turn of pace comes as something of a surprise. The six-speed manual gearbox is preferable because of its extra 'overdrive' cog which makes long-distance motorway cruising quiet and economical. Because Nissan's all-wheel drive system operates via electronic sensors and not pumps, it is particularly quick to feed extra power to the rear wheels when required, making it reassuring in winter conditions.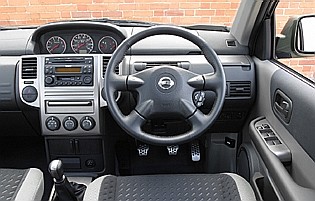 Even base models come generously equipped
Family car appeal

Though primarily targeted at the usual, largely mythical young couples with active lifestyles, the X-Trail makes a passable family vehicle. Kids can have no complaints about the rear seat comfort, and it's screwed together well enough to stand up to their worst attentions. Bootspace is good, too, and if they are at all fashion conscious they will enjoy rolling up outside the school gates in such a trendy, tough-looking conveyance.
First car appeal

Large, all-wheel drive vehicles are not the best ones in which to learn roadcraft and correct driving procedures, as evidenced by the numerous 4x4 drivers who seem to view their machines as legalised weapons of intimidation. Nor is the X-Trail suitable for learning the rudiments of off-roading, as its clever electronic brain does most of the work.
Quality and image

Once regarded as value for money manufacturers, Nissan's reputation varies a great deal according to the model under consideration. The Patrol is admired as an old-school tank by the 4x4 fraternity and the Micra seems to have been adopted by people of a certain age. The X-Trail's niche is as a vehicle for fashion-conscious city and suburban dwellers who may or may not participate in rural activities. It's probably trumped for image only by Nissan's super svelte 350Z roadster.
Accessibility

Ground clearance isn't huge, but the X-Trail still requires a very definite step up in order to access the cabin, which may present problems to some users. The boot offers a good level of assistance and is easy to open, while doors are fairly heavy.
Stereo and ICE (In car entertainment)
A single-disc CD radio is standard issue. Sport and SVE models feature an in-dash six-CD player as well as AM-FM radio and cassette player. The T-Spec model comes with everything an audiophile could want short of his or her own radio station. Nissan customers are able to choose from just about the most advanced set of infotainment upgrades on the market.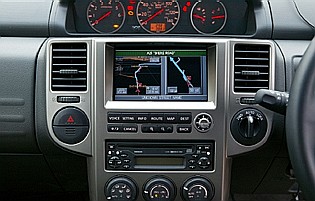 Technophiles will love the numerous electronic gizmos
Colours and trim
All models are well equipped. Such unexpected items as driver's seat height adjustment, front and rear electric windows, electric door mirrors and climate control are standard issue. As with some of its other models, Nissan produces a special T-Spec version that comes loaded down with state of the art electronic gadgetry. If you're the sort of person who judges people according to what sort of mobile phone they carry, it will probably appeal to you. Other novel optional extras include roof-mounted safari lamps.
Parking
A raised driving position and a relatively tight turning circle helps with parking, though the X-Trail's size and shape rather hinders it. At least commendably large wing mirrors are provided to aid your reversing manoeuvres. It does take some practice to get used to parking the X-Trail in tight corners.
Spare wheel
A full size spare wheel is located under the rear load area.
Range information
Three engines to choose from. Petrol units of 2.0 (140PS) ad 2.5 litres (165PS) are outsold by a 2.2-litre (136PS) diesel that is more economical and comes with a smooth-shifting six-speed manual gearbox (petrol models have five gears). There's also a four-speed automatic box, but it takes the edge off the X-Trail's performance. Models are differentiated by the following badges: SE, SVE, Sport and T-Spec.
Alternative cars
Land Rover Freelander Respected badge counts for a great deal
Honda CR-V Similar formula to X-Trail in most respects
Toyota RAV4 Less bullish effort makes sense around town
Hyundai Santa Fe Five year warranty extremely attractive
Over 1,200 more car reviews online
All the reports since 1990 are available on this site, just search by make and model below.
Other products & services
Related information
October 2004