Land Rover Discovery 3 HSE TDV6
September 2004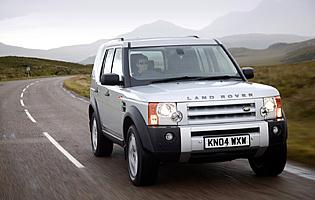 Futuristic look of Discovery 3 is a radical departure for Land Rover
Ratings
Overall rating
Value for money
Costs
Space and practicality
Controls and display
Comfort
Car security
Car safety
Likes
Radical styling sets Discovery apart from competition
Peerless off-road performance
Genuine seven-seat capability
Vastly improved on-road ride over its predecessor
Gripes
Marque reliability concerns remain, and the Discovery 3 is a complex car
Petrol V8 is very thirsty and lacks low-down torque of diesel
Discovery's fascia contains too much plastic and the various electronic displays lack a cohesive design
A big, heavy car, the Discovery could prove awkward on the school run
Bigger, bolder and packed with more technology than its predecessor, Land Rover's Discovery 3 is a car that makes even the firm's ultra-modern Range Rover look conservative. Striking styling aside, the Discovery 3 is a car that shows how it should be done off road, while banishing the demons of the company's past and delivering an impressive on road performance.
It's a long time since Land Rover had a monopoly over what we now call the Sport Utility Vehicle (SUV) market. Recent years have seen the arrival of more refined and road-orientated products from the likes of BMW, Honda, Toyota and Volvo. In the midst of this invasion was Land Rover's Discovery, and it wasn't long before the car's shortcomings became obvious.
Granted, the venerable Discovery was a competent off-roader, but it's an oft-recited observation that few people buying these vehicles actually use them as their maker intended. Getting left behind was never an option for Land Rover, which is why the firm's third generation Discovery is being sold as a consummate all-rounder - peerless off road and equal to anything on road.
Just for good measure, and no doubt to attract young, cash-rich buyers, the Discovery 3 has been styled to look like something not from the current century but the 25th, all the while packing more technology than the Space Shuttle. All this adds up to a vehicle that remains faithful to Land Rover's mud-plugging brand values and takes the fight to the various 'posh-roaders' that have been stealing valuable sales.
Throw in a flexible seating system mirroring that of a full-size MPV and the Discovery 3's 'all-rounder' tag doesn't sound so silly. Yes it's a big car, but so is Renault's Grand Espace. You can't traverse muddy fields in an Espace, nor can you safely tow a heavy load in slippery conditions. Boasting this level of versatility, Land Rover's third generation 4x4 is clearly designed to appeal to a much broader audience. All that remains is for the company to assure buyers that the reliability woes of the past have been banished for good.
Our verdict on the Land Rover Discovery 3 HSE TDV6
An exceptional product from an exceptional company. No longer a staid, sensible and slightly clunky mid-size SUV, the Discovery is now a car to rival high-end estates and MPVs in terms of drivability, refinement, desirability and versatility. And, with the introduction of some clever technology, it makes off-roading easier and safer.
Costs

Make no mistake, a Discovery will never be a cheap car to run. Although the price of the base model makes it exceptional value for money, running costs will be more than for the average large estate. Servicing and insurance apart, fuel will be a major expense - especially if you opt for the thirsty petrol V8. Even the diesel likes a drink, a factor made worse if you do a lot of off-roading or motorway driving. That said, for what the Discovery offers, the package is significantly cheaper than an X5. The BMW may hold more of its value for longer but it's not as versatile.
Space and practicality

Unlike its predecessor, the Discovery 3 boasts a considerable amount of room for its occupants. Base model aside, which gets only five seats, the car's seven seat configuration is entirely practical and easily accommodates seven adults of average build. While access to the third row requires the occupant to be reasonably agile, once sat down a long journey can be entertained with a minimum of discomfort. When not in use, the second and third rows fold flat making for a loadspace to rival that of a full-size MPV or van. You access the space via a split-opening tailgate, which includes a bottom section strong enough to be used as a seat. Inside the cabin there's a generous scattering of cubbyholes and cup holders, plus a particularly cavernous centre armrest.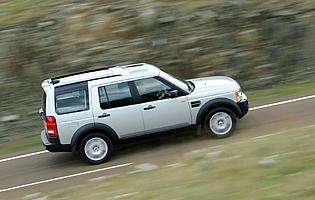 Clean lines of Discovery 3 most apparent from the side
Controls and display

The utilitarian theme of the Discovery 3 is carried over from the car's exterior styling to its switchgear, which gives the impression function was selected over form by Land Rover's designers. While sensibly placed, there is simply too many buttons and knobs dotted around the fascia - especially when the central display screen is of the touch screen variety. The car's main dials may be objects of clarity but the same cannot be said of the three separate LCD displays, all of which use a differing typeface and fail to live up to the car's hefty asking price. Thankfully the Discovery's steering wheel helps redeem matters, as many frequently used controls are within easy reach whilst driving.
Comfort

Entry-level model apart, the Discovery 3 comes with a clever air suspension system that does an excellent job of minimising body roll and suppressing urban undulations when driving on Tarmac - a common problem associated with big 4x4s. Engines are quiet, especially the hard-working diesel, although there is a noticeable amount of wind noise when travelling at speed. Thank the car's bluff front and upright stance for that. Elsewhere, the seats are supportive and the grab handles sensibly placed - especially welcome when off-roading so that you're not thrown around the cabin. In a bid to alleviate the old problem of gaining access to such a tall vehicle, air suspension-equipped cars can be lowered to make access to cabin easier.
Car security

High-value 4x4s are a staple of the car theft fraternity and it would be wise to assume that the third generation Discovery will be high on criminals' shopping lists. At least the basic factory-spec security package is a solid one, although a form of tracking device would be a wise investment given the Discovery's high desirability factor.
Car safety

Aside from the obvious merits of permanent four-wheel drive, the Discovery 3 comes with the usual array of electronic stability and traction aids, cleverly linked to the provide a rapid response even when driving off road. In the cabin there's the potential for as many as eight airbags.
Driver appeal

Off-roaders were never meant to be fun to drive, but BMW changed all that with its acclaimed X5. The SUV may drive like a sports estate but it lacks the ability to plug serious mud. The Discovery does both things exceptionally well, although there is a clear bias towards being able to plug mud better than its rivals. The compromise is noticeable, but only if you push the Discovery hard. In normal driving, its fluid ride and the ability to take corners at car-like speeds are impressive. It's surprisingly nimble around town and also boasts a decent turning circle. Off road it obliterates its opponents - its limits are far higher than that of the average driver - and takes the slipperiest and steepest hills in its stride. When equipped with Land Rover's Terrain Response system, you can choose from a selection of different surfaces (mud, sand, rocks etc) and fine tune suspension, gearbox and throttle actions for even better levels of performance.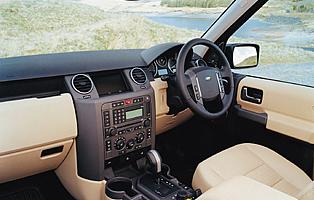 Although a bold design, the Discovery's fascia contains too many buttons and dials
Family car appeal

Conventional estate cars not flexible enough? Grown out of compact MPVs? Need a strong tow car? The Discovery's primary function may still be biased towards off-road duties, but this generation offers much more and can easily be looked on as a family car - if you need more than what a Ford Mondeo can offer. Unlike some others, the Discovery's flexible seven-seat layout is no gimmick, while overall cabin space is generous to say the least. The car's cubbyhole quotient is a match for any people carrier, while the audio/visual entertainment options have clearly been designed to keep the little ones quiet.
First car appeal

Leaping from a driving school-issue Nissan Micra to a Discovery is not recommended. Putting the big SUV's price aside, the size of the vehicle, the potency of its engines and its un-car-like handling are attributes all likely to make a novice driver's task much harder. But taking asking price and running costs into consideration will no doubt scupper any chances of an ex-learner reaching for the keys.
Quality and image

Land Rover has suffered in recent years with a reputation for building cars that weren't always up to scratch - just ask owners of the previous generation Discovery. Assurances have been made by the firm though, and huge leaps in quality and reliability have been made. Certainly, visual clues such as better cabin plastics in the Discovery 3 prove that Land Rover has acted on buyer and press criticism. Image-wise the car has always commanded a loyal following and is often held up as a 'proper' recreational 4x4 in the face of BMW's X5 and Mercedes' ML-Class 'soft roaders'.
Accessibility

You'll notice a distinct step up into the Discovery - any 4x4 of this size will always force occupants to make an extra effort to gain access to the cabin. Unlike most others, Discoverys with air suspension can be lowered to reduce the effort required, which will be a welcome feature for less agile passengers. Once inside, the amount of room available - both fore and aft - is impressive. The rearmost seats will easily accommodate two adults, although egress could be more dignified as you step past the second row to get out. Access to the boot is improved over the second-generation car. In place of the side opening door is a split tailgate - the spare wheel has moved under the boot floor to accommodate this feature.
Stereo and ICE (In car entertainment)
A CD audio system is standard fit on the Discovery 3, with various added value permutations on offer depending on trim level and the options list. Such options include an in-dash CD changer, home cinema-style sound set-up, touch screen sat-nav and a phone function. With the basic controls duplicated on the steering wheel, operating the various components on the move is easy. Alas, the fascia mounted controls are less inspiring, as you're faced with a sea of buttons and a distinctly low grade LCD display that jars with the colour screen of the sat-nav above it. It's not all bad as passengers in the back seats have access to separate outlets via headphones.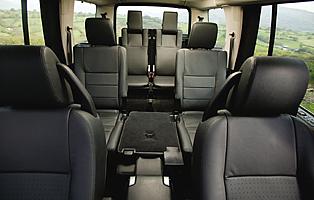 Rivalling MPVs for space and versatility the Discovery is leagues ahead of the competition
Colours and trim
For a car, in flagship spec at least, boasting a price tag close to that of a Range Rover the trim options are a little bit of a let down. Land Rover has eschewed luxurious wood in favour of more practical, albeit high quality, plastics for the cabin - call it utilitarian chic, if you like. The effect is largely successful but not what you'd expect on a car costing what it does. At least leather is available for the seats. Outside, the Discovery 3 looks best in light colours. Darker shades aren't as flattering and the contrast between sheet metal and the practical, bash-proof plastic trim can be lost.
Parking
This Discovery is a big car, with a footprint to rival that of Land Rover's flagship, the Range Rover. With that in mind, finding a parking space large enough in urban areas is going to be a chore. At least the car's lofty driving position, light steering and array of parking sensors help make the process a little more bearable. Visibility fore and aft is good, and a product of moving the car's spare wheel from the tailgate to under the boot floor is that reverse parking is much easier.
Spare wheel
Full size spare fitted as standard.
Range information
Two engine options - 4.4-litre (295bhp) petrol; 2.7-litre (190bhp) diesel. Former fitted with six-speed auto gearbox, latter with six-speed manual - auto 'box an option. Both transmissions include low range ratios. Trim levels: base, S, SE and HSE. Base model does without third row of seats, air suspension and Terrain Response system.
Alternative cars
Jeep Grand Cherokee Cheaper to buy but less composed on road. Good off-road, though
Volvo XC90 Seven-seat Volvo is more high-rise MPV than 4x4 and Discovery's impressive powertrain and off-roading abilities wins hands down
Lexus RX300 Petrol-only RX is more luxurious but cannot match Discovery away from the Tarmac
BMW X5 Latest generation of popular SUV offers improved off-road performance but remains the on-road benchmark
Over 1,200 more car reviews online
All the reports since 1990 are available on this site, just search by make and model below.
Other products & services
Related information
September 2004