Citroen C4 1.6 HDI 16V 110bhp SX
December 2004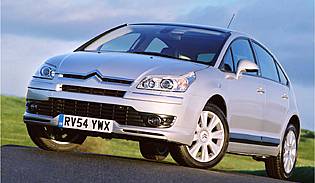 Citroen's striking C4 boasts clever technology and high levels of refinement
Ratings
Overall rating
Value for money
Costs
Space and practicality
Controls and display
Comfort
Car security
Car safety
Likes
Genuinely fresh-looking exterior styling
Build quality is a noticeable improvement over previous Citroens
Wide choice of engines and trim levels
Clever uses of technology that improve the driving experience
Gripes
A number of the much-vaunted technological advances are optional extras
Not everyone will warm to the car's centre-mounted digital display
Holding the two-spoke steering wheel can prove tiring on long journeys
Optional leather front seats lack the lateral support of the standard cloth-trimmed items
After a few years in the design and development wilderness, Citroen's C4 is proof that the company famous for the DS has lost none of its engineering talent. The medium size hatchback might lack the clever hydropneumatic suspension of the bigger C5, but that's all. Its bold exterior hides a number of innovations, and there's a noticeable and welcome improvement in build quality and overall refinement.
If there's one thing Citroen has been famous for in the past few years, it's products which couldn't be further from the French firm's techno-centric ethos. In a bid to keep the money coming in and reach a wider audience, conservative designs, simple mechanicals, low screen prices and plenty of promotions have been the order of the day.
While this direction change did little to endear loyal fans of the brand, there's no question that Citroen's coffers received a welcome cash injection and its products reached a much broader demographic. That said, the cars boasted only average build quality and a similarly average driving experience.
Citroen's C5 might have reintroduced advanced technology to the masses with its clever suspension, but (pre facelift) was no looker and is still no driver's car. The C4 addresses these issues with its bold corporate nose, altogether more jaunty styling, the implementation of innovative new equipment and keen handling.
Unlike its predecessor, the Xsara, the C4's build quality is up there with the VW Golfs and Ford Focuses of this world. However, it's the implementation of the likes of an ergonomic new steering wheel layout, a feature-packed audio, navigation and telephone package plus a lane departure warning system that should prove to fans of the marque that Citroen has returned to its old ways - offering something different but not at the expense of plain old practicality.
Our verdict on the Citroen C4 1.6 HDI 16V 110bhp SX
A quantum leap in terms of refinement over the Xsara, Citroen's C4 is a car that can be favourably compared to the likes of Ford's Focus and Vauxhall's Astra - the two big hitters in the family hatch sector. Xsara fans will be disappointed that the C4 has lost its predecessor's super-sharp handling, but the upside is a mature car boasting a stereotypical supple French ride and the return of genuine innovation.
Costs

For all its fancy technology, Citroen's C4 doesn't break the bank. Key to keeping the cost down is the fact that most of the clever stuff - adaptive lights, lane departure warning, fancy stereo and sat-nav - is on the options list. Anyone wishing to save the pennies would do well to buy a diesel variant; performance is better than a petrol equivalent and fuel economy is streets ahead. And while servicing and repair costs are unlikely to be steep either, solid residual values have never been a Citroen strong point - blame the firm's generous money off promotions and the brand's lack of upmarket image.
Space and practicality

With compact people carriers boasting greater levels of versatility - even Citroen's own Picasso - you'd think the C4 would be completely outclassed. Granted it can't offer clever airline-style fold-down seat back trays or countless cubbyholes, but four adults can be accommodated in reasonable comfort and there's enough room for mobile phones, maps and the like. Even the C4's boot is a decent size and boasts a low load lip, which should please anyone tasked with transporting the weekly shop. The back seats fold, making light work of carrying large or bulky items.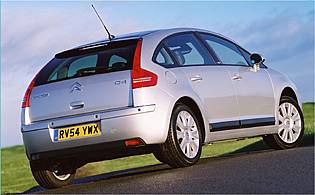 The C4's unusual rear design signals Citroen's desire to once again be different
Controls and display

One feature stands out above all else in the C4's cabin - its steering wheel. Unlike in other cars, the C4's wheel consists of a fixed centre and a moving rim. Aesthetic benefits aside, the wheel allows a more successful deployment of the airbag and a greater number of supplimentary controls (stereo, cruise control, general navigation buttons) to be within easier reach of the driver. Also grouped around the wheel is the rev counter and the auxiliary light bar. The main display (speed plus trip computer, fuel, temperature) is positioned just below eye level, dead centre atop the fascia. While these all work well, the lesser displays (ventilation, audio/sat-nav) are a less coherent mix of colour and monochrome. The various buttons and dials feel more substantial than those in previous Citroens, though.
Comfort

Citroen's decision to pitch the C4 as a more grown up and refined family hatch is most evident in how it cossets you when on the move. Mechanical refinement is impressive, and shows itself in the form of minimal engine and road noise. The car's supple ride also plays a significant role; likewise the car's seats, which are supportive but never uncomfortably firm. Space for adults up front is good, ensuring that elbows rarely clash. The driver is also well catered for, as the driving position boasts plenty of adjustment.
Car security

Although hardly a car likely to feature high on a thief's most wanted list, depending on the model a C4 can come packed with an attractive array of toys - making it desirable to an opportunist low-life. Standard issue kit includes remote central locking and automatic locking of doors and boot when the car is in motion. If you want an alarm, you'll have to buy a VTR Plus variant, where it's optional, or an Exclusive, where it's standard. Laminated side glass is also restricted to upper ranking models, which is a shame as it not only cuts exterior noise but also makes breaking and entering difficult for thieves.
Car safety

It's fair to say that the C4 is well equipped on the safety front. Six airbags - twin front, side and curtain - come as standard along with ABS, electronic brakeforce distribution (EBA) and electronic brake assist (EBA). And it's in a crash that the fixed steering wheel boss proves its worth, as it'll always be in the optimum position when deployed. Sadly Citroen's goodwill ends there, because traction control and ESP can be found only on the options list. The firm's much-lauded Lane Departure Warning System (LDWS) and directional xenon headlamps are also options, but, strangely, are reserved for Exclusive models.
Driver appeal

Save for a few recent models - Saxo VTR/VTS and Xsara VTS - Citroen has left its cousin Peugeot to pursue the performance market. As a result, the ride and handling properties of Citroens lean more towards the measured, comfort end of the spectrum - witness the firm's C5 if you need proof. As such, the C4 feels more mature than its Xsara predecessor. That said you can have fun with the C4; the car is nothing if not willing when it comes to challenging B-roads. Feedback from the steering may be lacking, but the overall experience is an entertaining and enjoyable one. Predictably the diesel engines deliver the most real world performance. Stealing the show is the C4's supple suspension, which is great at absorbing urban undulations.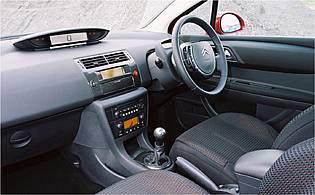 Interior boasts a central main display and clever grouping of controls on the steering wheel
Family car appeal

While a busy family might be better off with Citroen's popular Picasso model, the C4 is more than up to the task if you're not a fan of the people carrier genre. What you lack in terms of ingenious cubbyholes you gain in terms of a car that won't pitch and roll at the slightest hint of a corner. The C4's boot will happily swallow the family shop or a baby buggy, but both might be a squeeze. At least children or teens won't find issue with the car's modest levels of rear legroom.
First car appeal

A novice driver would feel instantly at home in the C4. Aside from the car's 'quirky' steering wheel, everything is where you expect it to be, visibility is good and the major controls require little effort to operate smoothly. The low power petrol and diesel models would be the obvious choice for anyone with one eye on insurance premiums, while decent fuel economy should help keep running costs down.
Quality and image

As a company Citroen has never been blessed with a high quality image. Most buyers have often viewed build and component quality as little more than average. Recent years have seen the firm gradually address these concerns, but the C4 is the first product to have benefited fully from such efforts. Build quality is noticeably better than the Xsara and refinement rivals that of VW's Golf and Ford's Focus. The combination of a genuinely fresh design and the presence of clever technology in the C4 - two attributes that made Citroen famous in the past - should force buyers to look at the car and the brand in a more positive light.
Accessibility

In five-door form - there is also a three-door 'coupe' variant - front seat occupants will have little trouble gaining access. As is the case with many modern cars, the seating position feels slightly raised - a ploy to help improve access and egress and boost visibility for the driver. By virtue of the five-door format, rear seat occupants aren't afforded the same, generous levels of access, but only the very tall or infirm will find this a problem. Rear headroom is acceptable despite the C4's sloping roof, while legroom is acceptable so long as you're not sat behind anyone tall.
Stereo and ICE (In car entertainment)
The default standard set-up for the C4 is a radio and single CD player. The unit is positioned halfway up the fascia and the main controls are logically laid out, although you've got to take your eyes off the road to read the display. Flagship Exclusive models gain a five-disc CD changer conveniently located in the front centre armrest. Only the top model can be configured with an optional premium sound system, and the same is true of the combined audio, telephone and sat-nav system.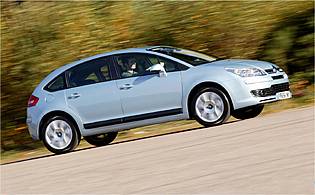 C4 delivers a quantum leap improvement in refinement over its predecessor
Colours and trim
Bright colours - especially metallic shades - show the C4 off in the best light, although the ubiquitous silver also looks good. In contrast, dark hues fail to accentuate the car's many curves and clever exterior details. Inside the C4 the bulk of the car's plastic is of the black variety, which gives the Citroen an almost VW Golf-like ambience. Carbon-effect detailing on sporty models works well, although for a family car the light coloured optional leather doesn't look that durable - black is a better choice.
Parking
With light power steering and an easy to modulate throttle, low speed manoeuvres in the C4 are easy to perform. Visibility is good, too, although the car's windscreen pillars are on the large side and sometimes cause you to 'duck and weave' around them in certain circumstances. Extra help can be sought by opting for the optional parking sensors, which are available for the front and rear. However, only buyers of upmarket VTR Plus and Exclusive models have that choice.
Spare wheel
Standard spare wheel included across the range.
Range information
Petrol engines - 1.4-litre (90bhp); 1.6-litre (110bhp); 2.0-litre (138/143bhp). Diesel engines - 1.6-litre HDi (92/110bhp); 2.0-litre HDi (138bhp). Transmission options are five and six-speed manual gearboxes, depending on engine variant. Sole automatic is offered with the 143bhp 2.0-litre petrol engine. Trim levels: LX, SX, VTR, VTR Plus, Exclusive.
Alternative cars
Ford Focus Popular and plentiful, the Focus is the keen driver's choice
Vauxhall Astra No longer a dowdy runabout, the latest Astra is an impressive all-rounder
Mazda 3 Stylish Japanese alternative is good value for money and enjoyable to drive
Peugeot 307 Couldn't be further removed in character from the C4, despite being a close relative
Over 1,200 more car reviews online
All the reports since 1990 are available on this site, just search by make and model below.
Other products & services
Related information
December 2004