Document Management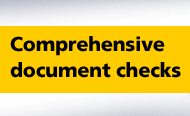 Document Management is a service that checks the validity of insurance and MOT documents held by employees who drive their own vehicles on your company business. This service is linked to AA Online Licence Checking.
Document Management helps you
meet your 'duty of care' obligations under HSE (Health and Safety Executive) regulations regarding 'cash-for-car/opt-out' vehicles
reduce 'opt-out' exposure by ensuring such vehicles have valid legal documentation
save time and administration costs by removing the need to check documentation manually and set up a reminder system
reduce or eliminate legal, financial and operational risks in situations where drivers might use vehicles without valid documentation
provide accurate, easily accessible online information about drivers' status
ensure a continual improvement plan, with data fed into our central information system
Find out more about Document Management.
For enquiries, call us on 0800 52 10 72. Lines are open 9am to 5pm Monday to Friday.
Or complete our Risk Management Enquiry Form and one of our customer advisers will contact you.