Find out more about Business Rental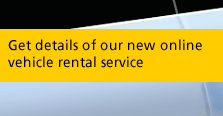 Enter your details below to receive details of our new online business vehicle rental as soon as they become available.
Fields marked with an asterisk (*) are mandatory.
* The AA group means the AA group of companies including Automobile Association Personal Finance Limited.
AA Vehicle Rental Solution is provided by Automobile Association Developments Limited. Registered office: Fanum House, Basing View, Basingstoke, Hampshire RG21 4EA. Registered number: 1878835 England and Wales.