Safe Walking and Cycling
Useful advice for country walks and bike rides
Walking
All of our walks are suitable for families, but less experienced family groups, especially those with younger children, should try the shorter or easier walks. Route finding is usually straightforward, but the maps are for guidance only and we recommend that you always take the suggested Ordnance Survey map with you.
Risks
Although each walk has been researched with a view to minimising any risks, no walk in the countryside can be considered to be completely free from risk. Walking in the outdoors will always require a degree of common sense and judgement to ensure that it is as safe as possible, especially for young children.
Be particularly careful on cliff paths and in upland terrain, where the consequences of a slip can be serious.
Remember to check tidal conditions before walking on the seashore.
Some sections of route are by, or cross, busy roads. Remember traffic is a danger even on minor country lanes.
Be careful around farmyard machinery and livestock.
Be aware of the consequences of changes in the weather and check the forecast before you set out.
Ensure the whole family is properly equipped, wearing warm clothing and a good pair of boots or sturdy walking shoes. Take waterproof clothing with you and carry spare clothing and a torch if you are walking in the winter months.
Remember the weather can change quickly at any time of the year, and in moorland and heathland areas, mist and fog can make route finding much harder. In summer, take account of the heat and sun by wearing a hat, sunscreen and carrying enough water.
On walks away from centres of population you should carry a whistle and survival bag. If you do have an accident requiring emergency services, make a note of your position as accurately as possible and dial 999.
Cycling
In devising the cycle rides, every effort has been made to use designated cycle paths, or to link them with quiet country lanes and waymarked byways and bridleways. Unavoidably, in a few cases, some relatively busy B-roads have been used to link the quieter, more attractive routes.
Rules of the road
Ride in single file on narrow and busy roads.
Be alert, look and listen for traffic, especially on narrow lanes and blind bends, and be extra careful when descending steep hills, as loose gravel, a slippery or poor road surface can lead to an accident.
In wet weather make sure you keep an appropriate distance between you and other riders.
Make sure you indicate your intentions clearly.
Brush up on The Highway Code before venturing out on to the road.
Off-road safety code of conduct
Only ride where you know it is legal to do so. It is forbidden to cycle on public footpaths, marked in yellow. The only 'rights of way' open to cyclists are bridleways (blue markers) and unsurfaced tracks, known as byways, which are open to all traffic and waymarked in red.
Canal towpaths: you need a permit to cycle on some stretches of towpath (www.waterscape.com). Remember that access paths can be steep and slippery and always get off and push your bike under low bridges and by locks.
Always yield to walkers and horses, giving adequate warning of your approach.
Don't expect to cycle at high speeds.
Keep to the main trail to avoid any unnecessary erosion to the area beside the trail and to prevent skidding, especially in wet weather conditions.
Remember to follow the Country Code.
Preparing your bicycle
Check the wheels for broken spokes or excess play in the bearings and the tyres for punctures, undue wear and the correct tyre pressures. Ensure that the brake blocks are firmly in place and not worn, and that cables are not frayed or too slack. Lubricate hubs, pedals, gear mechanisms and cables. Make sure you have a pump, a bell, a rear rack to carry panniers and if, cycling at night, a set of working lights.
Equipment
A cycling helmet provides essential protection if you fall off your bicycle.
Make you sure you and those with you are always easily visible by car drivers and other road users by wearing light-coloured or luminous clothing in daylight and reflective strips or sashes in failing light and when it is dark.
Take extra clothes with you, the amount depending on the season, and always pack a light wind/waterproof jacket.
Carry a basic tool kit (tyre levers, adjustable spanner, small screwdriver, puncture repair kit, and a set of Allen keys) and practical spares, such as an inner tube, a universal brake/gear cable, and a selection of nuts and bolts. Also, always take a pump and a strong lock.
Carry a basic first-aid kit.
Take enough food and drink for your outing. Always carry plenty of water, especially in hot and humid weather conditions. Consume high-energy snacks like cereal bars, cake or fruits, eating little and often to combat feeling weak and tired.
Walks and cycle ride facts
The following headings provide some additional detail to help you understand our walks and cycle rides.
Minimum time
The time stated for completing each route is the estimated minimum time that a reasonably fit family group of walkers or cyclists would take to complete the circuit. This does not allow for rest or refreshment stops.
Suggested map
Each route is shown on a detailed map. However, some detail is lost because of the restrictions imposed by scale, so for this reason, we recommend that you use the maps in conjunction with a more detailed Ordnance Survey map. The relevant Ordnance Survey Explorer map appropriate for each walk or cycle ride is listed.
Start/finish
Here we indicate the start location. There is a six-figure grid reference prefixed by two letters showing which 100km square of the National Grid it refers to. You'll find more information on grid references on most Ordnance Survey maps.
Cycle hire
We list, within reason, the nearest cycle hire shop/centre.
Symbols used in maps for walks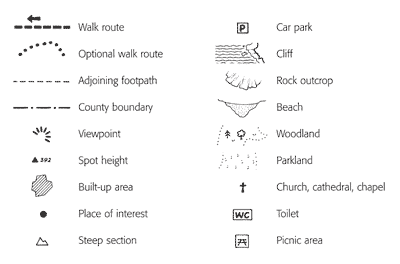 Other products & services