Our list of the top French restaurants in London should be top of anyone's foodie bucket list. And they've all been quality assured by at least two AA Inspectors – find out more about how we award Rosettes.
5 Rosettes
Bold innovative cooking from a star of the French south-west at this old-school high-class restaurant.
4 Rosettes
Unwavering commitment to classical French gastronomy from a stalwart of the capital's French dining scene.
Avant-garde French cooking by the garden terrace – almost a world away from its Mayfair setting.
Assured French cooking in a riotously decorated club.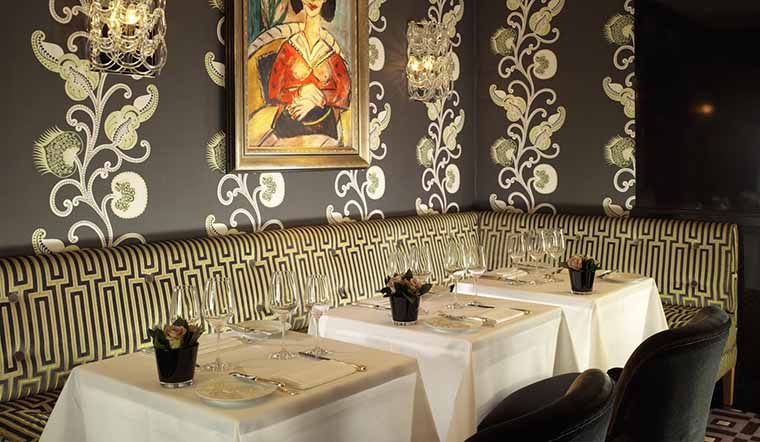 Photo: Seven Park Place by William Drabble
3 Rosettes
The mothership of the Gordon Ramsay empire since it first opened its doors back in 1998.
Creative French cooking in an upstairs setting – deep in the heart of Soho.
Art on a plate in one of Charlotte Street's finest venues.
Refined modern French-oriented cuisine makes for excellent cooking at this Mayfair favourite.
Accomplished seafood cookery in landlocked Knightsbridge.
A stylish setting the heart of Marylebone for classic European cooking.
Innovation and excitement from southwest France in a location close to Smithfield Market.
Modern European cooking on the 28th floor of the Park Lane Hilton.
Classic French cooking in a restaurant of many spaces.
The Mayfair arm of Anthony Demetre's modern European restaurant operation, situated amid luxurious office buildings and plush hotel.
Immaculate modern cooking from the Ramsay stable.
Simple Anglo-French heritage cooking from Jason Atherton.
Want find more restaurants in London serving French cuisine? Look no further.