AA History
from 1905 to the present
1905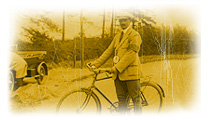 A group of motoring enthusiasts met at the Trocadero restaurant in London's West End on 29 June to form the Automobile Association (the AA) – a body initially intended to help motorists avoid police speed traps. As motoring became more popular, so did we – the AA's 100 members in 1905 grew to 83,000 by 1914. As AA membership expanded, so did our activities.
1906
In 1906 we began erecting the country's first effective danger and warning signs and the AA has been committed to promoting road safety ever since.
We continued to be responsible for all signposting until the early 1930s, when it became a local authority responsibility. AA Signs' distinctive yellow and black colouring for special events remains a familiar sight at the roadside.
To cater for the increased popularity of touring by car, we appointed agents and repairers throughout the UK, listing them all in the AA Members' Special Handbook, which first appeared in 1908.
In 1909 we introduced our free legal system for drivers summoned to appear in magistrates courts. We still support our members involved in legal test cases.
1910s
We introduced the first AA routes around 1910 with handwritten details, and by 1929 we were issuing 239,000 routes a year. Since then, we have produced routes and travel guides.

From 1912 we also started inspecting hotels, and those receiving our famous AA star classification were included in subsequent editions of the Members' Handbook. To date, we have inspected and rated more than 4,000 hotels and reviewed almost 2,000 restaurants and we publish the results in a series of annual guides.
1920s–1950s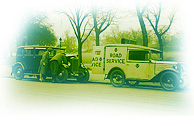 By 1939, 2 million cars were on UK roads and 725,000 motorists had joined the AA.

After the Second World War, we led the protest against petrol rationing, which was finally lifted in 1950. It was a campaign that reflected our traditional role of championing motorists' rights.
Since that time we have led a number of major campaigns, including the compulsory wearing of seatbelts, which became law in 1983, and the introduction of lead-free petrol.

In recent years, we have lobbied successive governments over unfair motoring taxes and the lack of investment in transport.

Here at the AA, we have always been innovative in harnessing new technology. The introduction of two-way radio after the second world war saw the 1949 launch of a night-time breakdown service in the London area, which was gradually extended to cover most of Britain.
The AA computer system, Command and Control, started to replace paper-based operations from 1986. The system's award-winning successor, AAHELP, together with automatic vehicle-location technology, using global positioning satellites, has been key to achieving our current speed of response at the roadside.

In 2003, all AA patrols were issued with state-of-the-art roadside diagnostic equipment. The laptop computer allows patrols to plug into a car's electronics to diagnose the cause of a breakdown as well as access to the AA's wealth of technical support information and breakdown deployment details. Later that year the innovation won 'Autocar's' idea of the year award.
1960s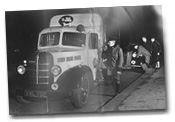 We established our AA Insurance broking service in 1967. After a number of cut-price companies had crashed in the 1960s, motorists wanted motor insurance cover from an organisation that they could trust, and they turned to us in their thousands. Today, AA Insurance – which also sells home, travel and other specialist cover – is the UK's largest home and car insurance broker.

Loans and instalment payment facilities are available to members and customers through AA Financial Services.
1970s
AA Roadwatch, Europe's biggest traffic broadcaster, came into being in 1973 with the advent of commercial radio in the UK. Fast and accurate collation of road and traffic information is universally recognised as key to the future of motoring. Motorcycle combinations for AA patrols – introduced from 1920 together with roadside telephones - were replaced by four-wheeled vehicles by 1968. But solo motorcycles were re-introduced in 1972 to combat urban congestion.

In October 1973, AA Relay was launched, guaranteeing to transport any seriously broken-down vehicle – together with driver, passengers, luggage and trailer or caravan – to any destination in Britain.

1973 also saw us move our headquarters from London's Leicester Square – the AA had moved to the area in 1908 and occupied premises in New Coventry Street in 1929 – to Fanum House in Basingstoke, Hampshire. Although Fanum House remains a major AA base, the company moved its headquarters to Farnborough, Hampshire, in 2001.
1990s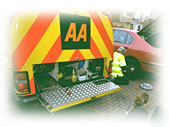 The AA dramatically expanded its publishing activities during the 1990s, producing a growing range of maps, atlases and travel guides to worldwide destinations as well as many British titles. With almost 800 titles in the range, we are now the UK's biggest travel publisher and one of the top 10 worldwide. In partnership with overseas companies, many AA books are now available in up to 28 languages in addition to English.

In 1992, the AA driving school was launched. It is the only national body to use fully qualified instructors, and today operates a network of more than 1,800 franchised instructors.

In November 1994 AA membership reached 8 million.

In 1999, we set a new standard for the breakdown and recovery industry and came first in the annual JD Power survey of UK roadside assistance providers.

Later that year, members voted overwhelmingly in favour of the AA demutualising and joining the Centrica group in a £1.1 billion acquisition.
To the present day
We confirmed our pre-eminence at the roadside in the year 2000 when JD Power named us the UK's top-ranked roadside assistance provider for the second year running.

In 2002 the AA was ranked top roadside assistance provider by both JD Power and a 'Which?' Consumers' Association survey of breakdown organisations.

Also in 2002 The AA Motoring Trust charity was created to carry on the AA's long-standing role of championing the interests and safety of Britain's road users.

In 2003 we launched a mobility service that guarantees to keep our car insurance customers mobile regardless of the circumstances of the claim. AA customers with comprehensive cover now automatically receive this courtesy car cover as standard. Customers with third party, fire and theft policies also receive a courtesy car if their claims are due to fire or theft. Later in the year the scheme won the 'Insurance Times' broker innovation of the year award.

The year also saw us come top of the JD Power roadside assistance survey for the fourth time in five years.

In 2004 our online Route Planner, introduced street-level detail on all routes for Britain.

A ground-breaking online service for car buyers was also launched. Called the AA Car Buyer's Guide, it provides a one-stop shop for AA advice, products and services that removes much of the risk associated with buying a new or second-hand car. The year saw our biggest publishing launch in 15 years, with a new travel series called Key Guides covering 12 popular destinations.

Also in 2004, JD Power showed that our roadside service had improved by 11 points since the 2003 survey, with AA assistance arriving at the scene of a breakdown five minutes faster than its nearest competitor.

In June 2004 the AA launched a breakdown promise - 'to fix a member's car by the roadside or get them another one' – that gives personal members a courtesy car for 24 hours if their broken-down vehicle cannot be fixed there and then.

In July we introduced our industry-leading AA Telephone Savings Account.

On 1 October 2004 the AA left the Centrica group, following its acquisition for £1.75 billion by two leading European private equity firms, CVC and Permira.


2005
In 2005 the Direct Lending team launched the Internet Savings Account, the Guaranteed Equity Bond, the One–Year Fixed Rate Savings Account, and a free six–month AA warranty with every Car Loan. In September the team also launched the No Early Settlement Fee Loan, which enables customers to repay their loan early without a penalty.

Business Services enjoyed a successful year, winning a three–year breakdown contract with Ford – the UK's biggest motor manufacturer before clinching a two–year deal with Fiat and Alfa Romeo, a three-year contract with Skoda, and a five–year contract with Peugeot–Citroen.

The AA won two Fleet News awards and, in May, was named the UK's number one provider of roadside assistance by JD Power and Associates, for the fifth time in the survey's eight–year history.

In the same month the AA launched its 'Tales from the Roadside' campaign, highlighting real–life patrol stories in a series of TV adverts supported by radio, outdoor posters, press, online and direct marketing activity.
And the 'AA Team' was unleashed on the nation, to promote motor insurance.

In June, AA Ireland won a contract to classify all hospitality establishments on behalf of Failte Ireland – the Irish tourist board.

On 29 June the AA celebrated its centenary with a black–tie dinner in London for motoring industry executives, business partners, journalists and selected employees.