Critical Illness Cover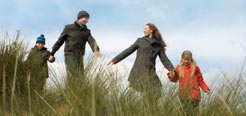 Life insurance provides security for you and your family if you are no longer there. For extra protection you can choose to add critical illness cover to your life insurance policy.
This means you will receive your cash sum if you are diagnosed with a critical illness covered by your policy, including many cancers, multiple sclerosis, heart attack or stroke. Full details of all illnesses covered are available on request.
Our critical illness cover provides some of the highest quality cover in the market and has been rated 5 Star by independent financial research company Defaqto. Click here to find out more.
This product is provided by Friends Life Limited.
Call free on 0800 107 6642.
When you apply for our critical illness cover, specific illnesses may sometimes be excluded from your cover. If this happens you'll be told before your policy starts.
Please note: Premiums for life insurance policies that include critical illness cover are, in some circumstances, not guaranteed. This means that premiums could increase in the future, or cover may need to be reduced. Inflation may reduce the value of your cover.
To apply for AA life insurance with critical illness
You need to make sure that:
you're a UK resident
you're between 18 and 54
your policy lasts for a minimum of 5 years and maximum of 40 years
to get a quote or apply call
0800 107 6642
or add critical illness cover to your online life insurance application
AA Life Insurance is available from Automobile Association Insurance Services Limited (AAIS) an insurance intermediary authorised and regulated by the Financial Services Authority (FSA). You can check on the FSA's register by visiting the FSA's website www.fsa.gov.uk (link opens a new window) or by contacting the FSA on 0845 606 1234.
Automobile Association Insurance Services Limited. Registered office: Fanum House, Basing View, Basingstoke, Hampshire RG21 4EA. Registered number: 2414212 England.
AA Life Insurance is provided by Friends Life Limited.