About the award
Introduced in 1998, this award recognises and outstanding contribution to promoting wine understanding and appreciation. Nominees are judged on the quality of their wine list and their ability to inspire customers to make wider and more adventurous choices in selecting wines.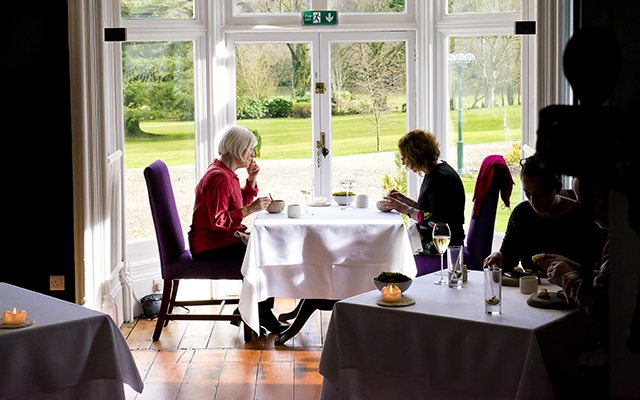 Hidden away in splendid gardens within a 1,000-acre RSPB reserve, Ynyshir was once owned by Queen Victoria. The place has long been known as one of the gastronomic destinations of Wales, with a contemporary dining room that's easy on the eye, and chef-patron Gareth Ward's culinary magic playing the lead role. After a stint at Sat Bains in Nottingham, he brings with him that inventive and forward-looking chef's ethos of weaving intricate combinations of flavours, texture and temperature. Ingredients of the highest order, including produce from the hall's gardens and foraged wild ingredients, form the basis of tersely worded nine- and 17-course tasting menus. Opening the show, 'Not French onion soup' is made from Japanese dashi stock flavoured with onion oil, diced tofu, pickled shallots, sea vegetables, onion and miso purée and brown butter croûtons, while mackerel comes in a vibrant sea-fresh partnership with bramble and sorrel. Elsewhere, duck liver comes with Cox's apple and smoked eel, while salted plums and shiso are used to enhance wild duck.
Melt-in-the-mouth Welsh Wagyu beef stars in a complex three-part presentation: in a 'burger' with shallots and sesame seeds, glazed with soy sauce and Marmite and matched with pickled shiitake mushrooms, and in a deeply-flavoured beef 'fudge'. After that there's desserts such as miso treacle tart, rhubarb with marjoram and rice, or a thoroughly deconstructed take on tiramisù.
Wine judging observations: A considered, highly individual and quirky wine list, clearly put together with a lot of hard work and thought. Its presentation is punchy, modern and easy to follow. There's excellent producers across the list, and it's clear that there has been no messing about when it comes to sourcing quality. It is very well-priced, meaning you won't have to break the bank for something truly special. It's not the largest of lists, but has sufficient depth to stand out, and it's nice to see some space made for a few sakes.
Previous winners
2016 – The Whitebrook
2015 – The Walnut Tree Inn
2014 – Grove
2013 – Park House, Cardiff
2012 – The Felin Fach Griffin
2011 – The Bell at Skenfrith
2010 – Fairyhill
2009 – The Bell at Skenfrith
2008 – The Whitebrook