About the award
Introduced in 1998, this award recognises and outstanding contribution to promoting wine understanding and appreciation. Nominees are judged on the quality of their wine list and their ability to inspire customers to make wider and more adventurous choices in selecting wines.
The Whitebrook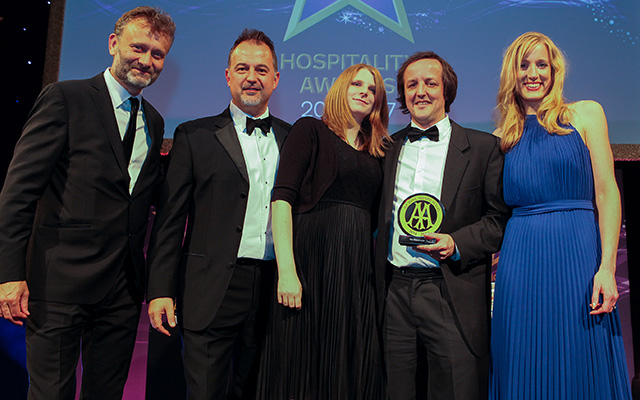 Since they took over at the end of 2013, Chris Harrod and his wife, Kirsty, have drawn diners from all over Wales and the southwest to their classy 32-cover restaurant-with-rooms.
Always cooking at the fine-dining end of the spectrum, Chris previously worked at The Lanesborough and L'Ortolan, but it was his three years under Raymond Blanc at Belmond Le Manoir aux Quat'Saison that really set him up for his first solo venture.
Overlooking the Wye Valley, the restaurant makes good use of the locality for its produce, particularly wild herbs and local pork (suckling pig with pine nut, artichokes and hop shoots is a signature dish), and fish arrives daily from Cornwall. The well-judged and eclectic wine list features many small producers and includes bottles from Croatia and Corsica.
Judging observations: A lovely list which goes to great lengths to engage and guide the customer. The selection is arranged by drinking style, with brief but helpful headings which aids selection and makes the list accessible; there is a useful vintage guide.
The by-the-glass section is punchy, varied and appealing. We loved the section 'a little different from around the world', which highlighted a personal selection of wines across the list. There's good value to be found across the varied price points, so all pockets are catered for.
Read more about The Whitebrook


Previous winners
2015 – The Walnut Tree Inn
2014 – Grove
2013 – Park House, Cardiff
2012 – The Felin Fach Griffin
2011 – The Bell at Skenfrith
2010 – Fairyhill
2009 – The Bell at Skenfrith
2008 – The Whitebrook