About the award
Introduced in 1998, this award recognises and outstanding contribution to promoting wine understanding and appreciation. Nominees are judged on the quality of their wine list and their ability to inspire customers to make wider and more adventurous choices in selecting wines.
Sketch (Lecture Room and Library) London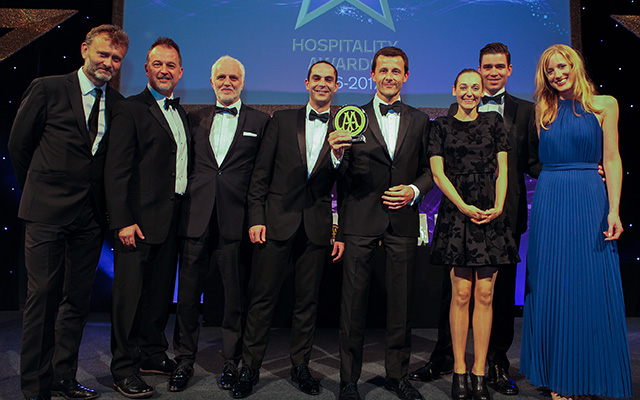 Visionary Algerian-born restaurateur Mourad Mazouz transformed the former headquarters of Christian Dior into a suitably opulent and grand dining experience when he teamed up with the French master chef Pierre Gagnaire to create Sketch.
Walk through the discreet entrance flanked by doormen and you enter a multi-faceted place where food, art and music combine to create a unique experience for the senses. In the finedining Lecture Room & Library with its ornate high ceilings, warm Middle Eastern colours and ivory walls of studded leather, the modern French cooking showcases great technical know-how in complex dishes delivering memorable flavours and textures.
The extensive and detailed wine list featuring more than 700 bottles is easy to navigate and covers both Old and New Worlds, including an impressive selection of Champagnes and wines from Morocco.
Judging observations: A real wine lover's treat with real quality in evidence, bags of interest and a few quirks too. A very extensive yet accessible list which is clearly laid-out and feels totally handselected. Unusually for a restaurant with a team of sommeliers ready to provide guidance, the list features detailed and beautifully researched tasting notes throughout, which capture the individual characteristics of every bottle and genuinely honours the wine.
Particular highlights include an excellent selection by the glass, a mind-blowing Champagne selection and the scope of exclusive Cuvées is highly impressive.
Read more about Sketch (Lecture Room and Library)
Previous winners
2015 – The Sun Inn
2014 – The Queensberry Hotel, Bath
2013 – Northcote, Langho
2012 – L'Etranger
2011 – La Trompette
2010 – Hambleton Hall
2009 – The Old Bridge Hotel
2008 – Ransome's Dock