About the award
Each year the AA independently inspects hundreds of restaurants across the British Isles. This award, introduced in 2000, recognises restaurants that provide cuisine of a truly excellent standard, as well as demonstrating innovation and ambience and providing a high standard of hospitality.


Restaurant James Sommerin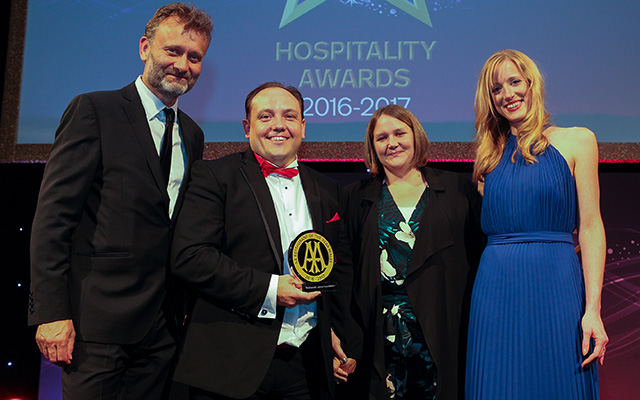 Right on the esplanade at Penarth, overlooking the Bristol Channel, James Sommerin's eponymous restaurant with rooms is worthy of a detour. Previously at the Crown at Whitebrook (and no stranger to the TV cameras thanks to the Great British Menu), Sommerin is cooking up a storm in this contemporary sea-facing restaurant with its gorgeous views over the Severn estuary.
With its white walls decorated with vibrant artwork from local artists, the bright and airy dining room has a viewing window into the kitchen, where there is also a chef's table for those who want to dine even closer to the action.
The food is highly accomplished, with top drawer ingredients conjured into memorable dishes like a starter of scallops, Jerusalem artichoke, mushroom and fennel seed. Next up, a confit leg of Gressingham duck might be teamed with salt-baked swede, dates and spices or local cod served with squid ink, samphire and potato. The appealing combinations of flavours and textures continue through to a dessert of treacle, raspberry, rosemary and olive oil.
Service is professional and friendly and the food is very accomplished, with James now appearing more relaxed about his food, yet still producing top-notch cooking. This great restaurant is a welcome addition to the Welsh dining scene and makes an excellent AA Restaurant of the Year for Wales.
Read more about Restaurant James Sommerin


Previous winners
2015 – Coast Restaurant
2014 – Bully's
2013 – The Bull
2012 – Sosban
2011 – The Crown at Whitebrook
2010 – The Hardwick
2009 – Y Polyn
2008 – The Walnut Tree Inn