About the award
Each year the AA independently inspects hundreds of restaurants across the British Isles. This award, introduced in 2000, recognises restaurants that provide cuisine of a truly excellent standard, as well as demonstrating innovation and ambience and providing a high standard of hospitality.
Inver Restaurant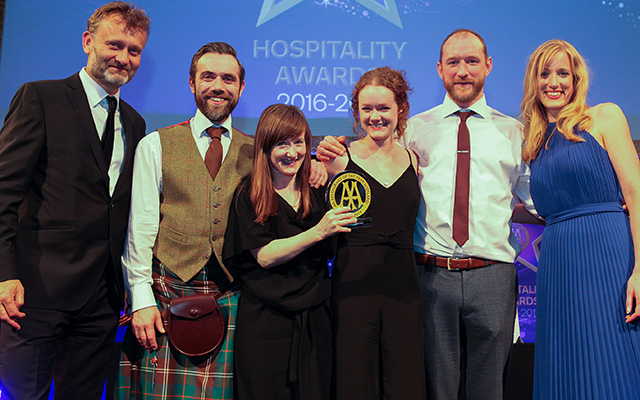 The setting, on the shores of Loch Fyne on Scotland's west coast, is enviable enough, but chef Pam Brunton and partner Rob Latimer have created something quite special since opening in spring 2015.
The pair previously worked at a number of notable places in Europe including the world-famous Noma restaurant in Denmark and they follow a similar Scandinavian philosophy of using the freshest local produce from sea and land in the seasonal menus at Inver.
From bread and butter to ice cream and preserves, everything here is made from scratch on the premises and the dishes display a clarity of flavours. Techniques such as preserving and fermenting are used with great skill in dishes like fresh Loch Fyne crab, fennel cream, rye and fennel seed crisps, which might be followed by a main course of rack and shoulder of Isle of Bute lamb, ewes milk yogurt, grilled leek and wild garlic. Sorrel sorbet and damson vodka is one of the inspired desserts, while the concise but lively wine list draws its inspiration from Europe.
Their homemade butters, coffee, breads and preserves are also available for sale. The rustic yet refined appearance of the dining room provides a great backdrop for the food. Refreshing for its apparent simplicity and reliance on the quality of ingredients sourced and utilised, Inver is a must visit restaurant on the West Coast of Scotland.
This is the kind of restaurant you would love to have as your local and is fully deserving of AA Restaurant of the Year for Scotland.
Previous winners
2015 – The Gannet
2014 – Timberyard
2013 – Ondine Restaurant
2012 – Rogano
2011 – Gordon's
2010 – The Peat Inn
2009 – Plumed Horse
2008 – The Kitchin