About the award
Each year the AA independently inspects hundreds of restaurants across the British Isles. This award, introduced in 2000, recognises restaurants that provide cuisine of a truly excellent standard, as well as demonstrating innovation and ambience and providing a high standard of hospitality.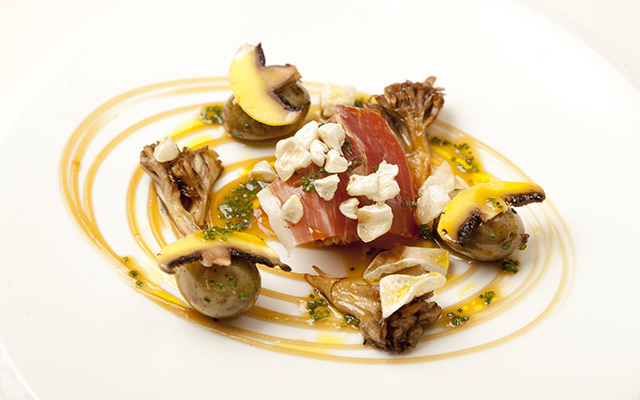 This chocolate-box village in the Ribble Valley is firmly established on the foodie map thanks to the high-flying cooking of chef-patron Steven Smith. Converted from a trio of little cottages, the place successfully pulls off the dual functions of a proper pub and a dining hot spot with a welcoming, convivial atmosphere, and decked out with antiques, rugs on the floor, an open fire and even a stag's head. Steven Smith worked in some of the North's top kitchens before going solo, so he knows exactly how to use Lancashire's finest produce as the basis for inventive, technically accomplished dishes.
Slow-cooked cheek and crispy belly of suckling pig might be the focus of a starter that delivers real wow factor, particularly when matched with black pudding, baked sweet potato, rhubarb and hoi sin sauce, or you might get things going with a rib-sticking oxtail pie baked in brioche and accompanied by a crispy Colchester oyster and a muscular sauce of dark beer and truffle. Main course could star venison, but not just any old deer: salt-aged and smoked over pine, it comes with loin tartare, parsnips, apple purée, Stilton and a sturdy Grand Huntsman sauce. Fish might appear as roast loin of cod with squid risotto, Jerusalem artichoke, hazelnuts, chorizo and yuzu, or something as uncomplicated as catch of the day simply grilled with lemon and brown butter and served with potted shrimps and chips.
Nothing here aims to be revolutionary – it's all about top-class materials treated with care and precision, through to a dessert showcasing Michel Cluizel's unctuous chocolate matched with pineapple poached in Pedro Ximenez caramel, rum, raisin and passionfruit, and coconut ice cream. If you really want to put the kitchen through its paces, there's a six-course tasting menu.
Read more about The Freemasons at Wiswell
Previous winners
2016 – Lumière
2015 – House of Tides
2014 – Sticky Walnut
2013 – The Artichoke
2012 – The Church Green British Grill
2011 – The Hand and Flowers
2010 – The Harrow at Little Bedwyn
2009 – Purnell's
2008 – The Royal Oak at Paley Street