About the award
Each year the AA independently inspects hundreds of restaurants across the British Isles. This award, introduced in 2000, recognises restaurants that provide cuisine of a truly excellent standard, as well as demonstrating innovation and ambience and providing a high standard of hospitality.
Lumière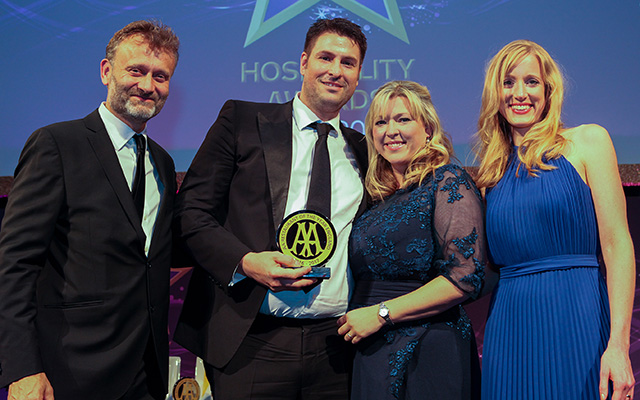 Located in the centre of Cheltenham, close to the Regency spa town's bustling Promenade, Jon and Helen Howe have been running Lumière since 2009 and it has gradually grown to become a well-supported neighbourhood restaurant.
Its unassuming, easy-to-miss façade belies an elegant and welcoming interior, with Helen and her small team running things out front as husband Jon cooks in the tiny, but efficiently run, kitchen at the back. Prior to Lumière, Jon honed his skills under industry giants such as Heston Blumenthal and John Campbell and he is committed to using fresh, seasonal produce, much of it local from named suppliers including fruit and veg from the garden of Helen's parents.
The modern, innovative cooking has a global influence with exacting flavours and contemporary twists in dishes like Wiltshire ham hock terrine, smoked eel, pineapple and gingerbread, and duck, pak choi, sesame, plum, maple and lime. Rhubarb, white chocolate, thyme, hibiscus and honeycomb is a typical dessert. It's all backed up with slick service and a superb, carefully considered wine list.
A small bar finishes off this great family run neighbourhood restaurant. All in all this makes a great recipe for a fantastic winner of this much coveted award.
Previous winners
2015 – House of Tides
2014 – Sticky Walnut
2013 – The Artichoke
2012 – The Church Green British Grill
2011 – The Hand and Flowers
2010 – The Harrow at Little Bedwyn
2009 – Purnell's
2008 – The Royal Oak at Paley Street