About the award
The AA Pub of the Year is selected with the help of our AA inspectors. These pubs stand out for being great all-rounders, combining a convivial atmosphere, well-kept beers and ciders, excellent food, and of course, a warm welcome from the friendly and efficient hosts and their staff.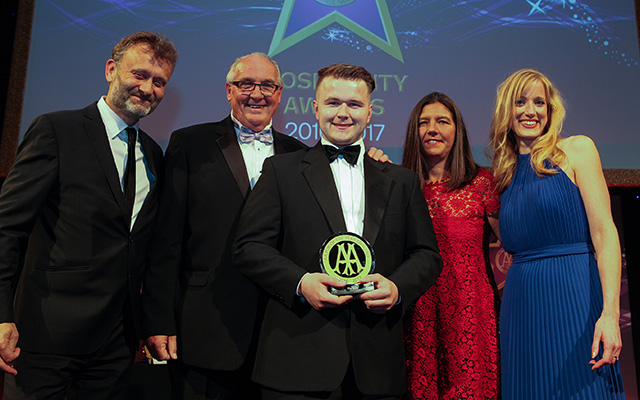 This place has it all – popular bar, luxury accommodation, award-winning food and its own microbrewery. The Boot's first occupant in the 17th century was a cobbler who hung a boot outside to attract customers; while mending their footwear he'd offer them a glass of ale and a bowl of pottage, a hospitable idea which obviously took hold.
Fast forward to the 21st century, and after buying this inn, which was in need of some TLC, the current owners took many months to restore and fully refurbish the property. Since re-opening the doors they haven't looked back. At the heart of the inn is the bustling bar where customers can enjoy The Boot's own tip-top condition beers that have travelled all the way from their own brewery in the courtyard. Head brewer Steve Topliss has clocked up 45 years in the brewing industry, including time as head brewer at Tetley's and six years at Guinness. His ales, including Clod Hopper, Repton Cross, Tuffer's Old, Bumble Boots and Wellington, are receiving much praise.
The interior's stylish makeover runs through the entire building, including the nine individually designed and elegant en suite bedrooms. The food at The Boot is award-winning too and the chef's confident cooking is demonstrated in his worldwide influenced dishes.
Previous winners
2015 – The Porch House, Stow-on-the-Wold
2014 – The Pheasant, Gestingthorpe
2013 – Elveden Inn, Elveden
2012 – The Black Swan, Ravenstonedale
2011 – Feathered Nest Inn, Nether Westcote
2010 – The Black Swan at Oldstead
2009 – The Trout at Tadpole Bridge