About the award
The AA Lifetime Achievement Award, introduced in 2006, recognises professionals within the hospitality industry who have committed their lives to the pursuit of perfection within their discipline. Winners of this award are to be congratulated for making significant fundamental contributions to the industry which have had a notable impact, and must have demonstrated a lifetime commitment to progress in their field.
Pierre Koffmann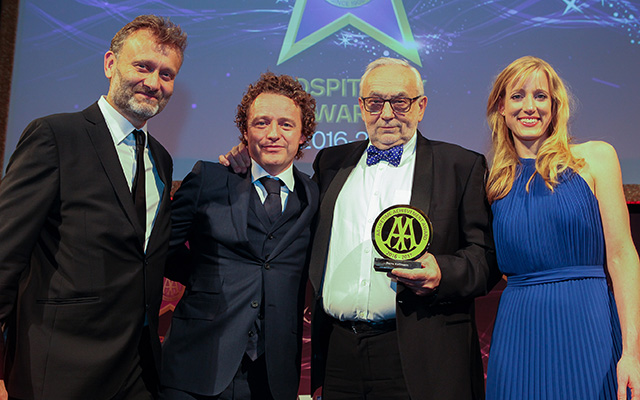 French chef Pierre Koffmann has been one of the undisputed heavyweights of the British restaurant scene since he arrived in England in the early 1970s. Born in Tarbes, Gascony in 1948, the young Koffmann spent childhood holidays with his maternal grandparents, Camille and Marcel, on their farm at Saint Puy, a small village near Tarbes.
Although Koffmann's mother was a good cook, it was his grandmother who inspired him the most. Living off the land and cooking as the seasons dictated on a big open fire, Camille used every part of the animals and it shaped Koffmann's love of cooking seasonal ingredients. Leaving school at 14, Koffmann tried for jobs with the post office and French railway, but eventually opted for the local cookery school. Arriving in London at the age of 22, his original plan was only to stay for six months, but he quickly found a job working for Michel and Albert Roux at Le Gavroche. Within six months he had been promoted to sous chef and was soon appointed head chef at the Roux Brothers' Waterside Inn at Bray, where he stayed for five years.
In 1977, Koffmann and his first wife, Annie, opened their first restaurant, La Tante Claire, in Chelsea and it quickly gained a reputation as one of the best dining experiences in London. Two decades later, Koffmann took up residency in the Berkeley Hotel in Knightsbridge, where he continued to cook until he decided to hang up his apron in 2003. However, his retirement was shortlived. In 2009, Koffmann made a high profile comeback running a pop-up version of La Tante Claire on the roof of Selfridges. The original one-week event sold out immediately and it continued for two months, during which time he served up 3,200 plates of his signature dish of pig's trotters stuffed with chicken mousseline, sweetbreads and morel mushrooms.
This taste of the kitchen had reminded Pierre Koffmann of the life he once loved, and in 2010 he returned to The Berkeley Hotel to open Koffmann's with his new partner (now wife) Claire Harrison. A restaurant offering a relaxed, informal style with classic provincial French cuisine inspired by the food enjoyed as a child in rural Gascony. During his career, he has trained a number of chefs including Gordon Ramsay, Marco Pierre White, Marcus Wareing, Tom Aikens, Bruno Loubet, Jason Atherton and Tom Kitchin. With so many culinary giants working under him over the years, Koffmann's ongoing influence on the British restaurant scene is immeasurable.
Previous winners
2015 – Robin Hutson
2014 – Ruth Rogers MBE
2013 – Harry Murray MBE
2012 – Antonio Carluccio OBE
2011 – Peter Lederer CBE
2010 – George Goring OBE
2009 – Raymond Blanc OBE
2008 – Rick Stein