About the award
Introduced in 1992, this award is the AA's ultimate accolade for hotels in the UK. It is awarded to hotels that are recognised as being outstanding examples in their particular market.


Northcote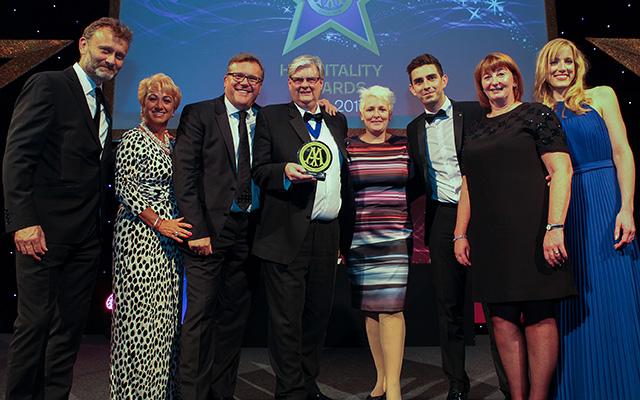 Having secured long-term investment at the end of 2012, joint Managing Directors Craig Bancroft and Nigel Haworth looked to complete the vision for Northcote that they set out back in 1984.
The hotel has gone from strength to strength and now boasts 4 AA Red Stars and 4 AA Rosettes. Investment has brought a completely new stateof- the-art kitchen, chef's table, and small cookery school. There are now 26 luxurious rooms spread between the original Manor House and the newly-created Garden Lodge set in beautiful gardens.
The rest of the hotel has also been upgraded, and the kitchen garden and terraces have been extended. For over 15 years Northcote has been home to Obsession – an annual homage to gastronomy with world class chefs and dinner events over a two week period.
Obsession also benefits key industry charities like Hospitality Action. Executive chef, Lisa Allen, is now renowned as one of the country's best, and Craig and Nigel have recently set up an innovative scholarship scheme and apprenticeship programme in conjunction with Blackburn College. It is a bespoke training programme where Nigel offers students advice, as well as allowing them to gain experience at the hotel.
Recently promoted general manager, Craig Jackson, is part of the new generation of talent, having won and been short listed for a number of accolades in his own right, and he also completed the Master Innholders Aspiring Leaders course last year. He is local to Lancashire and is extremely passionate about standards but above all about this hotel.
A beautiful property with a focus on fantastic cuisine, operated by a host of talented passionate individuals makes Northcote a very worthy winner of Hotel of the Year for England.
Previous winners
2015 – Cliveden
2014 – Dormy House, Broadway
2013 – Gravetye Manor, East Grinstead
2012 – Lime Wood, Lyndhurst
2011 – Gilpin Hotel & Lake House
2010 – Lucknam Park Hotel and Spa
2009 – Feversham Arms Hotel & Verbena Spa
2008 – Jesmond Dene House