About the award
Introduced in 2013, this award recognises restaurants that deliver excellent standards of restaurant service and hospitality. Teams will deliver technical service skills and food and beverage knowledge of the highest standard.
The Ritz London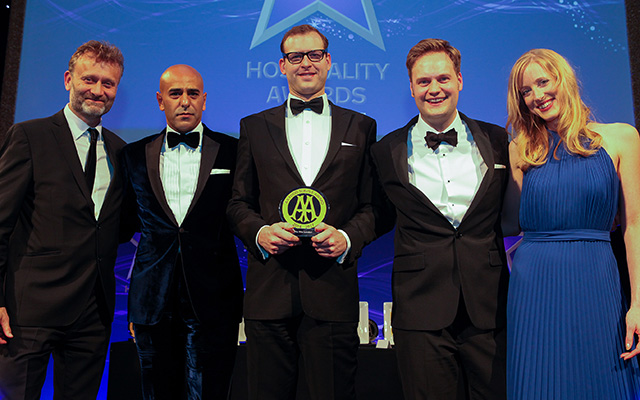 Opened in 1906 by César Ritz, The Ritz is one of the finest hotels in the world and remains a bastion of classical service, thanks to skilled staff providing the highest personal care and attention to detail.
Refurbished and painstakingly restored in recent years by owners Sir David Barclay and Sir Frederick Barclay, The Ritz is the epitome of luxury and style, an iconic hotel that remains timeless but contemporary at the same time. Executive chef John Williams has overseen The Ritz's stunning restaurant for more than a decade and the dining room has a reverential air that's entirely in keeping with the top-flight haute cuisine being served.
Established by influential chef Auguste Escoffier, The Ritz restaurant is widely regarded as one of the most stunning dining rooms in the world. Towering marble columns, neo-classical statues, ceiling frescoes and a magnificent chandelier, it's a room that screams opulence and it provides a stunning backdrop for the classical French cooking, with many dishes inspired by the original Escoffier recipes.
Whether it's a meal in the restaurant, an indulgent afternoon tea in the Palm Court or expertly crafted cocktails in the Rivoli Bar, all Ritz employees demonstrate exceptional customer service skills and a professional, friendly attitude. Employees are offered a variety of training and development opportunities and the hotel strives to create a motivating and rewarding environment for staff at every level.
The Ritz has long been associated with food service of the highest international standard, something which has lead the hotel to receiving a Royal Warrant for Banqueting and Catering Services – the first hotel to have been honored with this prestigious award. More than 110 years since it first opened, The Ritz provides a food service benchmark by which other hotels are measured.
Previous winners
2015 – Belmond Le Manoir aux Quat'Saisons
2014 – Galvin at Windows
2013 – The Waterside Inn