About the award
A popular and coveted title, this unique award, introduced in 1996, offers all AA Rosette-awarded chefs the chance to decide which of their peers deserves the ultimate recognition of their performance over the past twelve months.
Simon Rogan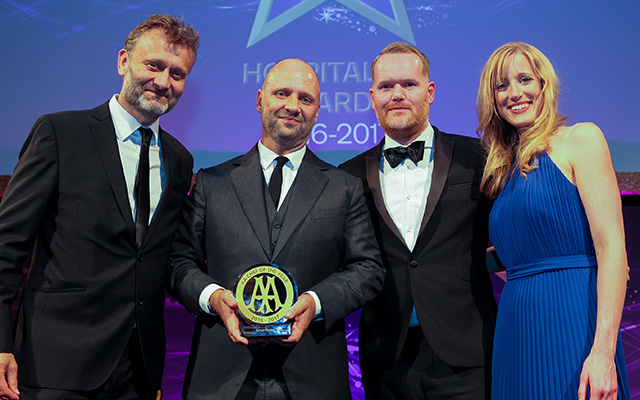 Since he opened his flagship restaurant, L'Enclume, inside an 800-year-old smithy in the Cumbrian village of Cartmel, Simon Rogan has achieved phenomenal success and international acclaim. A chef who has worked at an unprecedented level of innovation and technical skill for the past 15 years, Rogan continues to strive for perfection, pushing the boundaries and exploring tastes and textures.

Rogan is one of the most creative and dynamic chefs working in the UK today and the food at L'Enclume has made an indelible impression on the country's food scene, his influence is far-reaching.

With his use of edible flowers and subtle Alpine herbs – much of it foraged or grown on the restaurant's abundant 12-acre farm, alongside the fruit and vegetables – Rogan continues to create striking and complex signature dishes like venison leg cooked in hay with roast celeriac and braised red cabbage, and poached pears, atsina cress snow, sweet cheese ice cream and rosehip syrup.

Rogan and his partner Penny Tapsell opened their Lake District restaurant-withrooms L'Enclume in 2002, followed six years later by the more informal Rogan & Company, also in the village of Cartmel. In 2013, Rogan expanded his empire by opening two restaurants at The Midland Hotel in Manchester, followed the year after by Fera at Claridge's in Mayfair, London.

The son of a greengrocer working at Southampton's fruit and vegetable market, Rogan's earliest taste of kitchen life was at the age of 14 when he worked in his local Greek restaurant, although his first love was football. A talented teenage player, he had trials at Chelsea and was offered a contract with Fulham before deciding to take a position at catering college instead. Football's loss is very much cooking's gain.
Previous winners
2015 – Daniel Clifford
2014 – Nathan Outlaw
2013 – Tom Kerridge
2012 – Pierre Koffman
2011 – Chris & Jeff Galvin
2010 – Martin Wishart
2009 – Marcus Wareing
2008 – Philip Howard
2007 – Michael Caines
2006 – Andrew Fairlie
2005 – Germain Schwab
2004 – Raymond Blanc
2003 – Michel Roux
2002 – Shaun Hill
2001 – Heston Blumenthal
2000 – Marco Pierre White
1999 – Rick Stein
1998 – Kevin Viner
1997 – Jean Christophe Novelli
1996 – Gordon Ramsay