About the award
Entrants for the eviivo B&B Story of the year, tell us about their journey to becoming the establishment that they are today. We chose the one we liked the best. Read it below: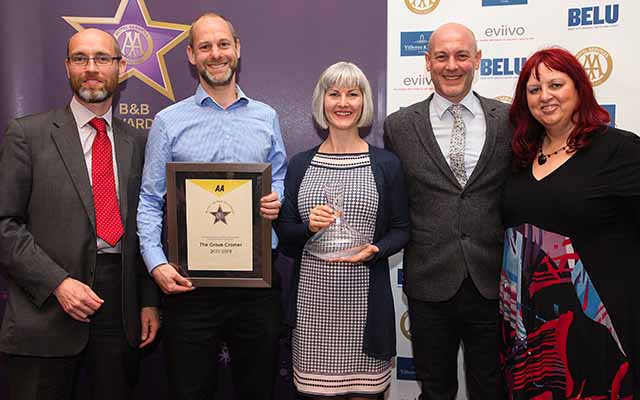 The Grove Cromer
For the past 81 years, The Grove Cromer has been providing guests with the highest quality accommodation. More recently it has become known for fine dining, earning two Rosettes for culinary excellence in 2013, retaining them in 2016. The Grove has 16 bedrooms and six self-catering cottages, an indoor pool and three acres of gardens. There is also a private entrance into Warren Woods leading onto Cromer's cliffs and beaches.
The Grove has only ever been owned by five families, three of which were cousins, who went onto form Barclays Bank. It was re-built as a family bolt-hole by the Gurney family in 1797. The Graveling family took it over in 1936.
Robert and Hilda Graveling were from farming stock and always fancied running a small holding of their own. In 1936, they sold their shop and house, and moved into The Grove.
Chris Graveling, takes up the story: "According to Grandad, old Mr Barclay begged him to take it off his hands. The Grove had about eight acres at the time, and Grandad kept pigs, cows, goats and chickens, as well as farming the top field for arable crops. But the house was expensive to run, so they decided to let some of the spare rooms; apart from a couple of years for the war, when it was used as an army store, it hasn't closed its doors, since."
Since then, the Graveling family have striven to maintain a welcoming, family feel to the house, the main aim is that everyone leaving has had an enjoyable and relaxing time. John and Ann took over in 1978 and their five children, Richard, Chris, Liz, Hannah and Ruth, formed a partnership in 2010.
Now, three generations on, The Grove Cromer has converted the aisled barns into self-catering cottages, there is also an indoor pool. As well as a fine-dining restaurant, which gained two rosettes from the AA in 2013.
Also, in 2013, a quiet corner of the garden was converted into five oak-framed, cedar-clad rooms; The Orchard Rooms, which won an architects' award for outstanding craftsmanship on completion.
"Our restaurant focuses on fresh local produce." Chris continues, "Norfolk is very lucky to have such wonderful local produce on our doorstep. Our crabs and lobsters come from the local fishermen, who have been fishing out of Cromer for generations, I recently heard a story about Grandad and the uncle of our crab fishermen going out on a boat and how they shared the fish out according to who could shout the loudest."
The Grove sources meat from the local butcher, farmed from places such as Gunton, Heavingham and Gressingham, all just a few miles away. "We also have a large kitchen garden which adds to our dishes, so some items on the plate are still growing hours before they are eaten." Chris adds.
In 2015, The Grove Glamping, the brainchild of Ruth Graveling, was started, with five heated yurts going up on the top field, and a new shower and toilet block built.
"It's strange to think back that despite us all having our own careers, we were all informally trained in hospitality from a very early age, we all worked at The Grove as teenagers, either in the kitchen, housekeeping or waiting. And as soon as we were old enough to answer the phone, we were taking bookings. On family holidays, we were always asked to analyse what the hotel or restaurant was doing well or wrong and what we could learn from it. We all seem to be just as comfortable dealing with guests in The Grove as we are in our own homes. It's a very natural thing for us.
The Grove is ideal for a wonderful meal out, a private dining venue, a short romantic break, a holiday with the kids, or can even be booked exclusively.