If you need serious work done on your boiler, you'll always need to turn to a professional. However, there might be one or two things you can check before you make the call. Here are the most common boiler issues and what you can do about them.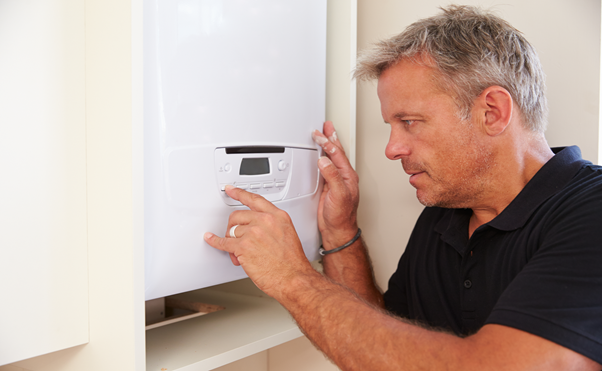 What do orange and yellow flames mean?
The flame, or 'pilot light', in your boiler should be a clear blue colour. If you notice any other colours like orange or yellow it could mean the flame isn't burning correctly. It could also be a sign of a carbon monoxide leak. Carbon monoxide is a very dangerous gas that cannot be seen or smelt, so you should switch the gas supply off and call an engineer.
What should I do if my boiler won't ignite?
As a safety step, a boiler will turn itself off and won't ignite if it detects a problem. If your boiler has a pilot light, you may be able to reignite it yourself. Following the instructions on the inside of the boiler's front panel, find the spark generator button. If pressed, you should see see and hear a spark and the pilot light should reignite.
If it was just a glitch in the system, your boiler will start to work as normal again. If the light turns on but then cuts out after a while it probably means there's a hidden problem. In this case, you should contact a boiler engineer.
How can I remove boiler scale?
If you live in a hard-water area, you'll need to check for the build-up of limescale. It slowly forms on the heat exchanger inside a boiler and will reduce its efficiency over time. You can minimise it by fitting your system with a scale reducer, which will slowly feed descaler into your boiler circuit pipework. The cartridge will need replacing about once a year. It's possible to do this yourself, but it's on the trickier end of the DIY scale - consider calling a professional if you're not very confident in your home repair skills.
How can I release air trapped in the central heating system?
A boiler can stop working properly if there are trapped air bubbles in your central heating system. These bubbles stop hot water from circulating effectively, so radiators aren't as hot as they should be and it takes longer to warm your home. Bleeding your radiator should get your boiler back on track. Afterwards, check the radiator air release valve isn't leaking.
What if there's low boiler pressure?
Regular checks of your boiler's pressure gauge - usually located in the control panel - can tell you if something is wrong with your boiler. If you notice a drop in pressure you can easily re-pressurise your boiler using either the filling key or filling loop method. If the pressure drops again, there may be something more seriously wrong with your boiler and it's probably time to call for help.
Can I avoid frozen condensate pipes?
Unfortunately, condensate pipes can freeze during winter, causing boilers to shut down. If the worst happens, you may be able to thaw frozen pipes with hot water bottles. To stop them from freezing in the first place, you can insulate the outside condensate pipes with foam, lagging or have a trace heater fitted to the pipe.
What to do if my boiler's making noises?
If your boiler is making worrying noises, it could be a problem, or it could be nothing. We have a few tips for dealing with kettling and other strange boiler noises here.
Getting boiler checks
Regular checks can help you avoid a boiler emergency but shouldn't be a replacement for annual boiler servicing and repairs by a Gas Safe Registered engineer. Taking out boiler cover today can help you be better prepared for the unexpected.