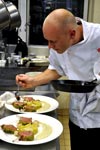 The final cook-off of the 2009 AA Home Cooking Competition took place on 13 November in the kitchens at Westminster Kingsway College. It was an exciting day, with renowned chefs Chris Galvin, André Garret and Gary Rhodes judging the competitors at work making the recipes they had created for the competition.
The winner at the end of the day was Mrs Rachel Pilling from Deal, Kent, with her recipe, below.

These were Rachel's comments about the ingredients:
"My extra ingredients were Beluga lentils which give an earthy blackness to the dish, this balances out the creamy white purée, rich lamb and salt-sweetness of the deconstructed Puttanesca salsa."

Fennel-dusted lamb with a warm Puttanesca salsa, white onion purée and Beluga lentils
25g chopped red onion
1 white onion, finely chopped
3 cloves of garlic; 2 bashed, one finely chopped
10-15g of black olives, pitted and chopped
15g marinated anchovies, halved
3 tablespoons veal demi-glace stock
1 tablespoon capers
12g SunBlush tomatoes, roughly chopped
12g sun-dried tomatoes, roughly chopped
half-pint plus a small glass of red wine
splash of white wine
splash of red-wine vinegar
4 glugs of olive oil (1 each for the lamb cooking, marinade, salsa and lentils)
15g butter
100ml double cream
1 mild red chilli, chopped
50g Beluga lentils
4 large teaspoons of crushed fennel seeds
1 teaspoon of whole fennel seeds
rosemary and thyme
few leaves of flat-leaf parsley, finely choppped
salt and pepper
6-bone rack of lamb
Method
Marinade Cut the rack of lamb in half, and marinade with half-pint of red wine, two bashed garlic cloves, and a sprig each of rosemary and thyme.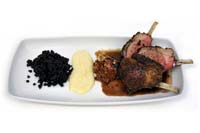 White onion purée Sauté the onion in butter over a very low heat until it begins to soften. Add the cream, thyme, white wine, some black pepper and around 100ml of water. Simmer for around 30 minutes. Drain (reserving the liquid) and blend to a creamy consistency, adding the reserved cooking cream if required. Sieve, and season to taste. Set aside to gently reheat when required.

Puttanesca salsa Sauté the red onion and chopped clove of garlic in a glug of olive oil (preferably from the tomatoes), until soft. Add the chilli, olives, tomatoes and anchovies, and gently warm through. To finish add a splash of red wine vinegar, sea salt, black pepper and parsley to taste.

Beluga lentils Heat the lentils with a splash of olive oil and a sprig of thyme with enough water to cover, for around 15 to 20 minutes, or until al dente. Season to taste.

Lamb Remove the lamb from the marinade, and rub with the crushed fennel seeds and salt and pepper. Brown and baste in a heavy pan. Place in an oven 220° C for around 10 minutes. Leave to rest for 10 minutes.

Jus Melt the demi-glace and left-over lamb trimmings and a glass of wine, and reduce until the required consistency. Add a knob of butter to finish.

To serve Place a swirl of warm white onion purée on the plate, and add a line of Beluga lentils at the thin end of the purée. Place three lamb cutlets on top of each other at the thick end of the purée. Add a spoonful of the salsa in front. Dot with capers, and drizzle the cutlets with the jus.
Recommended drink
A complex Californian Pinot Noir balances the rich spicy flavours, and its acidity cuts through the salsa well.