Welcome to the new generation of driving with Car Genie. With a connected car, you can check on battery life, be warned of any faults that might cause a breakdown, and even find your car if you forget where you've parked. All at your fingertips.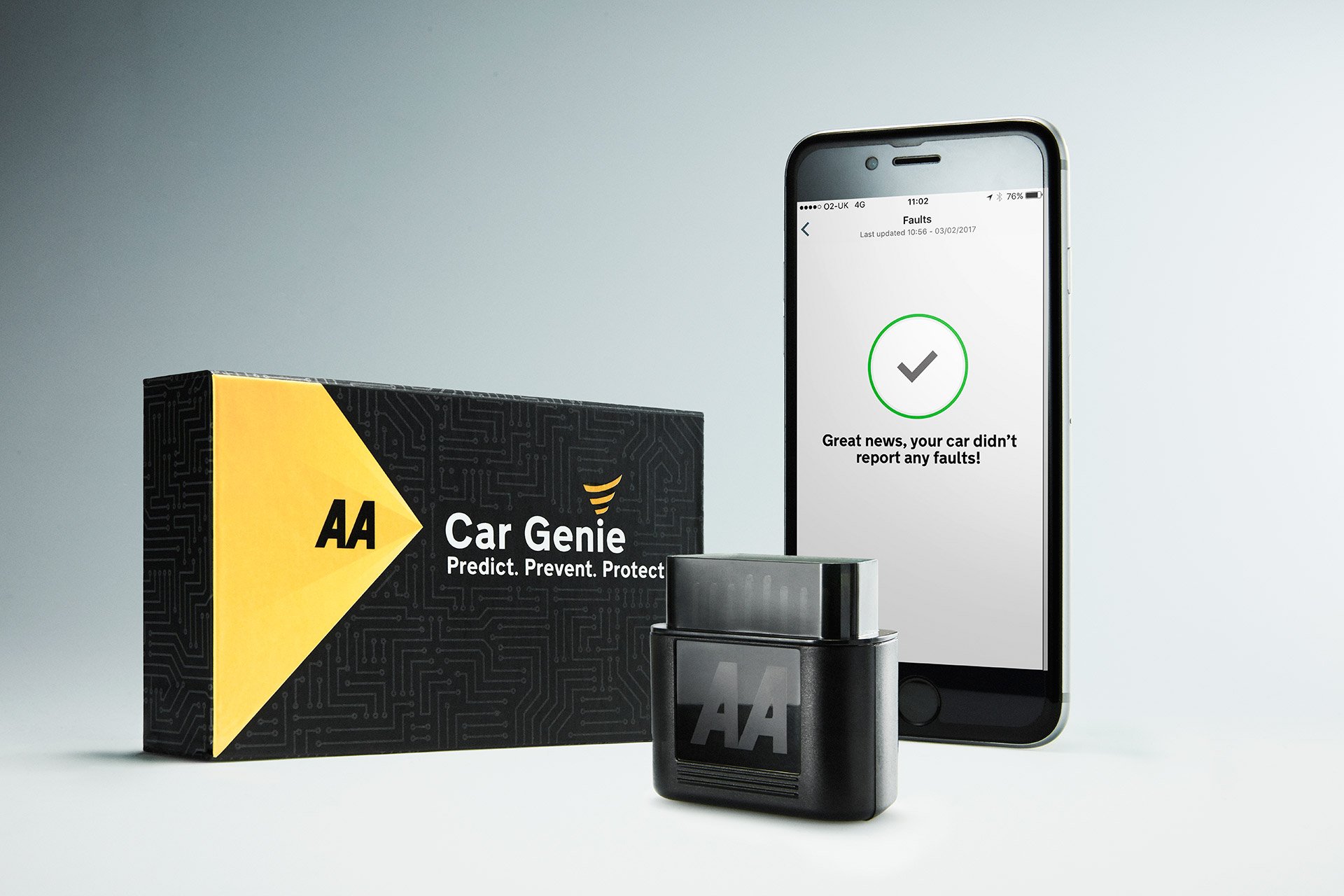 We often take our car for granted, forgetting how much we depend on it – from doing the school run, to popping to the shops, visiting friends and family, and going to work. And for lots of us, it's our little sanctuary, an escape from the hustle and bustle. So, when something goes wrong, it can really put the brakes on our day.

That's why we developed a smart little device that plugs into your car's On-Board Diagnostics (OBDII) port. Out of sight (usually in the footwell), it'll check the car and let you know through the app if there are any problems that could cause a breakdown.
What does Car Genie do?
Thanks to the internet, we can keep tabs on the things that matter – from our heating and TV box to takeaway deliveries – and control our lives from the palm of our hands. Now it's available for the extension of your home – your car.
Set to revolutionise how we drive and look after our car, it:
Keeps an eye on your battery
Car breakdowns are often down to battery issues. Our connected car device will warn you if there's a problem so you can take your car out for a spin to charge it, or even replace it before you start your journey – so you don't have that heart sinking 'flat battery' moment.
Reports some problems to us
If Car Genie spots a problem with your vehicle, it'll let us know. We'll get in touch through the app with help and advice, or we may even call and arrange a time to come and fix it.
Alerts us about potential car crashes
Car Genie automatically lets us know about some crashes if it detects a serious accident has happened, so we can be on hand to help you through the situation.
Is a one-stop-shop for all your driving information
Check that your car is still where you parked it, keep an eye on your 'eco driving score', get driving tips and keep track of your journeys.
How does Car Genie work?
Modern cars are made up of a lot of complex computer systems that make them work. Car Genie plugs into your car's diagnostic port (OBDII) and reads all the information transmitted from these systems. When it spots a fault, it'll send you a push notification from the app to let you know what's wrong.
To set up and use Car Genie, all you need to do is:
1. Check the device is compatible with your car
2. Buy the Car Genie device from our online shop (it's exclusive to our Members and has an annual subscription fee)
3. Download the app from the App Store or Google Play
4. Activate your account to connect you to your car
5. Plug the device into the OBDII port in your car

Once you've installed Car Genie and activated it, you won't even know it's there.
All your data is completely secure. We only use it to look after your car and it's not shared with any insurance companies or the authorities.
We use this sort of telematics technology in our 2,500 patrol vans. And now it's available to you, so you can keep your show on the road.