Vauxhall Antara SE 2.2 CDTi 16v 184 4X4
February 2011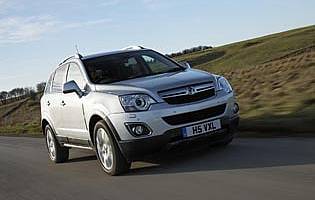 Refreshed Antara offers greater levels of refinement and improved looks
Ratings
Overall rating
Value for money
Costs
Space and practicality
Controls and display
Comfort
Car security
Car safety
Likes
Family friendly interior
Unobtrusive, intelligent four-wheel drive system
Comfortable driving position
Refined diesel engines
Gripes
Manual gearbox action could be smoother
Auto gearbox can be slow to pick up
Wind noise is obvious at motorway speeds
Sat-nav and main controls could be more intuitive
As Vauxhall's first entry into the SUV market since the Frontera, the Antara had to compete with a much wider variety of rival offerings. Being biased more towards the 'soft-roader' end of the market, the Antara's all-wheel drive abilities were viewed as secondary to its family-friendly attributes. With the facelifted car boasting greater refinement, there's also a two-wheel drive model for those who'll never go off-road.
The last Vauxhall badged SUV was the Frontera model, and although the capable and rugged model sold well, it lagged behind the early generations of family-friendly, lifestyle orientated soft-roader SUVs. The Antara was a new approach for Vauxhall, and it offered families seeking a sideways move away from bulky, one-dimensional estate cars and hatchbacks into something more versatile and dynamic.
Like many of the so-called compact SUVs, the Antara is smaller than a premium 4x4. The car is designed as a comfortable sub-premium family car that's capable in a mild off-road situation, but more at home on the road and in an urban environment. A raised driving position gives and advantage behind the wheel and around town, but the driving experience has been tuned to be more like that of a car than a 4x4. The two-wheel drive option further cements the family car replacement scenario - if you never tow or off-road it's worth considering.
That said, the Antara's part-time four-wheel drive system is smart and efficient and reacts quickly to changing conditions. The use of a part time system helps improve fuel economy and offers more familiar driving characteristics, but the system steps in seamlessly when required to offer additional assistance. A hill decent system also adds to the Antara's humble off road abilities.
Elsewhere, this Antara gains a lightly restyled nose plus lights fore and aft have been changed. Inside, subtle changes to cabin trim have been supplemented by the inclusion of an electric handbrake. If that's not enough to impress, the car's diesel engines - one 2.2-litre unit in two states of tune - and both manual and auto gearboxes are all-new. Cosmetic enhancements aside it would be easy to miss these changes, but they greatly improve overall refinement when on the move.
Our verdict on the Vauxhall Antara SE 2.2 CDTi 16v 184 4X4
Positioned to appeal to families trading up to something with more room and a greater level of versatility, and downsizers keen to retain some semblance of off-road control but in a smaller, more economical package, this Antara offers plenty of space, kit and ability. It's got some stiff competition, though.
Costs

With the introduction of new diesel engines boasting improved economy and CO2 figures, the Antara is a cleaner and less expensive car to run. It's still at the top end of the scale relative to most rivals, though. However, with a large dealer network for support and competitive prices it's easy to see the car's appeal to private buyers.
Space and practicality

With its spacious cabin and equally spacious rear load bay, it's hard not to appreciate the Antara's potential despite it being no larger than a family estate. Neither front nor rear passengers will struggle for space and the rear bench can seat three adults. With the seats folded flat, there's a large amount of room for transporting bulky goods.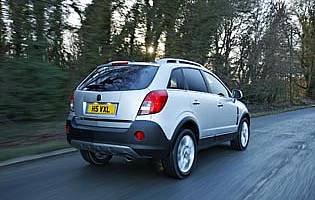 New diesel motors perform surprisingly well
Controls and display

Revisions to the car's switchgear and instrumentation have been minor, and existing Antara fans will find this car's cabin a familiar one. That said, the main, central display and supplementary controls could be more intuitive, while the sat-nav option is starting to show its age. The Antara's main dials are just right though, as is the assistance from the power steering.
Comfort

In terms of its general layout and the level of equipment available, the Antara is a comfortable and pleasant car to be in. Leather, heated seats, plenty of cabin space automatic wipers, lights and dipping mirrors take the strain out of driving. External noise levels could be better when on the move, although the diesel engines are extremely refined.
Car security

Large or small, SUVs are a popular target for thieves so it's good to see a comprehensive remote locking and immobilizer package for the Antara. The car's rear load cover is also a sturdy device, although for added peace of mind you could add an aftermarket steering lock.
Car safety

Although you can opt for a front-wheel drive Antara, there's still a lot to be said about the merits of all-wheel drive. The big Vauxhall's part-time system only works when grip is low, which aids fuel economy. And don't think it's just good for muddy fields; motorway cross winds, standing water and leaf-covered country roads pose as much of a risk in the real world. Factor in plenty of airbags plus electronic stability control and it's a well rounded package.
Driver appeal

The new diesel engines are naturally more efficient than the outgoing units, and are pleasingly quiet until the very high reaches of the rev limit. The car's agility could be better; in essence it doesn't like to be pushed hard or rushed, and it's a car that prefers a light touch at the helm. Ride comfort is fine but don't forget the built in compromise for off-road running. Speaking of which, the Antara's performance in mildly challenging situations is reassuring although don't expect it to trump a Defender.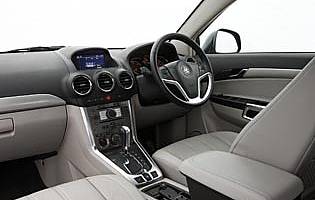 Antara's interior is spacious and well equipped
Family car appeal

Vauxhall is keen to promote the Antara as a family car. Certainly, it's impossible to question its practical and versatile attributes. The bash-proof interior boasts plenty of storage options and will easily cope with children, although adding leather upholstery is probably an unwise move. The diesel engine range makes it a relatively economical choice, too.
First car appeal

As far as first cars go the Antara is probably not a wise choice. It's easy to drive, but probably a little too big for the average novice - unless, that is, you really do need a versatile first car.
Quality and image

Fit and finish is good but some of the cabin materials could be softer to the touch. The consumer appetite for SUVs does not appear to be waning, which means the Antara has plenty of kerb appeal even if the Vauxhall badge is not always the most sought after.
Accessibility

With its five large doors and a sensible ride height, it means it's possible to step straight into the Antara without climbing up or falling in. The lack of a transmission tunnel bulge in the rear makes entry easy from either side, too. The rear load lip is at a sensible height, too.
Stereo and ICE (In car entertainment)
The Antara comes with a colour screen to help navigating through the various climate and entertainment options. The rotary controller takes some getting used to, though. Along with MP3 and Bluetooth phone connectivity, sat-nav is also available.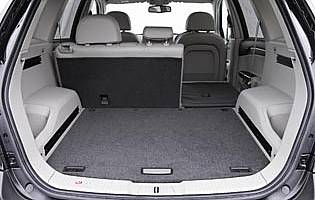 Flat load bay should please demanding family owners
Colours and trim
Subdued colours work best for the Antara - in the same way silver is a good choice for conventional large cars. Unlike some SUVs, the big Vauxhall's exterior is less imposing and aggressive-looking than its rivals. There's no shortage of chrome-effect trim, however.
Parking
Large mirrors remove most of the strain of parking, and the parking sensors help with the rest. Light and accurate power steering plus the Antara's lofty driving position complete the picture.
Spare wheel
Spare located under boot floor.
Range information
Diesel engine option - 2.2-litre (163bhp, 184bhp). Transmission options: six-speed manual gearbox, six-speed automatic gearbox. Trim levels: Exclusiv, SE.
Alternative cars
Volkswagen Tiguan Polished and attractive soft-roader is surprisingly capable
Honda CRV Chunky styling and loads of family appeal but road-biased performance
Nissan Qashqai Affordable crossover that combines the best of both worlds
Peugeot 4007 Comfortable and practical alternative is also good off road
Over 1,200 more car reviews online
All the reports since 1990 are available on this site, just search by make and model below.
Other products & services
Related information
February 2011