Citroen C2 1.6i 16V 110bhp VTR 3-door hatchback
1 September 2003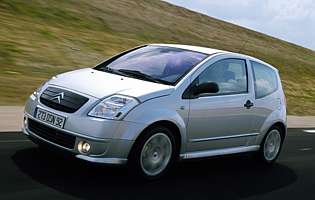 The C2 has aggressive edges and a modern look
Ratings
Overall rating
Value for money
Costs
Space and practicality
Controls and display
Comfort
Car security
Car safety
Likes
Gas-filled struts to aid rear seat stowage
SensoDrive gearbox
Colour-coded interior elements
SUV-style split rear tailgate
Gripes
Poor rear head- and leg-room
No seat height adjustment on cheaper models
Side view obstructed by B-pillar
Rear windows do not open
Charged with replacing the much-loved Saxo supermini, Citroen's C2 will have to work harder than most small cars to win fans over. Yet the French firm isn't sparing the effort - or the horses - to do so.
There is a family resemblance between Citroen's C3 and C2 small cars, but they possess very different characters, despite sharing the same basic chassis (albeit the C2's is a shortened version). Where the Citroen C3 is all reassuring curves and retro styling, the C2 is aggressive edges and challenging modernity. As an example, the C3's jolly slatted grille makes way for a sleek, ridged plastic counterpart. Designed to appeal to buyers looking for an enjoyable city car but who have to factor in pressing space and spending constraints, the C2 should serve well as a thrifty main vehicle or modest second car. Striking a balance between hot hatch performance and city car practicality is never an easy task, so the opposite ends of the C2 model line-up serve rather different functions. The smaller petrol and diesel engines make a straightforward play for the low-cost motoring market, sacrificing any performance pretensions into the bargain. The reverse is true at the VTR end of the range. Caught in the middle, the 1.4i Furio feels like neither one thing nor the other. Significantly, transmission duties are shared by a conventional five-speed manual for the 1.1-litre petrol and 1.4-litre diesel and a high-tech five-speed semi-automatic system called SensoDrive, which is the only one available with the 1.4- and 1.6-litre models.
Equally bold is the seating configuration. Citroen has dispensed with the idea that five seats must be included at all costs, opting to create a four-seater with two rear seats that are completely independent and can slide and be folded individually. As a result, rear elbowroom is a revelation and the modest boot can be transformed into a decently sized one in a few seconds.
Our verdict on the Citroen C2 1.6i 16V 110bhp VTR 3-door hatchback
A small but potent package, the C2 manages to be affordable and fun without as much sense of 'cheapo' compromise as its Saxo predecessor. The interior still isn't perfect but is solid. It is sufficiently different to its competitors to intrigue and should become a common sight on the roads of all European countries.
Costs

The entry-level 1.1i manages a remarkable Group 1 insurance rating. The 1.4 HDi diesel has a combined fuel economy figure of almost 70mpg and carbon dioxide emissions of just 108g/km. While the other variants can't quite match these class-leading claims, such figures give a clear indication that the C2's running costs will be among the lowest - provided reliability can be sustained. Though Citroen's residual values are generally low, if the C2 manages to achieve the cult status of the Saxo, it should hold more value than many of its stablemates.
Space and practicality

Opting for a four-seater layout liberates a huge amount of interior space and makes the small (from 166 litres) boot almost irrelevant - one or both rear seats fold away effortlessly thanks to the assistance of a clever gas-filled strut to immediately augment the room available up to a maximum of 879 litres. The SUV-style split rear tailgate is effective and even conceals an integral storage area.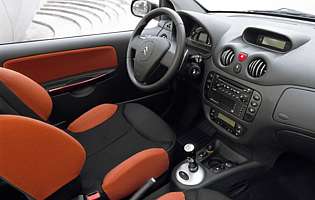 The SUV-style split rear tailgate is effective and even conceals an integral storage area
Controls and display

Dashboard and steering wheel controls are virtually identical to the larger C3. The orange digital speedo is slightly uncomfortable in a sports-inspired car and the bizarre rev counter is far too imprecise to time gear changes precisely, resembling nothing so much as the scales used to weigh fruit and veg in supermarkets. It is also easy to obscure it when adjusting the steering wheel.
Comfort

Ride is firm almost to the point of harshness in the VTR and VTS, but more even in other models. The aerodynamic styling effectively eliminates wind noise, but low-level road noise does penetrate. Engine and exhaust noise is relatively mild, so aftermarket extras will sell well.
Car security

Only the VTR comes with an anti-theft alarm. An immobiliser is fitted as standard as one would expect. More impressive is the automatic door locking function, which locks all doors at speeds over 5mph. The C2 could become a prime target for joyriders, so fitting a quality aftermarket security system is recommended.
Car safety

This is where the difference to the under-equipped Saxo is most keenly felt - and most welcome. All models feature twin front and side airbags along with three-point seatbelts front and rear. Higher-specification models add full-length side curtain airbags and anti-lock brakes and even an excess speed warning, a feature not available on many more expensive cars. As a general rule, the smaller the car, the more vulnerable it is in an impact. A tough-looking subframe with crumple zones and built-in shock absorbers offer some reassurance.
Driver appeal

The VTR and VTS variants are the only realistic options for enthusiastic driving thanks to their far stiffer suspension settings. Other models are comfortable but wallowy and lean around high-speed bends alarmingly. Steering is sharp on all models and the SensoDrive gearbox is one of the C2's best features, but old-school cog shifters will rue the lack of a full manual option with the VTR/VTS.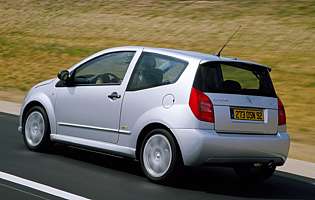 The VTR and VTS variants will appeal to enthusiastic drivers
Family car appeal

Too small to be a main family car in its own right, the C2 could perform a useful function as a second or even third car. Less powerful variants would be ideal if there's a newly-qualified but image-conscious teen in the household.
First car appeal

Few, if any, rivals could better the C2 as a first car. Easy to drive and confidence-inspiring, it also boasts low running costs and Citroen's reputation for offering incentives such as free insurance adds another plus point. However, learners and new drivers would be well advised to steer clear of the more powerful derivatives and may find the SensoDrive gearbox confusing.
Quality and image

For such a small and affordable car, image will play an uncharacteristically large role in the C2's destiny. Citroen is trying to buy itself 'street cred' in an attempt to win over the loyal Saxo fan base. It is probably wise, but could end up stereotyping the C2 as a go-kart for boy racers if taken too far. The C2 feels much more refined, but our test car did emit a few suspicious brake and suspension-related squeaks and some interior plastics feel too thin.
Accessibility

In another example of the C2's contrariness, this youth-oriented vehicle could also conceivably be attractive to more senior drivers, such as elderly couples (when in its non-VTR/VTS guises). However, access to the front seats demands sitting down rather than sliding in and some drivers may struggle with the figure-hugging bolsters and contours of the seats. Still, a brace of grandchildren will enjoy to ride in the back in their own seats. However, tall passengers will not - despite surprisingly liberal rear legroom, the reverse-sloping roofline could cause a stiff neck very quickly. All steering wheels are adjustable for height and reach.
Stereo and ICE (In car entertainment)
Standard unit is a humble RDS radio cassette, rising to a dash-mounted CD player in the VTR. All models feature steering wheel audio controls. In any case, it is likely that many buyers will be choosing their own sound systems. Serious modifiers have even suggested the ease with which the rear seats can be removed could allow the space behind the front seats to be given over entirely to speakers and multichangers!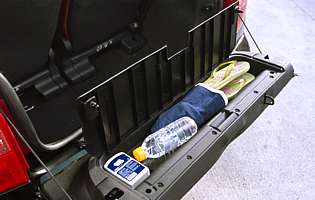 The interior trim places its emphasis on vibrancy
Colours and trim
The cult appeal of the Saxo has emboldened Citroen to add a dash of colour to the interior trim and to place the emphasis on vibrancy when it comes to exterior hues. Ironically, this very colour-sensitive car looks at its best in neutral tones. As if thumbing its nose at Citroen's efforts, it looks most appealing of all in black. Seat upholstery in fabric, velour or '3D mesh' (VTR/VTS only) is available in amber, blue, grey or green, with matching trim on front door panels, gear lever and handles.
Parking
Pocket-sized proportions, well-weighted steering assistance and a neat sub-10 metre turning circle make parking almost pleasurable. Side visibility is restricted by chunky B-pillars, but if you can't master parallel parking in a C2, you never will. The reversing radar is required only for the incurably nervous.
Spare wheel
Same size as the main wheels, thus ensuring savings when tyres have to be changed.
Range information
Four engines at launch - 1.1i (61bhp) manual; 1.4i, (75bhp) SensoDrive; 1.6i (110bhp) SensoDrive; 1.4 HDi, (70bhp) manual with 1.6i (130bhp) following later. Five trim levels at launch - L, LX, SX, Furio, VTR. Top of the range VTS follows later.
Alternative cars
Ford Sportka similarly willing engine and boyish appeal
Toyota Yaris peerless practicality but less character than Citroen
SEAT Arosa underrated city car from VW stable
Nissan Micra retro interior adopts opposite approach to C2
Over 1,200 more car reviews online
All the reports since 1990 are available on this site, just search by make and model below.
Other products & services
Related information
1 September 2003