The AA App
Helps us find you if you breakdown
14 December 2010
The AA has launched its latest free app,'The AA' (search for 'the AA' in app stores) that will allow us to find AA members wherever they have broken down.

The new app uses the GPS function on the phone to find the member's exact location and with the simple touch of an icon both the call and the location is transferred to the AA's Control Centre.
This helps ensure that the AA patrol heads straight for the right location, getting the member back on the road far quicker. Non-members can also use The AA app and in the event of a breakdown they can then join the AA* for breakdown assistance.
The AA app has a number of other useful features. Up-to-date traffic information from AA Roadwatch provides details of incidents , road works and hold-ups on detailed maps.
The app also has a useful 'Reminders' feature which can help motorists with key dates for their vehicle – renewal dates for car insurance, car tax, service and MOT – and will notify you when these dates are approaching.
Download the app from the Android market »
* For Non-members wishing to join the AA in the event of a breakdown an emergency breakdown charge will be applied.
Download our FREE AA App
Our NEW AA App tells us where you've broken down. It's FREE on iPhone and Android.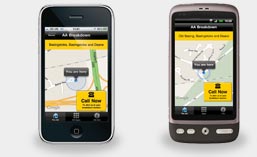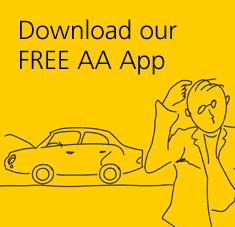 Other products & services
Related information