AA Credit Card Secure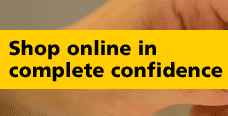 Secure online shopping
AA Credit Card Secure is free and lets you shop online with participating merchants in complete confidence. It gives you extra protection when you use your credit card to make purchases on the internet.
How it works
Every time you use your card for online purchases with participating companies, the transaction will be assessed and your card details either automatically verified or, in some cases, you will be required to provide information for further verification.
Peace of mind
Shopping on the web has never been safer. AA Credit Card Secure is part of the global 'Verified by Visa' and MasterCard SecureCode programmes. This means that you can safely shop online, knowing that AA Credit Card Secure is helping protect you from fraud.
Other products & services