Accident Management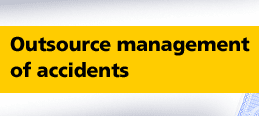 Accident Management is a one-stop, cost-effective outsourcing service for vehicle fleet operators. It is specifically designed to help reduce the cost of accidents and vehicle incidents, reduce downtime, save management effort and improve administrative efficiency.
A dedicated Incident Coordinator will manage every aspect of a case – including repairs, liaison with insurers, personal injury claims, and uninsured loss recovery – through to completion.
Accident Management helps you
reduce vehicle off-road time
minimise vehicle downtime/business disruption
maximise driver productivity
reduce hassle and time by allowing you to concentrate on more productive activities
protect vehicle residual values through quality-assured, guaranteed repairs
improve efficiency with all administration, documentation and accounting.
To Find out more about Accident Management, call us on 0800 52 10 72. Lines are open 9am to 5pm Monday to Friday.
Or complete our Risk Management Enquiry Form and one of our customer advisers will contact you.
If you're already an Accident Management customer, log in here.