Skoda Octavia vRS 230
November 2015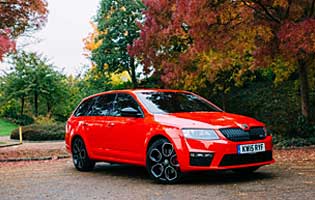 Distinctive alloy wheels are standard on vRS 230
Ratings
Overall rating
Value for money
Costs
Space and practicality
Controls and display
Comfort
Car security
Car safety
Likes
Sporty but discreet exterior
Useful performance enhancements
Good space efficiency for a car of this class
Remains impressive value despite price increase
Gripes
A bigger visual change from the standard vRS would be welcome
Diesel vRS remains the most sensible real-world choice
Attractive alloy wheels are vulnerable to kerbs
Superior automatic DSG gearbox an expensive option
Rightly regarded as a hot hatch bargain, Skoda's Octavia vRS has for three generations provided engaging high performance and generous practicality in an affordable package. This third generation vRS has now been expanded to include a vRS 230 model with additional performance and dynamic enhancements to cater for even keener drivers.
The Octavia is a key car for the Skoda brand in the UK as best epitomises its values, with its good value, generous space and impressive levels of quality. The high performance vRS models have added to this reputation and despite being relatively new the sub-brand has become popular and well-recognised in the UK.
The Octavia vRS in standard guise is available in both petrol and diesel forms as well as with a choice of hatchback or estate bodystyles, but the vRS 230 version is a new addition for this third generation Octavia. Based on the 2.0-litre TFSI model the vRS 230 gets its name from the increased power output, which has been raised by 10PS to 230PS.
As well as the increased power the vRS 230 benefits from Skoda's electronic front locking differential which can distribute up to 100% of the power to a single front wheel, maximising traction in difficult conditions. The suspension is 13mm lower in estate form than standard Octavias, as is the regular vRS model.
Other features added to the vRS 230 include a unique instrument display, 19-inch wheels as standard and black-finished door mirrors, grille and roof rails on estate versions. The leather seats have red stitching, as does the steering wheel and the instrument dials are finished in white, all of which are features only incorporated on the vRS 230 model.
Our verdict on the Skoda Octavia vRS 230
For a modest additional outlay the Octavia vRS 230 brings with it a useful dash of extra performance and, more usefully, the clever electronic differential as well as extra equipment. It is just as practical and usable as the standard vRS and is perfectly capable of fitting in to everyday life in the way a good hot hatch should.
Costs

Compared to the diesel version the petrol vRS is inevitably more expensive to run, although in general terms it has the potential for reasonable fuel consumption when driven with restraint. Servicing costs may be a little higher than a regular Octavia as will insurance, but for a car of this performance it is at the lower end of the scale.
Space and practicality

Happily the transformation of the Octavia into vRS guise doesn't hurt its generous accommodation. Occupants front and rear are well catered for with good head and legroom, while the boot space available in estate form is very good indeed. The cabin offers well-sized door bins and a generous centre console cubby too.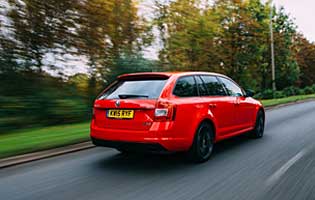 Practical estate body doesn't detract from sporting performance
Controls and display

The layout of the Octavia vRS 230 is pleasingly straightforward, with clear separation between controls with clearly labelled buttons and switches. Also the Octavia doesn't fall into the usual trap of putting all the controls on the touchscreen, leaving key functions such as heating and ventilation to dedicated switches. One niggle is a common Skoda issue in that the speedometer and rev counter are easy to confuse at a quick glance.
Comfort

Despite the sporting approach the vRS 230 sacrifices little comfort in the name of performance. Although riding on big wheels the stiffer suspension does not significantly impact the ride quality, and only the biggest road lumps cause any disturbance in the cabin. The seats offer useful extra support too, while road and engine noise are kept in check at sensible speeds.
Car security

As standard the vRS 230 comes with an engine immobiliser and alarm with interior monitoring and a tilt sensor to warn against theft by towing. Also the estate model is fitted with a suitable luggage cover which screens the contents completely from view.
Car safety

The vRS 230 is packed with a host of electronic safety systems, including less common features such as Trailer Stability Assist. It also benefits from the addition of the electronic differential. Should the worst happen the vRS gets seven airbags as standard.
Driver appeal

The difference in straight-line speed between this and the standard car is negligible. Generating so much torque low down means the driver can be lazy with the gearshift, yet it is also sufficiently refined to be revved hard should the mood take you. The electronic differential allows full use of the power more of the time, working efficiently to distribute the power to the road. Although the vRS 230 is not the last word in handling it is composed, fun to drive and accurate in its responses.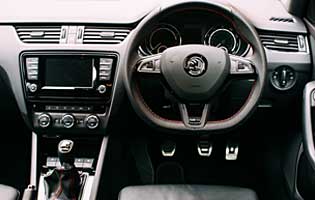 Functional and well-constructed interior is pleasingly spacious
Family car appeal

The vRS 230 is an ideal family car, particularly in estate form, as it is endlessly accommodating and clearly designed with practicality in mind. Child seats can be easily fitted in the rear seats, airbag de-activation is standard and the boot could easily swallow a large pushchair.
First car appeal

The Octavia vRS 230 is not best suited to an inexperienced driver although it is far from challenging to drive. The key issue for new drivers would be expense, both in terms of the purchase price but also insurance costs which are inevitably higher for a car of this nature.
Quality and image

Skoda's reputation, particularly in the UK, has transformed in the last two decades thanks to giant leaps forward in quality. Modern Skoda products are robust and reliable whilst remaining good value, and its strong reputation amongst the car-buying public is down to this honest and worthy approach.
Accessibility

Access to the Octavia vRS 230 is as straightforward as can be, with four generously-sized doors opening wide to reveal seats placed at a sensible height for the less able-bodied. The same goes for the boot, which has a broad tailgate opening to reveal a cavernous boot.
Stereo and ICE (In car entertainment)
Benefiting from the latest generation touchscreen system the vRS 230 gets the upgraded system including satellite navigation as standard, and its clear display and responsive screen make it easy to use. The proximity sensor system is also clever and works well, changing the display as your hand approaches the screen.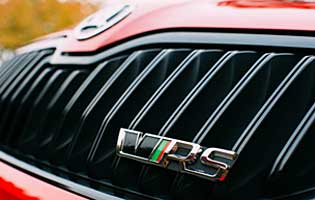 Black finished grille is unique to the vRS 230 model
Colours and trim
There is a good mix of both muted and strong colours to choose from, with red and blue well represented among various shades of black, silver and white. The available blues look particularly good on the car's strong lines. On the inside the additional leather trim is welcome while the red stitching is a welcome dash of colour, complementing red exterior paint if chosen.
Parking
Happily the vRS 230 has front and rear parking sensors as standard, while the power assistance system provides exceptionally light steering at low speeds. The alloy wheels are potentially vulnerable to careless parking however. Nervous parkers can specify the automatic parking assist which makes life as easy as possible.
Spare wheel
Emergency tyre repair kit supplied as standard.
Range information
Petrol engine options - 1.2-litre (104bhp); 1.4-litre (138bhp); 2.0-litre (217bhp). Diesel engine options - 1.6-litre (104bhp); 2.0-litre (148bhp, 181bhp). Transmission options: six-speed manual gearbox, with DSG twin-clutch auto gearbox optional across all engines. Trim levels: S, SE, Elegance, vRS, vRS 230.
Alternative cars
Vauxhall Insignia VXR Spacious, stylish and fast, four-wheel-drive version available too
Seat Leon Cupra ST Compact class high performance wagon is unquestionably quick
Ford Focus ST Estate Fun to drive but smaller inside, diesel version also available
Volkswagen Golf R Estate In-house rival is even faster but less spacious and more expensive
Over 1,200 more car reviews online
All the reports since 1990 are available on this site, just search by make and model below.
Other products & services
Related information
November 2015